Chinese warplanes appear to have simulated an attack on a U.S. aircraft carrier during Monday flights around Taiwan, multiple defense analysts told Newsweek on Tuesday.
On Monday, China sent a record number of warplanes into Taiwan's Air Defense Identification Zone (ADIZ), as part of an ongoing aerial campaign around the island. On the same day, the Theodore Roosevelt Carrier Strike Group (CSG) sailed north of the Philippines' northernmost island of Luzon, according to publicly available ship tracking data. Luzon lies directly south of Taiwan.
Chieh Chung, a research fellow at the Association of Strategic Foresight in Taipei, Taiwan told Newsweek the Chinese warplanes likely took the opportunity to run a "simulated attack" on the U.S. aircraft carrier.
A map of the flight paths flown by the Chinese warplanes shows them flying directly southward, in the direction of Luzon, before cutting sharply west and then turning back northward. All of the groups of Chinese warplanes Taiwan's military tracked flew these southward U-shaped runs — which resemble an aircraft carrier.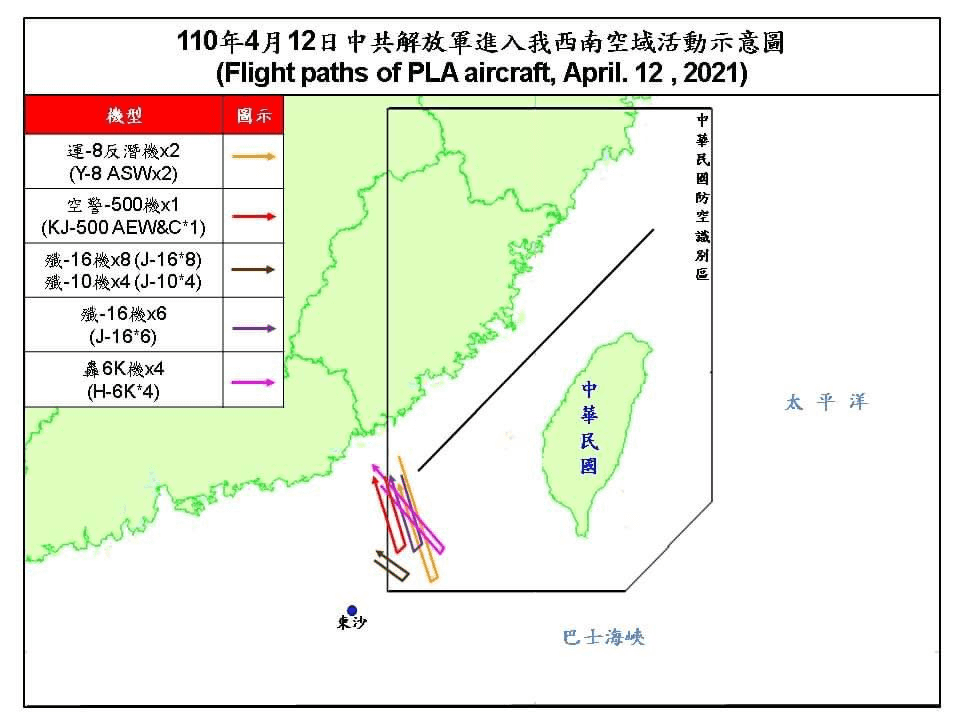 The Ministry of Defense for the Republic of China, the formal name for the Taiwanese government, tweeted, "25 PLA aircraft (Y-8 ASW*2, KJ-500 AEW&C, J-10*4, J-16*14 and H-6K*4) entered #Taiwan's southwest ADIZ on Apr. 12, 2021."
The number of Chinese warplanes included 14 J-16 fighter jets and four J-10 fighter jets, as well as four H-6K bombers, two Y-8 anti-submarine warfare aircraft and a KJ-500 airborne early warning and control aircraft.
A total of 25 Chinese People's Liberation Army (PLA) aircraft flew around Taiwan on Monday, setting a record for the most ever Chinese warplanes around Taiwan.
Su Tzu-yun, a senior fellow at Taiwan's defense ministry-backed Institute for National Defense and Security Research, shared Chieh's assessment. Su said, noted China's J-16 fighter jets can carry up to 15-tons of anti-ship missiles and that the Chinese aerial operation around Taiwan likely was "aimed at the U.S. carrier strike group."
Chinese warplanes previously simulated an attack on the Theodore Roosevelt CSG in January. U.S. Indo-Pacific Command (INDOPACOM) spokesperson Capt. Mike Kafka confirmed the Chinese warplanes were practicing attack drills aimed at the U.S. aircraft carrier in a statement to Business Insider.
Kafka said, "These actions reflect a continued PLA attempt to use its military as a tool to intimidate or coerce those operating in international waters and airspace, to include their neighbors and those with competing territorial claims."
Chinese warplanes have increasingly shown signs of flying attack drills and maneuvers to cut off U.S. or international support to Taiwan in recent weeks. China's state-run Global Times recently reported the "PLA is continuing to increase its combat preparedness by making its routine exercises more complex and realistic and taking possible US and Japanese interventions into consideration."