The U.S. Customs and Border Protection released its first official videos on Tuesday that show inside two illegal immigrant detention centers in Texas housing record numbers of unaccompanied children as pressure mounts over the media's limited access.  
The footage, recorded a week before its Tuesday release, shows cramped living conditions inside a processing facility in El Paso, Texas, and a holding facility in Donna, Texas. Thousands of migrants, including families, await transfer to other federal agencies, ABC News reported.
In the official video of the Donna facility, children are seen wearing masks, having their temperatures taken and hair examined as they receive health checks. Children are seen packed into transparent enclosures called "pods," sleeping on mats on the floor.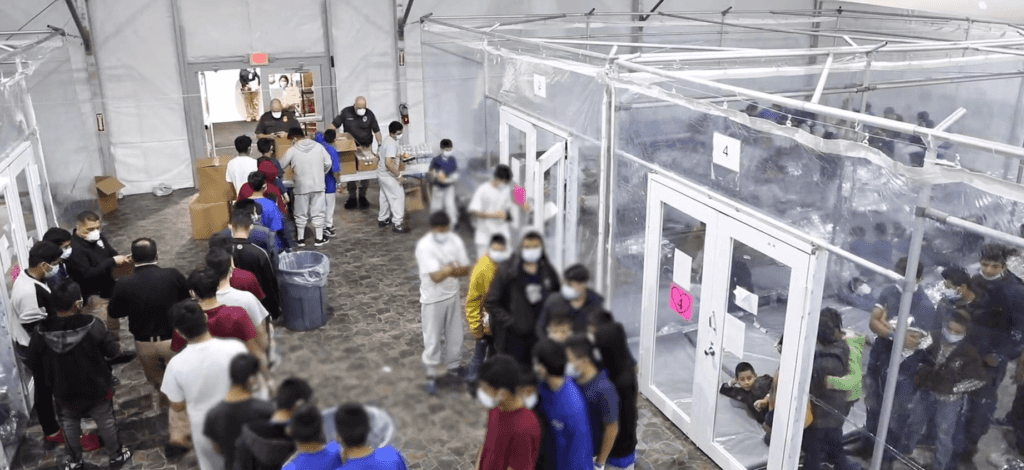 The footage also shows hundreds of children lined up for food and shelves that hold items like linens, diapers, water, hand sanitizer, clothing, shoes, and towels. What appears to be an outdoor play-area equipped scattered with hula hoops is also shown in the video.
Inside the El Paso facility, the video shows less-crowded conditions, but also includes children sleeping on mats on the floor, as well as shelves with essential items.
A clip from the footage shows children wearing what appears to be government-issued sweatpants and shirts playing outside.
According to internal CBP documents reviewed by ABC, there are 3,889 migrants being held in the Donna facility that is supposed to hold just 250, putting it 1,556 percent over capacity.
At least 5,000 unaccompanied children are also currently in Border Patrol custody, with an additional 10,500 being cared for by the Department of Health and Human Services, the news outlet reported.
In an effort to address the overwhelming numbers of illegal immigrants crossing the border, the Biden administration is spending $86 million in taxpayer funds on a new contract for hotel rooms to house roughly 1,200 illegal immigrants near the U.S.-Mexico border as the surge of migrants continues, according to DHS officials, Axios reported on Saturday.
Executed through the Texas-based nonprofit Endeavors, the contract covers a six-month period but could be extended and increased. Axios reported that the hotels will be near the border in at least Arizona and Texas.
President Joe Biden's administration is considering multiple measures to handle the influx of illegal immigrants that topped 100,000 in February alone.
Over the weekend, The Washington Post reported that officials requested airplanes to transport illegal immigrants to states near the Canadian border for processing, according to multiple Department of Homeland Security officials and an email obtained by the Post.