An illegal immigrant told ABC News on Saturday that he unlawfully crossed the border into the United States because Joe Biden is president, noting that he would not have attempted the journey if Donald Trump still held office.
When ABC's Martha Raddatz asked the illegal immigrant father – who traveled from Brazil with his wife and three children – if he would have tried crossing the border when Trump was president, the man responded, "Definitely not."
"We used to watch the news and I definitely wouldn't do this [if Trump was president]," the man continued.
"So, did you come here because Joe Biden was elected president?" Raddatz asked.
"Basically," the illegal immigrant said. "The main thing was the violence in my country. And the second thing, I think, was Joe Biden."
On Tuesday, Biden denied allegations that illegal immigrants were crossing the U.S.-Mexico border because he is president, telling ABC's George Stephanopoulos, "I heard the other day that they're coming because they know I'm a nice guy. Here's the deal. They're not."
However, a group of migrants wearing Biden shirts tried to get into the U.S. earlier this month, even kneeling and pleading for Biden to "let us in."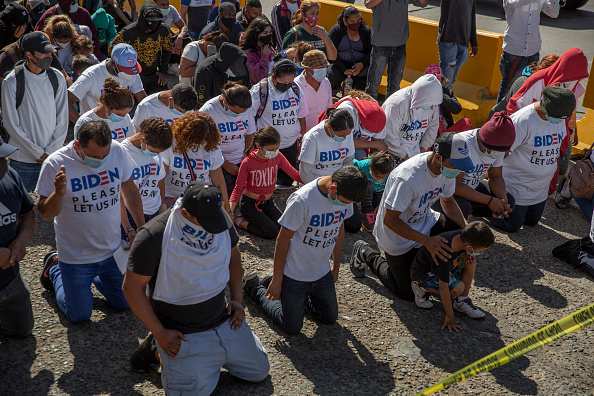 Border patrol agents have encountered a surge of illegal immigrants since Biden took office in January, with more than 100,000 apprehended in February alone.
Last week, the administration sent FEMA to assist with the migrant surge, and Biden's Homeland Security Secretary Alejandro Mayorkas said the number of immigrants attempting to cross the border illegally will likely reach the highest rate in 20 years.
Stephanopoulos asked Biden if his administration made a mistake "not to anticipate this surge," to which the president responded by pointing to surges that occurred under former President Trump in 2019 and 2020.
"This one might be worse," Stephanopoulos added.
"Well, it could be," Biden responded.
When host Stephanopoulos asked the president, "Do you have to say quite clearly, 'Don't come'?" Biden responded, "Yes, I can say quite clearly: Don't come over. Don't leave your town or city or community."
Among the spike of illegal immigrants crossing the border are thousands of unaccompanied minors. Over 4,000 unaccompanied children were being housed in Border Patrol facilities last Sunday, with at least 3,000 remaining in CBP custody past the three-day legal limit, a U.S. official told The Associated Press.
Fox News reported that criminal groups trafficking women, children, families and single adults into the United States made nearly $14 million per day last month, according to sources in border patrol.
"Trafficking is a multibillion-dollar industry," said former Tucson Border Patrol Chief Roy Villareal, who retired in December after 30 years with the agency. "A lot of these vulnerable populations use their life savings. Some are essentially indentured servants and they're working off this debt for a long period of time. In other cases, some of these migrants are asked to transport narcotics or some form of crime to work off a different part of their debt."
On Tuesday, former President Trump slammed President Biden's border policies and said they're "destroying our country" during a Fox News interview.
"It is a crisis like we've rarely had. It's going to get much, much worse," Trump told Fox News' Maria Bartiromo.
"We did a lot of things, and all of that is now eroded," Trump continued, condemning Biden for rolling back the Trump administration's border security efforts. "They are coming in from the Middle East, they're coming in from everywhere. They're going to destroy our country if they don't do something about it."