On Friday, the U.S. Special Operations Command (SOCOM) announced its first-ever chief diversity and inclusion officer, Richard Torres-Estrada, and the announcement prompted a backlash from social media users questioning the hiring decision.
In an Instagram post, SOCOM said, "On Monday, March 1, 2021, USSOCOM welcomed its first-ever Chief Diversity and Inclusion Officer, Mr. Richard Torres-Estrada. Mr. Torres-Estrada has nearly two decades worth of experience working diversity and inclusion programs and activities in federal agencies. Mr. Torres-Estrada's arrival corresponds with the publication of the USSOCOM D&I Strategic Plan, which will guide the enterprise-wide effort to institutionalize and sustain D&I. We look forward to Mr. Torres-Estrada's contribution in enhancing the capabilities and effectiveness of #SOF through diversity of talent, helping us recruit the best of the best."
SOCOM didn't specify specific initiatives Torres-Estrada would be involved in, however, diversity and inclusion officers typically focus on inclusion of LGBTQ and minority personnel.
The post saw a stream of comments, most of which either questioned the hiring decision or mocked and criticized it outright.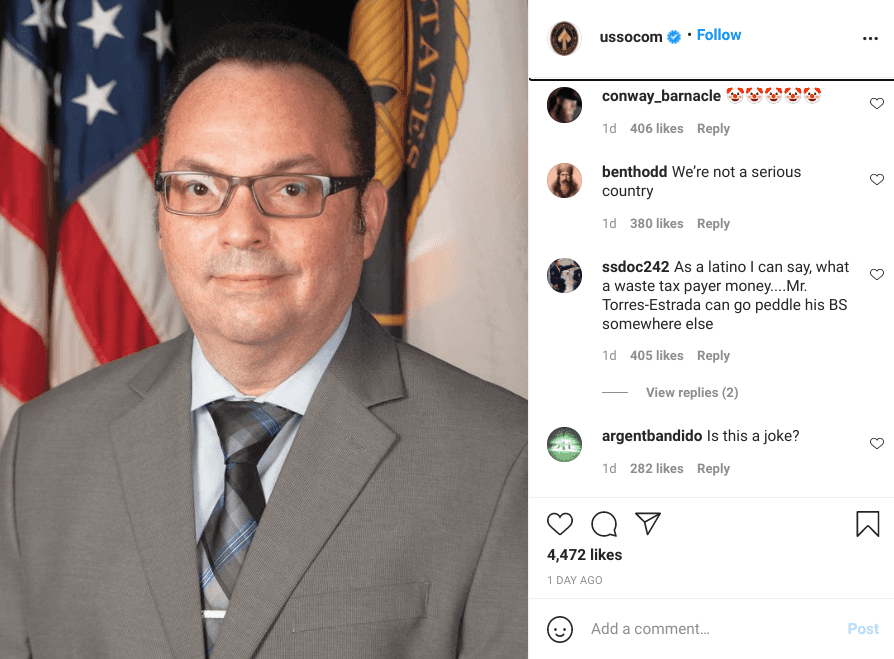 Instagram user SSDoc242, whose bio states he is a Special Operations Forces (SOF) vet and links to a website for special operations training services, said, "As a latino I can say, what a waste tax payer money….Mr. Torres-Estrada can go peddle his BS somewhere else."
Another Instagram user commented, "And this does exactly what for lethality?"
The critical comments also continued on SOCOM's Facebook page, which posted an identical announcement about the decision to hire Torres-Estrada.
Some Facebook users noted past politically charged posts on Torres-Estrada's Facebook page, including one comparing former President Donald Trump to Nazi German leader Adolf Hitler.
The mockery continued on Twitter, where one user claiming to be a 28-year Army veteran said, "So glad I'm retired."
Defense One executive editor Kevin Baron tweeted additional photos of the negative comments and said, "US Special Operations Command posted in Insta that they now have a diversity and inclusion officer. The replies are filled with mockery and hate… @USSOCOM."
Baron added, "Perhaps this topic might come up in this @HASCDemocrats subcommittee hearing…"
The U.S. military has faced criticism in the past for efforts to promote diversity. Republican lawmakers have recently called into question the Navy's decision to include books like "How to Be an Antiracist" on its official reading list, despite complaints that the book promotes discrimination and that its author, Ibram X. Kendi has shared conspiracy theories that white people are responsible for AIDS and are actually aliens.
In February, a viral training video of U.S. Army soldiers accidentally pointing loaded weapons at each other during a live-fire training prompted social media commentators to accuse the military of focusing on social justice issues rather than safe training for combat scenarios.
Several military officials also criticized Fox News host Tucker Carlson after he anchored a new commentary segment questioning the military's decision to develop maternity flight suits and relax grooming standards for female troops. Sen, Ted Cruz (R-TX) even raised issue with an official U.S. Marine Corps account that called Carlson a "boomer" and a Pentagon news release titled "Press Secretary Smites Fox Host That Dissed Diversity in U.S. Military."