On Wednesday, the U.S. Army's 18th Airborne Corps announced 97-year-old veteran paratrooper Kenneth "Rock" Merritt had passed away. Merritt's record included dropping into Normandy, France as part of D-Day and several other key operations during World War II.
"Rock Merritt left us this morning at ~ 11:30," the 18th Airborne Corps tweeted. "He died at home with his daughter Dianna at his side. He was at peace. Dianna told Rock he was free to go. We certainly know he did his duty here with all of us. He was among our Nation's finest Soldiers, mentors, and citizens."
Merritt's military career spanned 35 years of service and included combat throughout the European Theater of World War II as a member of the 82nd Airborne Division's 508th Parachute Infantry Regiment. According to a 2004 biography, Merritt dropped into Normandy on June 5, 1944, the day before D-Day landing operations commenced. Following D-Day, Merritt dropped again into Holland in September 1944 as part of Operation Market Garden, the largest paratroop operation in history.
Merritt's unit was also assigned to help reinforce the allied lines in the Ardenne Forst during the Battle of the Bulge, from December 1944 to January 1945.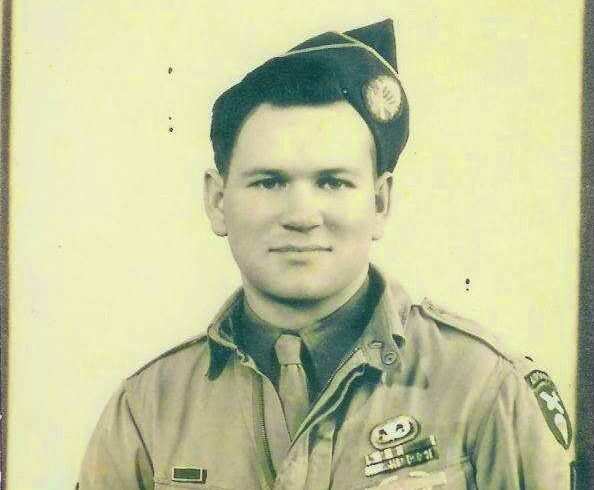 "I served 35 years in the United States Army; and, during that time I served in many different units – the 508th PIR was absolutely the finest," Merritt wrote. "It had the best officers, the best noncommissioned officers, and the finest men with whom I have ever served."
Merritt would go on to serve in Korean and Vietnam Wars.
Merritt was also the only command sergeant major to serve twice as the 18th Airborne Corps Command Sergeant Major, the unit's top senior enlisted advisor. He served in the position first from 1962 to 1966 and then again from 1973 to 1977.
Merritt completed more than 200 parachute drops throughout his military career.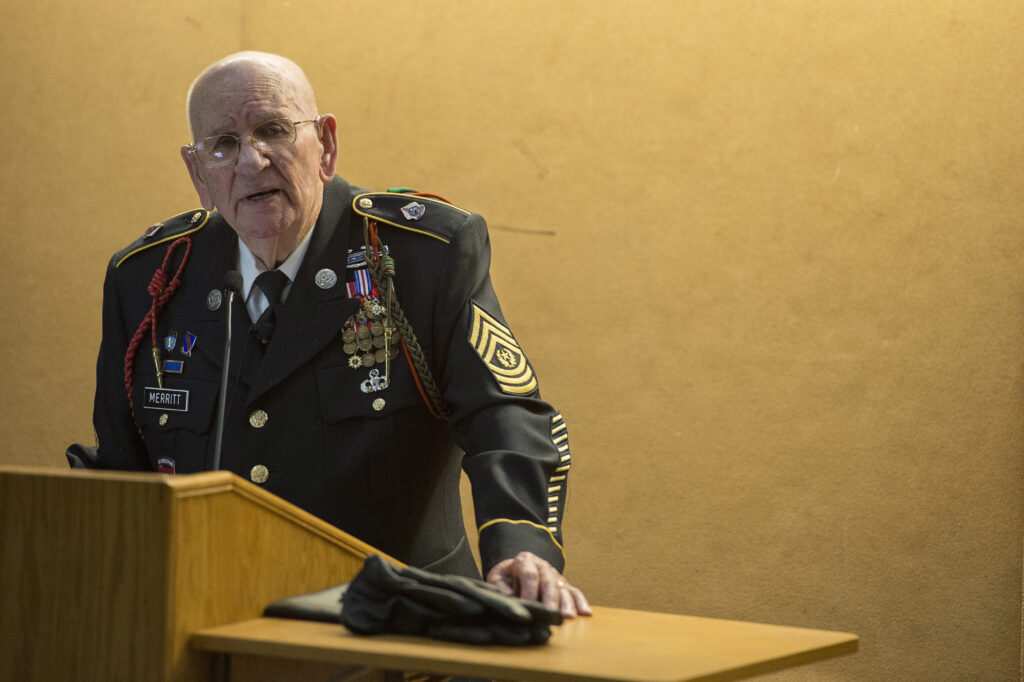 His awards and decorations included the Silver Star Medal, Legion of Merit Medal, Bronze Star Medal with two oak/leaf clusters, Meritorious Service Medal with two clusters, Army Commendation Medal with three clusters, Combat Infantry Badge, the Presidential Unit Citation, Masters Parachutists Badge with two combat jump stars, National Defense Medal, the European Theater of Operations Medal with Invasion Arrowhead and four battle stars, the European Victory Medal, and the Occupation Medal with Germany Bar, French Fourragere with Palm, Belgium Fourragere and the Orange Lanyard of the Royal Netherlands Army.
Merritt earned the Silver Star, the nation's third-highest individual military decoration, for disabling a German machine gun nest during fighting in France in July of 1944.
Even after his military service, Merritt remained active in speaking to new paratroopers and attending unit change-of-command ceremonies.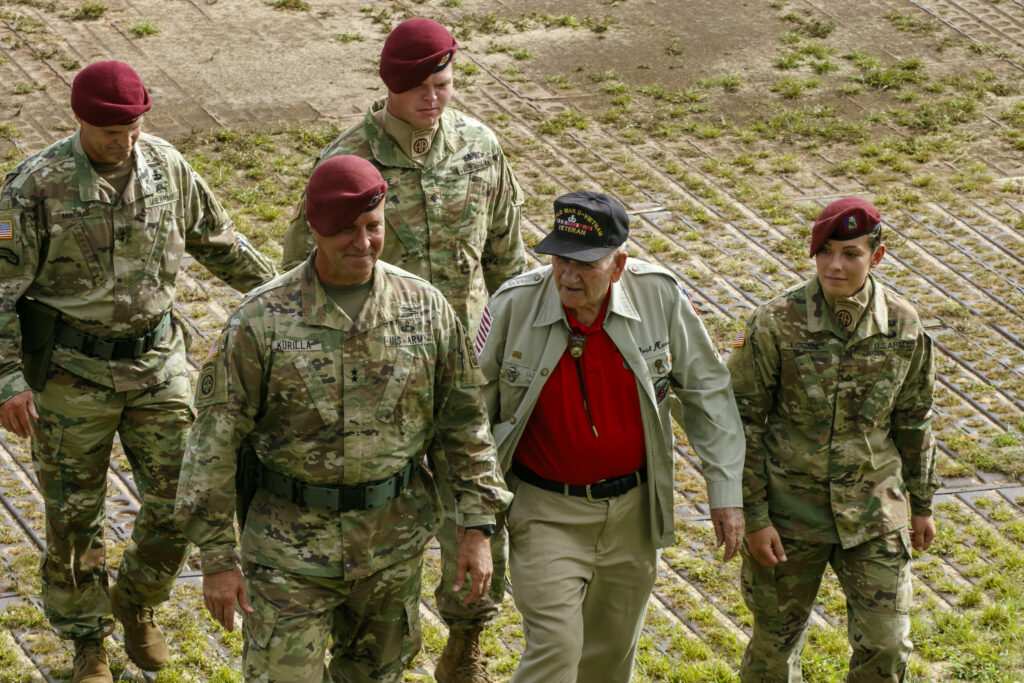 "For many, his investment in our Soldiers will serve as his legacy. Every change-of-command, every All American Week, every big event, Rock was there. He met every Paratrooper, he shook every Soldier's hand," the 18th Airborne Corps said in a Facebook post Wednesday.