The Army could be field-testing a new microwave weapon to protect military bases from swarms of incoming drones as soon as 2024, after an on-site demonstration of the system at Kirtland Air Force Base.
Army Lt. Gen. L. Neil Thurgood watched the weapon in action Feb. 11 in a remote canyon on the 52,000-acre base. The Air Force Research Laboratory's Directed Energy Directorate at Kirtland built the system — called the Tactical High Power Operational Responder, or THOR — to provide effective, immediate protection against multiple targets that simultaneously threaten military installations.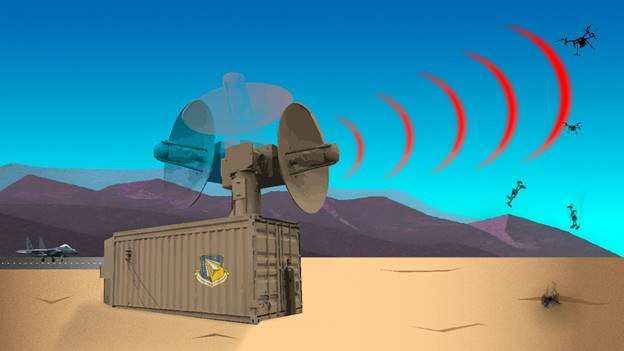 That's a growing problem that requires new, modern tools to defend troops and infrastructure, prompting the Army to invest in emerging "directed energy" systems, including both microwave and laser weapons, said Thurgood, who heads Hypersonics, Directed Energy Space and Rapid Acquisition and oversees the Army Rapid Capabilities and Critical Technologies Office.
Laser weapons, however, are effective only against single targets, whereas microwave systems like THOR offer defense against many threats at once.
"The Army's directed energy capabilities will need to provide a layered defense with multiple ways to defeat incoming threats," Thurgood said in a statement after watching THOR in operation. "High-energy lasers kill one target at a time, and high-powered microwaves can kill groups or swarms, which is why we are pursuing a combination of both technologies."
After meeting with THOR developers at Kirtland, Thurgood said the Army intends to invest in the system in partnership with AFRL starting in fiscal year 2022, which begins in October, said Kelly Hammett, who heads AFRL's Directed Energy Directorate. The Army goal is to deploy THOR alongside laser defense and other systems for a platoon to test them directly in the field by FY 2024.
"They intend to procure enough systems for a platoon unit in 2024 to do experimentation with a mix of weapons," Hammett told the Journal. "They will put microwave and lasers together in a single unit to assess how to deploy it all."
Actual procurement of multiple systems for the battlefield likely won't happen until 2026 at the earliest, because the goal now is to fully evaluate and further develop them into field-ready tools. But the testing that begins in 2024 will be directly imbedded in military operations.
"They're not games," Hammett said. "The weapons will be directly protecting soldiers at whatever scale is possible at that time."
That marks a major milestone for the AFRL, and for the development of directed energy weapons in general. The AFRL has worked for decades to build laser defense systems in cooperation with private defense contractors like Boeing and Northrop Grumman. And it's worked for many years as well on microwave systems with national and local companies, including Raytheon Technologies Corp., before that company closed its Albuquerque offices last year.
AFRL spent $15 million to build THOR in cooperation with global engineering firms BAE Systems and Leidos, and with the Albuquerque firm Verus Research. It first unveiled the weapon in a live media demonstration in June 2019, allowing local journalists to watch and photograph the system as it effortlessly knocked a hovering drone out of the sky with an invisible and inaudible electromagnetic wave. The microwave instantaneously disables drone electronics, sending the vehicles tumbling to the ground.
The system works like a flashlight; the wave spreads out to disable anything within its electromagnetic cone, THOR program manager Amber Anderson said at the 2019 demonstration.
"The system output is powerful radio bursts, which offer a greater engagement range than bullets or nets, and its effects are silent and instantaneous," Anderson said in a statement following Thurgood's Kirtland visit this month.
THOR's microwave antennas and foundation are housed in a 20-foot shipping container that can be stowed in a military cargo plane and transported on a flatbed truck. It can be assembled in the field by just two people in three hours, according to AFRL.
The user interface is designed for minimal training. A handheld remote control rotates the antennas in all directions as needed, providing 360-degree defense against drones. The firing mechanism and overall system control are operated from a laptop.
With the Army and AFRL now set to collaborate on further testing and development, more contract opportunities will emerge for local and national companies, Hammett said. Requests for bids will be published as the next fiscal-year funding cycle approaches.
"We'll make all the documents, specifications and designs that we sunk into the current generation of technology available to private companies to do the work," Hammett said. "We want to be poised for rapid success, not start from scratch."
When the military actually begins procuring and deploying THOR, it could provide huge opportunities for New Mexico companies to participate in manufacture and sale of the systems. But the state still needs to improve the local business environment to win those investments, Hammett said.
"On the positive side, New Mexico does have a lot of available land, resources, know-how and worker expertise, which offers ready access to what's needed," Hammett said. "That makes Albuquerque attractive, but landing those contracts is not a surety."
___
(c) 2021 the Albuquerque Journal
Distributed by Tribune Content Agency, LLC.