The Freedom Alliance donated six highly-specialized all-terrain wheelchairs to six disabled U.S. Army veterans in 2020, as part of its ongoing efforts to provide veterans with specialized tracked-wheelchairs.
The U.S. military veterans that received the donated wheelchairs in 2020 included, Sgt. 1st Class Logan Brokaw, Sgt. Nick Mateo, Staff Sgt. David Boucher, Specialist Ed Guldin, and Captain Greg Galeazzi.
The motorized all-terrain capable wheelchairs look like a one-man tank, and are meant to allow wounded veterans to navigate a variety of terrains a typical wheelchair couldn't easily overcome, such as through snow, gravel, sand, mud, and in the woods. The wheelchairs can also mount curbs and go up inclines.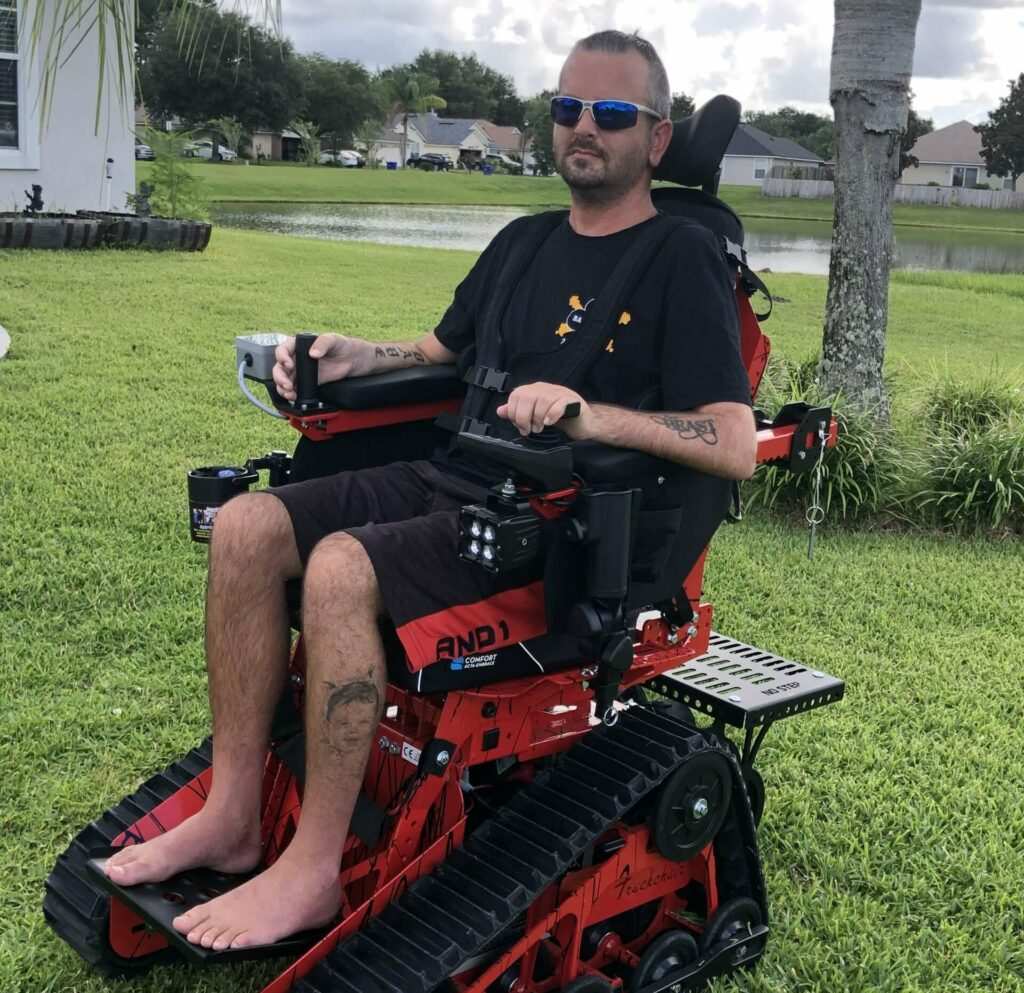 Freedom Alliance President Tom Kilgannon told American Military News, each of the wheelchairs donated by the Freedom Alliance is customized to the specific recipient's needs. In Brokaw's case, Kilgannon said the injured service member simply wanted an attachment that motorizes the everyday chair he already has.
Among the other potential adjustments for the chairs, Kilgannon said the height of each chair's seat can be adjusted and the chair's control joystick can also be placed on either side of the chair, according to the user's preference. Kilgannon said, "a rifle rack, or a mount for a fishing rod, and tackle box are usually added on" as well.
"Most of the all-terrain chairs we provide are heavy duty and used for outdoor recreation – to hunt, fish, go to the beach, navigate uneven surfaces, etc. These chairs are a means to an end," Kilgannon added. "The ultimate goal is to help the wounded service member get out of the house and enjoy outdoor activities. Many of these troops grew up hunting and fishing – they want to continue that tradition and pass it along to their kids. The chair gives them a little more mobility and independence. It allows them to be with friends and family without having to rely on others to get to where they want to be."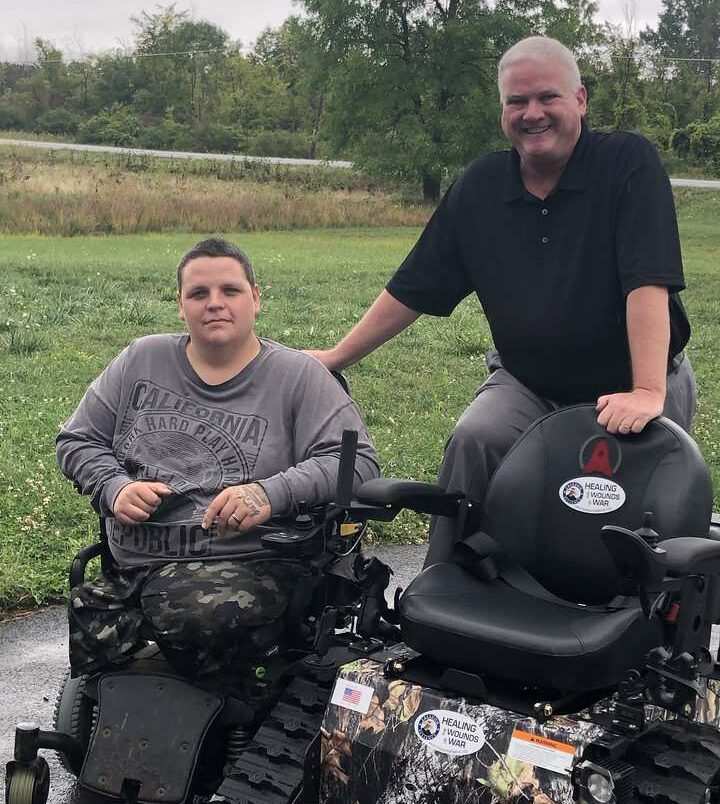 Guldin, who lost both of his legs after a 2011 IED attack in Afghanistan, said, "Receiving this chair will help me become more of the person I was before my accident. This will allow me to more easily hunt, fish and once again participate in many of my favorite outdoor adventures. It will give me back my independence and freedom,"
Galeazzi, who similarly lost both his legs due to a roadside bomb in Afghanistan in 2010 said, "I've always loved the outdoors and being free to explore the wonders of nature. Because of my injuries, I have been restricted to paved paths that my standard wheelchair can handle. I'd like to be able to break free from the trail every now and then. I plan to live in the New England region for many years to come, and the chair will be useful over snow and ice in the winter."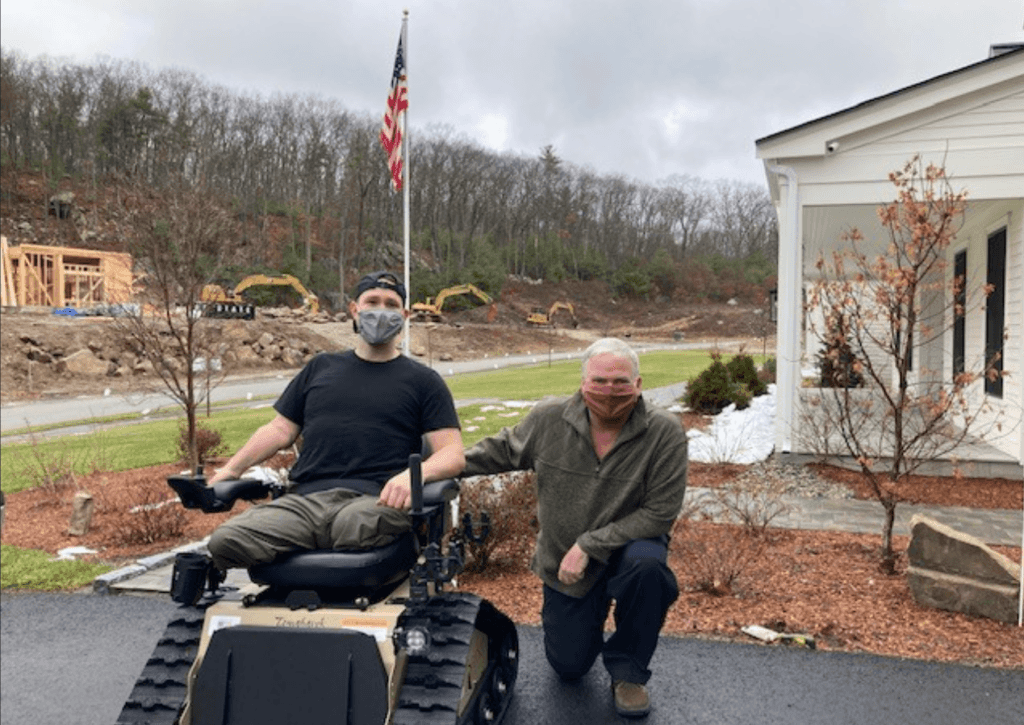 "This TrackChair is an essential piece of equipment I need to maintain my property and continue living a life that is not as affected by my injuries," said Moore, who was paralyzed and sustained two collapsed lungs when his platoon was attacked during a 2013 mission. "I've had to go without [a TrackChair] for some time now and as a result, the condition of my property has declined because I simply could not get to places without getting my normal power chair stuck. I am thankful Freedom Alliance has helped with continuing to live a more active and fulfilled life by gifting this necessary chair, which I would otherwise not have been able to afford."
Boucher, who was diagnosed with amyotrophic lateral sclerosis (ALS) during his time in the Army and who was medically retired in June of 2018 said, "I love going to the beach but haven't had the chance to take my family in a while since I can't walk far or in the sand. I look forward to once again fully enjoying my favorite activities with my friends and loved ones."
Mateo, who served in the Army Special Operations Command, retired from the military in 2014, after developing chronic illnesses related to his exposure to harmful chemical agents during his time in the service. Since retiring, Mateo and his family moved to a ranch in Texas. The new tracked wheelchair he received will help him navigate his property.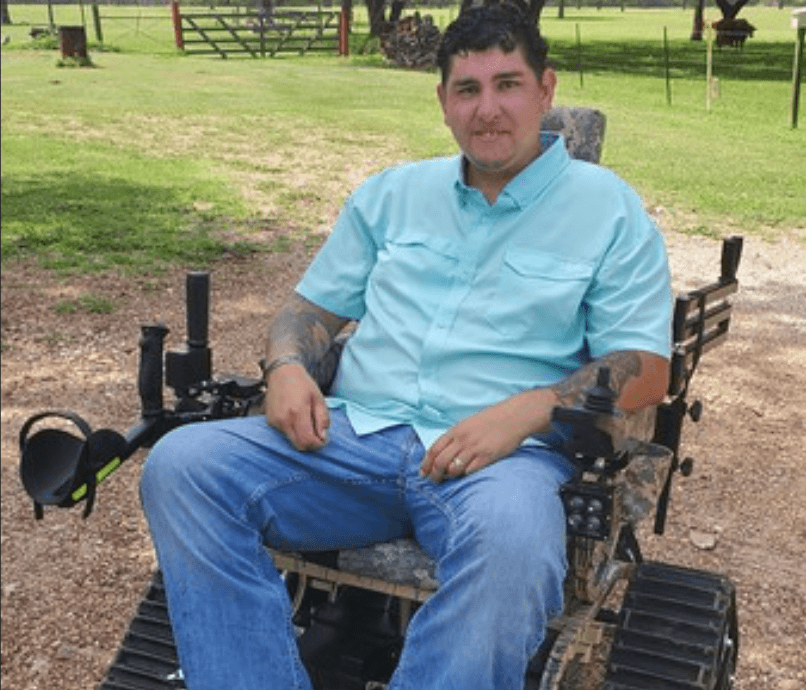 "We can once again go to the beach, take my daughter around the ranch to see her cows, take family ski trips and participate in many other outdoor adventures," Mateo said. "I will always be grateful for the blessing and gift Freedom Alliance has presented."
With the six latest all-terrain wheelchairs it donated in 2020, the Freedom Alliance has provided a total of 47 wheelchairs to service members so far.
In 2020 the Freedom Alliance also awarded $2.1 million in scholarships to more than 550 students. The Freedom Alliance provides its scholarships to children of service members killed or disabled in service.
"It means a lot to have people who care and do so much to help service members," Brokaw said.