On Friday, Taiwan's Ministry of National Defense reported the largest ever violation of its air defense identification zone (ADIZ) in a single day by 20 Chinese warplanes.
The Ministry of National Defense for the Republic of China, the formal name for the Taiwanese government, tweeted, "20 PLA aircraft (Y-8 ASW*2, KJ-500 AEW&C, H-6K*4, J-16*10, J-10*2 and Y-8 RECCE) entered #Taiwan's southwest ADIZ on Mar. 26, 2021. Please check our official website for more information."
The list of Chinese aircraft included 10 J-16 and 2 J-10 fighter jets, four H-6K nuclear-capable bombers. The list of aircraft also included a KJ-500 airborne early warning and control (AEW&C) aircraft, two Y-8 aircraft configured for anti-submarine warfare (ASW) and another Y-8 aircraft configured for aerial reconnaisance.
The 20 Chinese aircraft represent the largest force of warplanes since Taiwan's defense ministry began disclosing the Chinese military flights around the island, which have been occurring on an almost daily basis in recent months. Taiwan identified 13 Chinese warplanes in a single day in January.
Taiwan's defense ministry provided an image of the Chinese warplanes' flight paths around the island.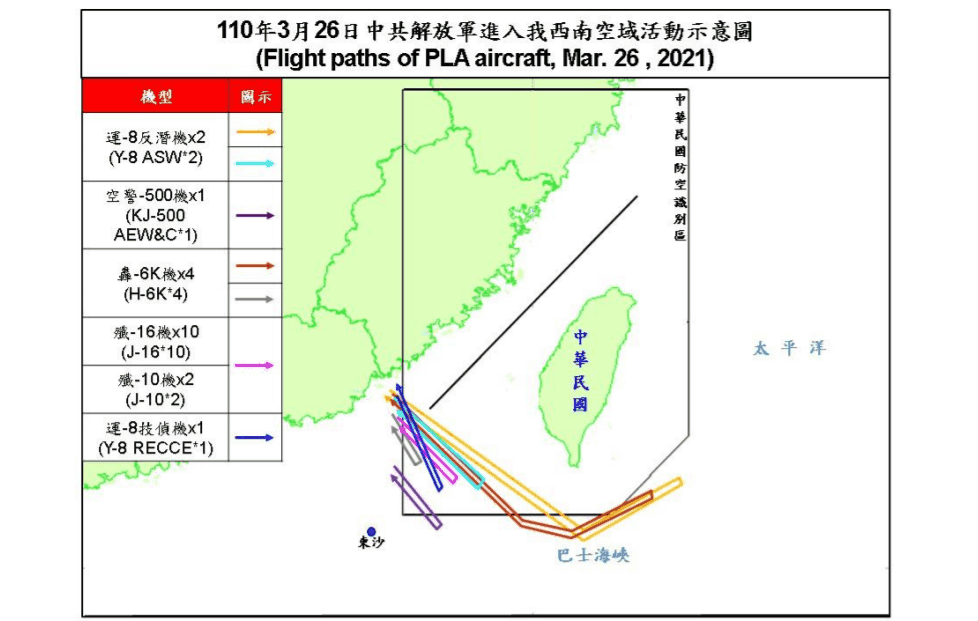 Taiwan's defense ministry said it issued radio warnings to the Chinese aircraft, activated its defensive missile systems and dispatched aircraft to monitor the situation.
Aircraft from China's People's Liberation Army (PLA) have made numerous threatening flights around Taiwan throughout 2020 and 2021. Chinese warplanes flew over Taiwan when then-U.S. Under Secretary of State for Economic Growth, Energy and the Environment Keith Krach visited Taiwan in September.
According to Taiwan's defense ministry, China sent another 10 warplanes including eight fighter jets into Taiwan's ADIZ on Monday.
China has continued to insist on a claim to sovereignty over Taiwan for decades and U.S. military officials have continued to warn about a possible Chinese invasion of the island.
China's frequent military flights around Taiwan may be an effort to exhaust Taiwan's aircraft.
Washington Post military reporter Dan Lamothe tweeted, "Senior U.S. defense officials have said China is doing this in part to burn out Taiwan's military readiness. When China does this, Taiwan scrambles their own fighters in response."
Taiwan grounded its fleet of F-16 fighter jets in November and last week grounded its fleet of F-5 fighter jets after separate fatal crashes.
In February, President Joe Biden's administration vowed to deepen ties with Taiwan in the face of continued Chinese operations around the island.
"We will stand with friends and allies to advance our shared prosperity, security, and values in the Indo-Pacific region — and that includes deepening our ties with democratic Taiwan," U.S. State Department spokesperson Ned Price said.
The effort to increase U.S. ties with Taiwan comes even though the U.S. has recognized China's sovereignty claim over Taiwan since 1972.
"The United States will continue to support a peaceful resolution of cross-strait issues, consistent with the wishes and best interests of the people on Taiwan," Price said. "The United States maintains its longstanding commitments as outlined in the Three Communiqués, the Taiwan Relations Act, and the Six Assurances. We will continue to assist Taiwan in maintaining a sufficient self-defense capability. Our commitment to Taiwan is rock-solid and contributes to the maintenance of peace and stability across the Taiwan Strait and within the region."
While the Biden administration has vowed to strengthen ties with Taiwan, U.S. military planners have raised concerns that the U.S. could "lose fast" in a scenario where China tries to invade Taiwan.