On February 1, 1958, then 23-year-old Rock and Roll star Elvis Presley recorded his last single before joining the U.S. Army.
Presley had received his draft notice on December 20, 1957 and, according to History.com, received one draft deferment, delaying his entry into the Army until March 24 of the following year. In the time between receiving his draft notice and entering boot camp, Presley devised a plan to create a catalog of music to slowly release during his military service, helping to sustain his musical career during his absence.
On February 1, 1958, with just over a month and a half before he was due to join the Army, Presley recorded his final pre-service single, "Wear My Ring Around Your Neck."
Presley's music career began to take shape in 1953 and by 1956, following a string of famous releases including "Heartbreak Hotel," "Blue Suede Shoes," "Hound Dog" and "Don't Be Cruel," Presley had built a reputation as rock-and-roll star.
After Presley received his draft notice in 1957, media reports began to speculate that his career would suffer, but Presley, in coordination with manager Colonel Tom Parker and producers Steve Sholes and Freddy Bienstock, prepared a backlog of releases to last through most of the musician's two-year military hiatus.
According to Presley's Graceland estate, a reporter asked Presley if he thought his fame would fade after entering the Army, to which Presley replied, "That's the sixty-four-dollar question. I wish I knew."
Presley was sworn into the Army as private in Memphis, Tennessee on March 24, 1958. Two weeks later, on April 7, "Wear My Ring Around Your Neck" was released.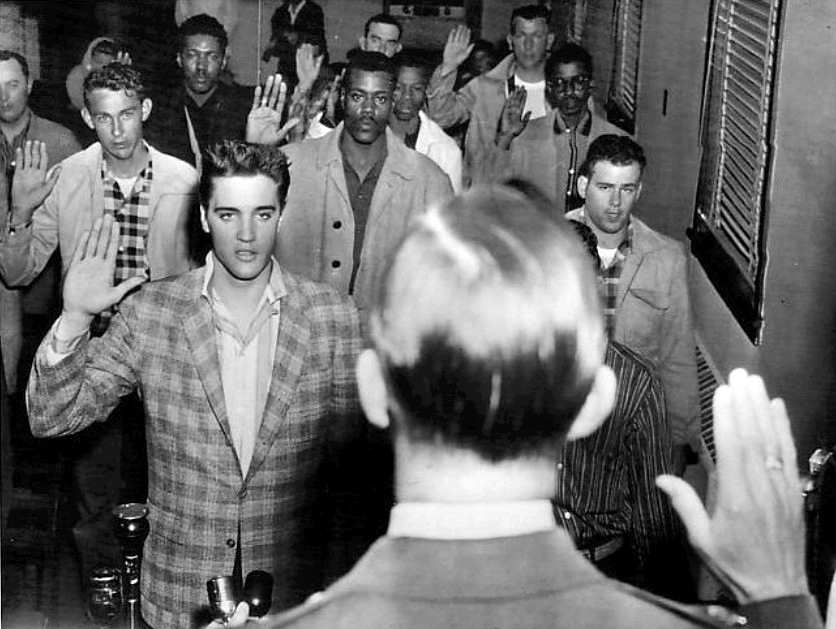 Other top singles Presley released throughout his Army service included "Hard Headed Woman" in June 1958, which went No. 1 on the Billboard charts; "One Night" in October 1958, which reached No. 11 on the Billboard charts; and "A Big Hunk o Love" in June 1959, which topped the Billboard charts for two weeks at No. 1.
Presley repeatedly returned to record singles when he had time throughout his two years in the Army, helping to sustain his musical profile during his service.
During his basic training, Presley was given an emergency leave to visit his mother, Gladys, before she died in August 1958.
After basic training, Presley was stationed in Friedberg, Germany with Company D, 32nd Tank Battalion, 3rd Armor Division. During his service, Presley attained the rank of sergeant.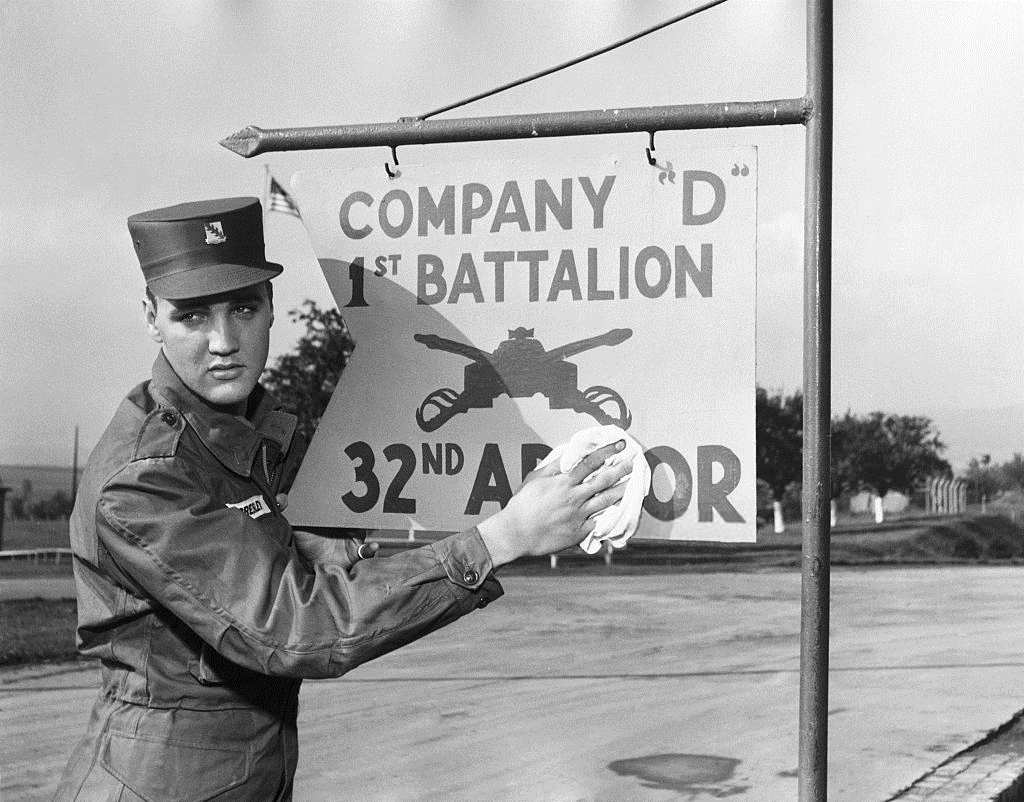 Presley returned from Germany on March 2, 1960 and was honorably discharged from the Army three days later.
According to Presley's Graceland estate, Presley was receiving a monthly pay of around $100,000 going into 1958. According to a Defense Finance and Accounting Service (DFAS) pay chart, Presley's monthly pay starting out in the Army in 1958 would have been about $78 and would have risen to about $145 by the time he reached the rank of Sergeant.
According to History.com, Presley was widely praised for trying to avoid the draft or to serve domestically.