On Tuesday, U.S. B-52H "Stratofortress" strategic bombers flew over the Persian Gulf, marking the third flight of the nuclear-capable bombers over the region in 2021 and the first show of force under President Joe Biden.
In a Wednesday press release, the U.S. Central Command (CENTCOM) said the bombers assigned to the 2nd Bomb Wing took off from Barksdale Air Force Base, La., for the long-range flight to and from the Persian Gulf region. Along the way, the bombers joined with Air Force F-15E "Strike Eagle" fighter jets, including Royal Saudi Air Force F-15's. The bombers also joined with F-16 "Fighting Falcon" fighter jets, and KC-10 "Extender" and KC-135 "Stratotanker" aerial refueling aircraft.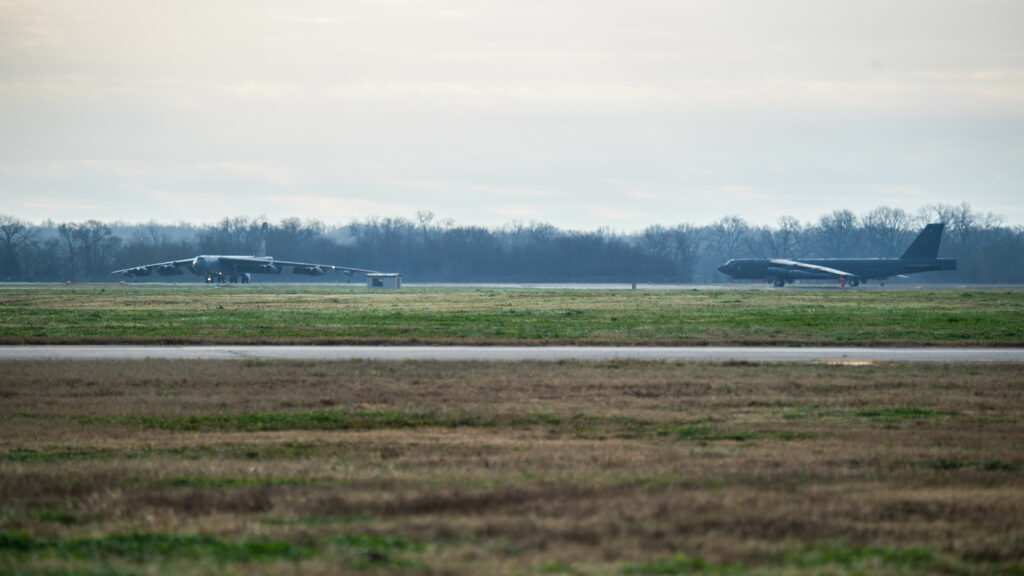 CENTCOM said, "This long-range, short-duration defensive mission was intended to demonstrate the U.S. military's ability to deploy airpower anywhere in the world to deter potential aggression and showcase the U.S. commitment to regional security."
Bomber patrols have been repeatedly used as deterence method throughout the Middle East, and have particularly been used amid threats of attacks from Iran.
B-52 bombers flew over the Middle East on Jan. 16, just days after Iranian missiles reportedly fell within 100 miles of the USS Nimitz (CVN-68) aircraft carrier.
In December, as Iran increasingly stepped up call for revenge on the one year anniversary of the U.S. strike that killed Iranian Gen. Qassem Soleimani, B-52 bombers took flight to make another "deliberate appearance" in the Middle East. Those B-52's also deployed amid reports of planning, particularly in Iraq, of complex attacks with assistance from Iran.
B-52 bombers are well equipped for the bomber patrols. CENTCOM said the bombers "can perform a variety of missions," and are able to fly at high subsonic speeds at altitudes reaching 50,000 feet. The bombers also have an unrefueled combat range of more than 8,800 miles. The B-52H can also carry a variety of precision-guided ordnance.
CENTCOM said, "The United States does not seek conflict, but continues to be postured and committed to respond to any contingency around the world."
Biden has said he would pursue a return to the 2015 Joint Comprehensive Plan of Action (JCPOA), also known as the Iran nuclear deal, after President Donald Trump withdrew from it in 2018. Biden has reportedly begun efforts to open a direct line of dialogue with Tehran.
Biden's newly appointed Secretary of State Antony Blinken said that a return to the Iran deal is still a "long way" off. Blinken said, "We would have to see, once the president is in office, what steps Iran actually takes" and evaluate whether "they're coming back into compliance with their obligations" under the deal.