Twitter suspended a fake account depicting Iranian Supreme Leader Ali Khamenei on Friday after a tweet threatening former President Donald Trump's life. The threat originally came from Khamenei's real, official website.
The fake Khamenei account tweeted an image depicting Trump on a golf course overshadowed by an aircraft with a caption vowing, "Revenge is definite," adding, "Soleimani's murderer and those who ordered his murder must face revenge." The image was released in a statement to Khamenei's website on Friday.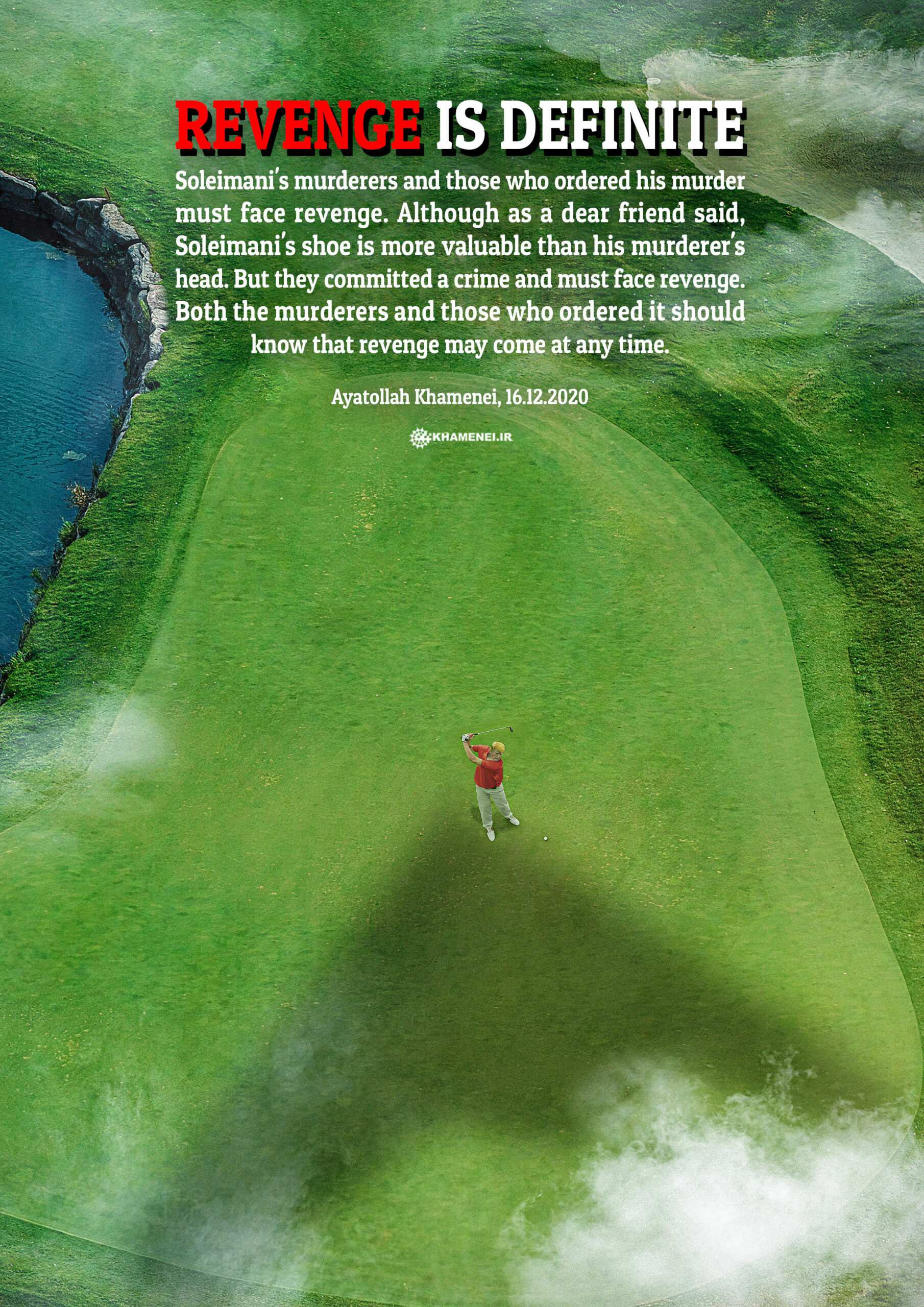 The fake account deleted by Twitter appeared consistent with Khamenei's multiple Twitter accounts for various languages, and consistent with Iranian leaders' threats on Trump's life, so it appeared to be legitimate. However, Twitter later told media outlets that the account was "fake" without providing further explanation.
The doctored image of Trump and vow of revenge, however, was both in a statement to Khamenei's official website, and spread across the entire homepage of the website.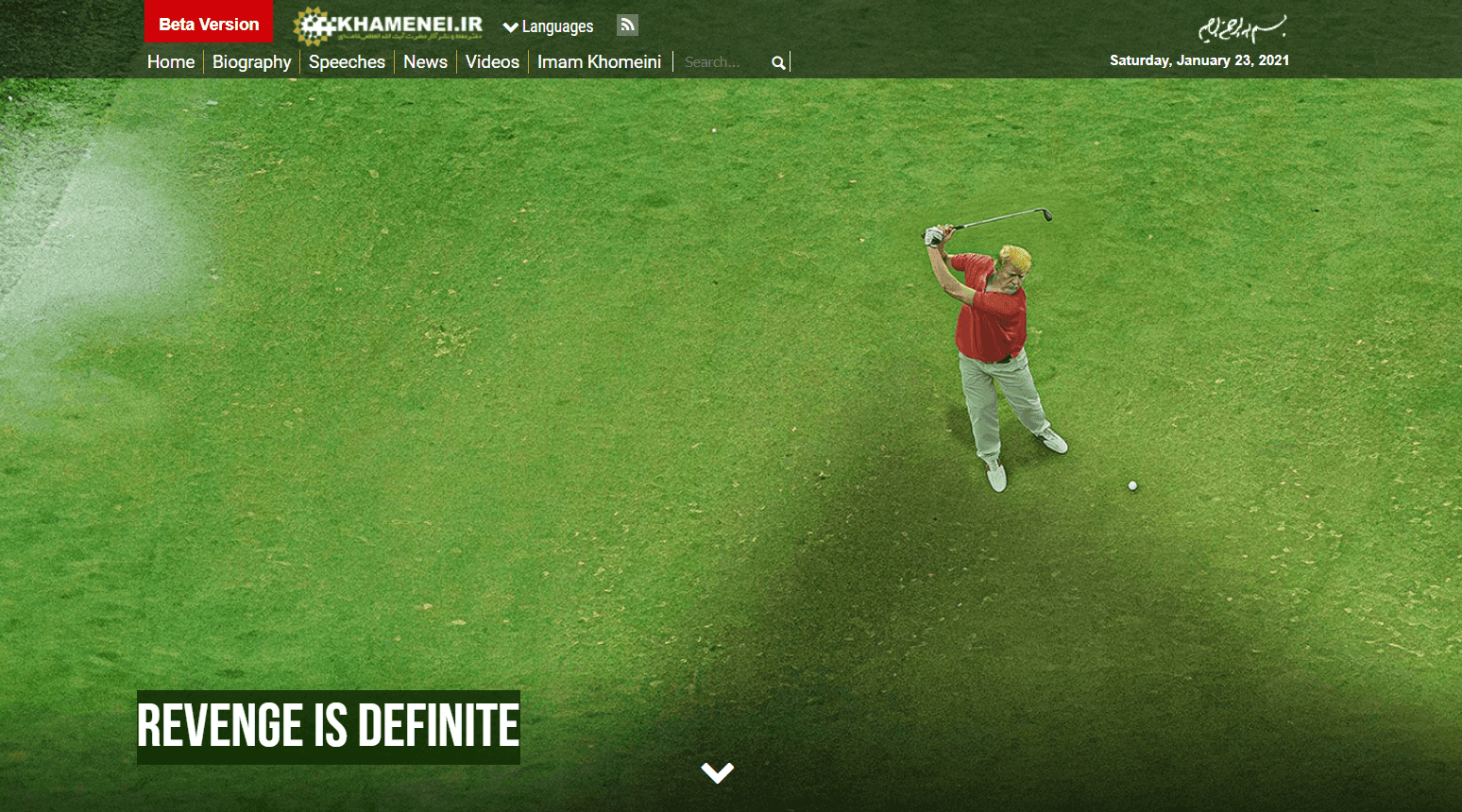 As of Friday morning, @khamenei_ir, Spanish language account @es_Khamenei, Russian language account @Khameneiru, Farsi language account @Khamenei_fa, and Arabic language account @ar_Khamenei all remain live.
Khamenei and other Iranian leaders have been threatening Trump since he ordered the January 2020 airstrike on its top general, Qassem Soleimani. Trump had said Soleimani was "directly and indirectly responsible for the deaths of millions of people."
On Dec. 30, Iranian President Hassan Rouhani said Trump's life "will end" and Iran would not rest until it gets revenge on the U.S. for Soleimani's death.
Former President Donald Trump had highlighted multiple Khamenei tweets in May 2020 that called for violence against Israel, and pointed the tweets out to Twitter to question why the social media platform had not censored those tweets.
The White House included a screenshot of a Khamenei tweet that said, "The struggle to free Palestine is Jihad in the way of God. Victory in such a struggle has been guaranteed, because the person, even if killed, will receive 'one of the two excellent things.' Also, crimes against Palestine trouble any human's conscience & inspire opposition."
Khamenei's tweet was part of an extensive 25-part series of tweets he made on May 22, including one that called Israel "a deadly, cancerous growth and a detriment to this region. It will undoubtedly be uprooted and destroyed."
Federal Communications Commission Chairman Ajit Pai also tweeted out a screenshot of four of Khamenei's tweets and said, "Serious question for Twitter: Do these tweets from Supreme Leader of Iran @khamenei_ir violate 'Twitter Rules about glorifying violence'?"
On October 28, the Senate held a hearing with Twitter CEO Jack Dorsey, who likened Khamenei's tweets as "saber-rattling" and said it did not constitute a violation of the platform's policies.
"We believe it's important for everyone to hear from global leaders. We want to make sure we are respecting their right to speak and to publish what they need," Dorsey added at the time.
This story initially referred to a Twitter account as having belonged to Iranian Supreme Leader Ali Khamenei. The account was later determined to be a fake account that reshared actual content from Khamenei's official website.