Twitter banned multiple accounts on Friday, including that of former Trump advisor Gen. Michael Flynn, for allegedly violating the platform's rules by sharing QAnon content.
Gen. Flynn, who was fully pardoned in November by President Donald Trump, had used his account to speak out against the 2020 presidential election results. On Friday, his page appeared blank except for an "Account suspended" message.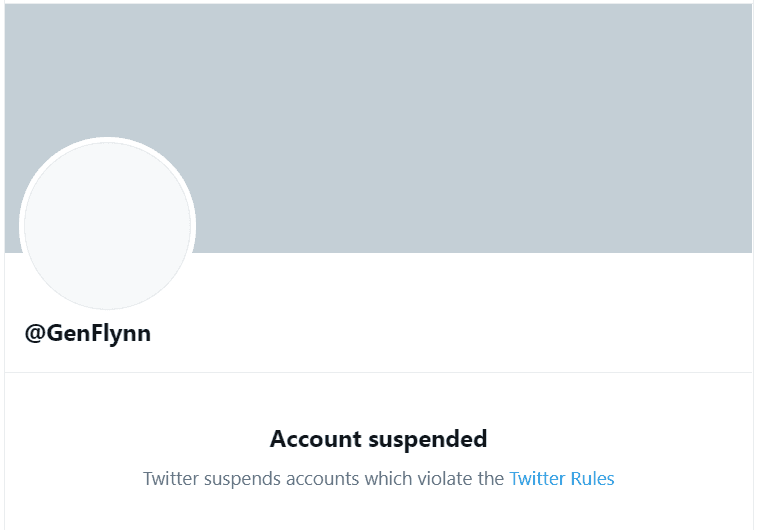 Twitter also banned the account of high profile lawyer Sidney Powell, who also frequently posted about election theft claims.
One America News Network anchor Alex Salvi posted a statement from Twitter explaining that the platform is banning accounts that violate its Coordinated Harmful Activity policy. The same statement was reported by NBC News.
"We've been clear that we will take strong enforcement action on behavior that has the potential to lead to offline harm, and given the renewed potential for violence surrounding this type of behavior in the coming days, we will permanently suspect accounts that are solely dedicated to sharing QAnon content," Twitter's statement said.
Other banned accounts include that of Michael Flynn's son, Michael Flynn Jr., and Ron Watkins, administrator of the former 8chan website which shared QAnon content.
Powell and Watkins have both frequently posted claims about Dominion Voting Systems, accusing the voting machine manufacturer of helping steal the presidential election from Trump.
Dominion filed a $1.3 billion defamation lawsuit against Powell on Friday. The lawsuit accessed Powell of spreading "demonstrably false" allegations of a scheme to falsify votes to help Joe Biden win the election, Washington Post reported.
A screen capture of bot-identified activity from close Trump ally and lawyer Rudy Giuliani showed his account unfollowing numerous users, and it wasn't clear whether the unfollowed accounts were also suspended in the Twitter purge.