President Donald Trump released a video pleading with protestors to leave the U.S. Capitol peacefully and return to their homes. People part of a pro-Trump rally to protest the election results had breached the Capitol and clashed with police on Wednesday, prompting lockdowns, evacuations, and riot response measures.
"I know your pain, I know you're hurt. We had an election that was stolen from us. It was a landslide election and everyone knows it, especially the other side, but you have to go home now. We have to have peace. We have to have law and order. We have to respect our great people in law [enforcement]. We don't want anybody hurt," Trump said in a video posted to Twitter and Facebook, although it was later removed from Facebook.
Trump lamented on the "very tough period of time" referring to his loss in the presidential election.
"There's never been a time like this where such a thing happened, where they could take it away from all of us, from me, from you, from our country. This was a fraudulent election, but we can't play into the hands of these people," Trump said.
"We have to have peace, so go home. We love you, you're very special," he said. "You've seen what happens, you see the way others are treated that are so bad and so evil. I know how you feel, but go home and go home in peace."
Twitter quickly locked Trump's video from being liked or shared, and added a label that said, "This claim of election fraud is disputed, and this Tweet can't be replied to, Retweeted, or liked due to a risk of violence."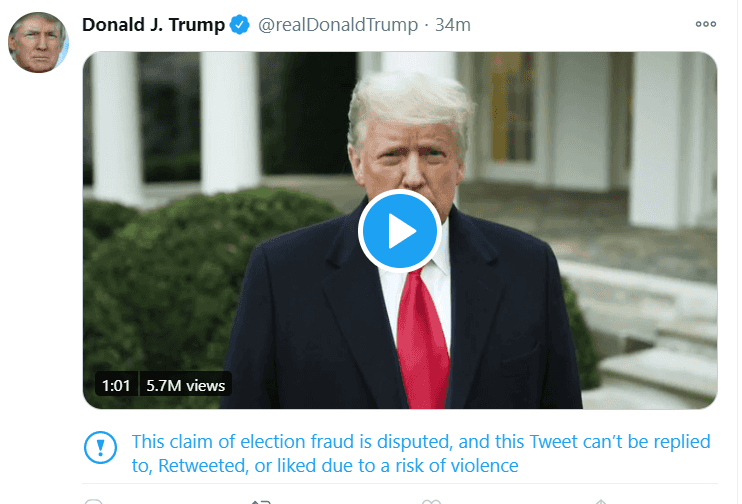 Trump's video remarks followed two previous tweets in which he called on his supporters to be peaceful.
"I am asking for everyone at the U.S. Capitol to remain peaceful. No violence! Remember, WE are the Party of Law & Order – respect the Law and our great men and women in Blue. Thank you!" Trump tweeted.
"Please support our Capitol Police and Law Enforcement. They are truly on the side of our Country. Stay peaceful!" he said.
The tweets were Trump's first comments since the protestors who were protesting the election results had broke through fencing and stormed the U.S. Capitol building, overtaking police and eventually breaching the House of Representatives chamber.
Law enforcement quickly became overwhelmed and deployed tear gas against protesters. Lawmakers inside the chambers were told to retrieve gas masks under their seats and move away from doors. Video showed police pointing their guns at the chamber doors.
At least one person was shot inside the Capitol building. Video showed a woman bloodied on the floor among a crowd of protesters moments after a gunshot was heard.
Vice President Mike Pence spoke out against the violence at the Capitol, saying, "The violence and destruction taking place at the US Capitol Must Stop and it Must Stop Now. Anyone involved must respect Law Enforcement officers and immediately leave the building."
"Peaceful protest is the right of every American but this attack on our Capitol will not be tolerated and those involved will be prosecuted to the fullest extent of the law," Pence added.
Acting Homeland Security Secretary Chad Wolf also spoke out against violence at the Capitol, tweeting, "Violence in any form is unacceptable. NO one has the right to attack ANY federal institution regardless of motivation. Violent opportunists at the US Capitol grounds must be held accountable. We have a proud history of resolving our differences through peaceful means."
House Speaker Nancy Pelosi and Washington D.C. Mayor Muriel Bowser both asked the Department of Defense to deploy the National Guard to Capitol Hill to clear the building of protesters, USA Today reported.
Chief Pentagon spokesman Jonathan Hoffman confirmed in an email to American Military News that the D.C. Guard was mobilized.
"The D.C. Guard has been mobilized to provide support to federal law enforcement in the District. Acting Secretary Miller has been in contact with Congressional leadership, and Secretary McCarthy has been working with the D.C. government. The law enforcement response will be led by the Department of Justice," Hoffman said.
White House Press Secretary Kayleigh McEnany said the deployment came at President Trump's direction.
"At President @realDonaldTrump's direction, the National Guard is on the way along with other federal protective services. We reiterate President Trump's call against violence and to remain peaceful," she said.
The National Guard troops later arrived at the Capitol and secured the building.