Every evening, Jimmy Elsner, 101, drives to his brother Bob's house in West Hartford, mostly just to say hello.
Bob, 99, says he worries about his brother driving in the dark, but Jimmy, who arrives around 5 p.m. each night, says he plans to renew his license when it expires in 2026.
Both men are World War II veterans. Jimmy Elsner flew fighter planes in the Pacific and Bob was a medic in the battle for Europe.
As Veterans Day approached, the brothers sat at Bob's dining room table and spread out photographs, letters, a bronze medal and other reminders of their roles in the deadliest, most consequential war in history.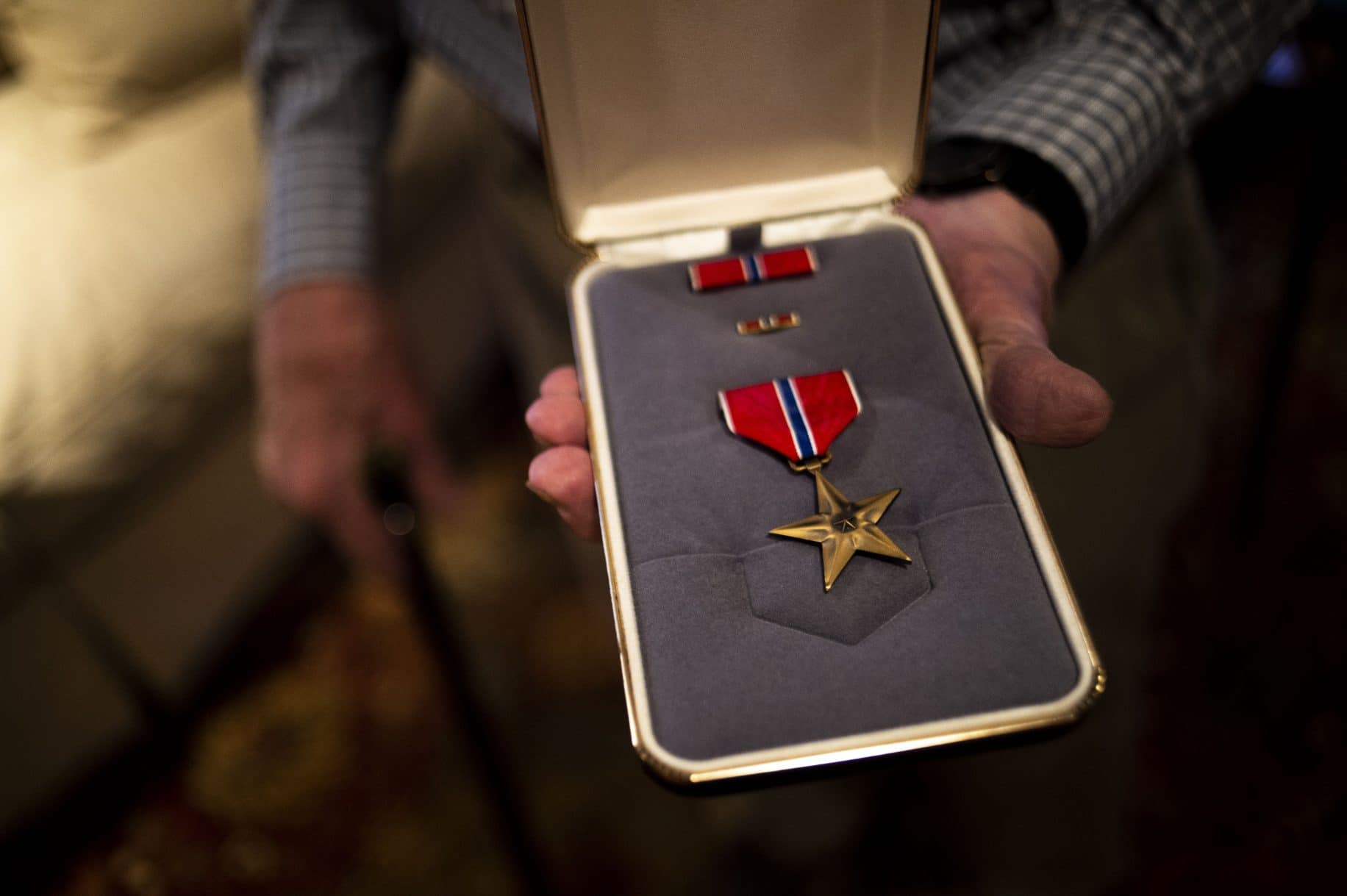 Bob Elsner, 99, holds his Bronze Star in his living room. (Kassi Jackson/TNS)
The Elsner brothers represent a once dominant, now fast-fading demographic. Of the nation's 16 million World War II veterans, 325,574 survivors remained in September, and that number drops by 296 each day, according to figures posted by the National World War II Museum (nationalww2museum.org/war/wwii-veteran-statistics). In Connecticut, 4,395 veterans of the war were alive at last count.
Brothers
Bob and Jimmy Elsner grew up with two other brothers, Morton and Allan, among the grand houses on Prospect Avenue on the Hartford/West Hartford line. Their father was Solomon Elsner, a judge and corporate attorney for G. Fox & Co., and their mother was Carolyn Elsner, who kept four stars on her home during the war and whose name would grace one son's fighter plane.
Bob and Jimmy ran with a group of neighborhood boys who called themselves the Sleepy Cats. Neither man could remember why they chose that name, but Bob said, "Jimmy was the ringleader."
The two brothers also produced a mimeographed newspaper, The Keyhole, which they circulated to a dozen households, selling ads for a nickel each.
Theirs was a privileged upbringing, but when the war came, all four brothers served in uniform.
Jimmy Elsner's first assignment was the U.S. Army's signal corps, but he wanted to fly and took an exam to become an aviation cadet. He would serve in a little known sector of the war.
Japan's invasion in 1942 of Attu and Kiska islands at the western edge of the Aleutian chain was part of the empire's failed strategy to draw U.S. forces north and away from the Battle of Midway. The occupation marked the first time since the War of 1812 that a hostile power seized American territory.
In May 1943, about 15,000 American soldiers arrived off Attu to take the island back. The fighting was fierce and ended with a massed banzai attack — the first such all-out charge that Americans would face in the bloody island-hopping campaign.
Almost all of the Japanese invaders on Attu were killed. On the American side, 550 soldiers were killed and another 1,500 were wounded. About 1,200 Americans suffered injuries from the cold.
To ensure that Attu would not fall back into Japanese hands, U.S. military leaders sent forces that included two fighter squadrons to the island. Jimmy Elsner was assigned to the 18th Fighter Squadron and arrived in March 1944. He flew a Curtis P-40 Warhawk that he named in honor of his mother.
"The mission really was air defense," Jimmy said. "We were scrambled any time they thought they saw a bogie. They thought the Japanese might come back. That's why we were there."
Bob Elsner was trained as a medic and arrived in Europe with the 89th Infantry Division in January 1945. The men of the "Rolling W" saw about two months of combat, including the crossing of the Rhine River.
Asked about memories that stood out, Bob Elsner recalled a German farmhouse where a GI found a large portrait of Adolf Hitler in a closet. The soldier cut the head off and stuck the rest of the picture back in the closet, Elsner said.
Like his brother, Elsner said he was interested in airplanes and paid close attention during training to the differences between friendly and enemy aircraft. On the march through Germany, a gunner on a truck-mounted .50-caliber machine gun mistakenly targeted an American P-51 Mustang. Elsner said he shouted at the soldier that he was blazing away at an American plane, but the man shot the fighter down. Fortunately, Elsner said, the pilot parachuted to safety.
But the most indelible memories of the war came during the liberation in early April of Ohrdruf, a subcamp of the infamous Buchenwald Nazi death camp. Elsner recalled seeing starving prisoners and piles of naked corpses, some half burned by the fleeing SS.
His family was Jewish, but he was not religious, Elsner said, and he didn't know then about the Nazis' "final solution." The human atrocity, however, was clear.
Ohrdruf gave the Americans' a graphic introduction to the Holocaust. General Dwight D. Eisenhower, supreme commander of Allied Forces in Europe, visited the camp on April 12 with Generals George S. Patton and Omar Bradley, according to the Jewish Virtual Library — bit.ly/35654vw. After his visit, Eisenhower cabled General George C. Marshall, the head of the Joint Chiefs of Staff in Washington.
"The things I saw beggar description… The visual evidence and the verbal testimony of starvation, cruelty and bestiality were so overpowering as to leave me a bit sick," Eisenhower wrote.
"I made the visit deliberately, in order to be in a position to give first-hand evidence of these things if ever, in the future, there develops a tendency to charge these allegations merely to 'propaganda,' " he wrote.
Letter to a friend
Bob Elsner received a Bronze Star for his service. He married while in the Army and had one child. After divorcing his first wife, he and his second wife, Marie, had three children. Bob worked as a buyer and merchandise manager for Brown, Thomson & Co., a Hartford department store.
Jimmy Elsner and his wife of almost 70 years, Dorothy, raised three children. He worked at G. Fox as a purchasing agent, then at the former Society For Savings, a Hartford bank.
Elsner, who lives in West Hartford, also continued to serve in what became the Connecticut Air National Guard. He flew until 1968 and retired in 1971 as a lieutenant colonel. During his career, he got to fly six different fighters, including the Air Force's first operational jet fighter, the Lockheed P-80 Shooting Star. He eventually transitioned to flying C-47 and C-54 transports.
When the Elsner brothers get together now, their conversation often centers on the day's obituaries, Bob Elsner said. Many friends have passed, along with their two brothers, who served stateside during the war.
Aboard the ship that took him to Europe early in 1945, Bob Elsner wrote to a friend from West Hartford, Ted Greene, who was serving in the Army in Italy.
"Between a mouthful of spaghetti, drop me a line," Elsner wrote.
In a second "V-mail" to Greene after the 89th was on the march through Europe's ruined landscape, Elsner wrote that "most of the places are pretty well shot up, although I may find a place to take a well earned and much needed hot bath…"
The letter was returned, marked "deceased." Elsner said he learned later that his friend had been killed in early March. Lt. Theodore S. Greene of the 86th Mountain Infantry Regiment was 26 when he died. He is buried at Emmanuel Synagogue Cemetery in Wethersfield.
___
(c) 2020 The Hartford Courant
Distributed by Tribune Content Agency, LLC.