During John Vollinger's 37 months in the Marine Corps during World War II, much of which was spent in combat in the South Pacific, he didn't think too far ahead. And he never thought about living to be 100.
"They told us you're going to be in action in six months and dead inside of a year, so pay attention to what we're telling you," Vollinger recalled being told in basic training at Parris Island in September 1942. "We were happy to get just one more year."
But on Tuesday, Vollinger received birthday wishes from family and friends, along with a neighborhood parade and a contingent of much younger fellow veterans delivering a birthday cake and singing a verse of the Marine Corps Hymn.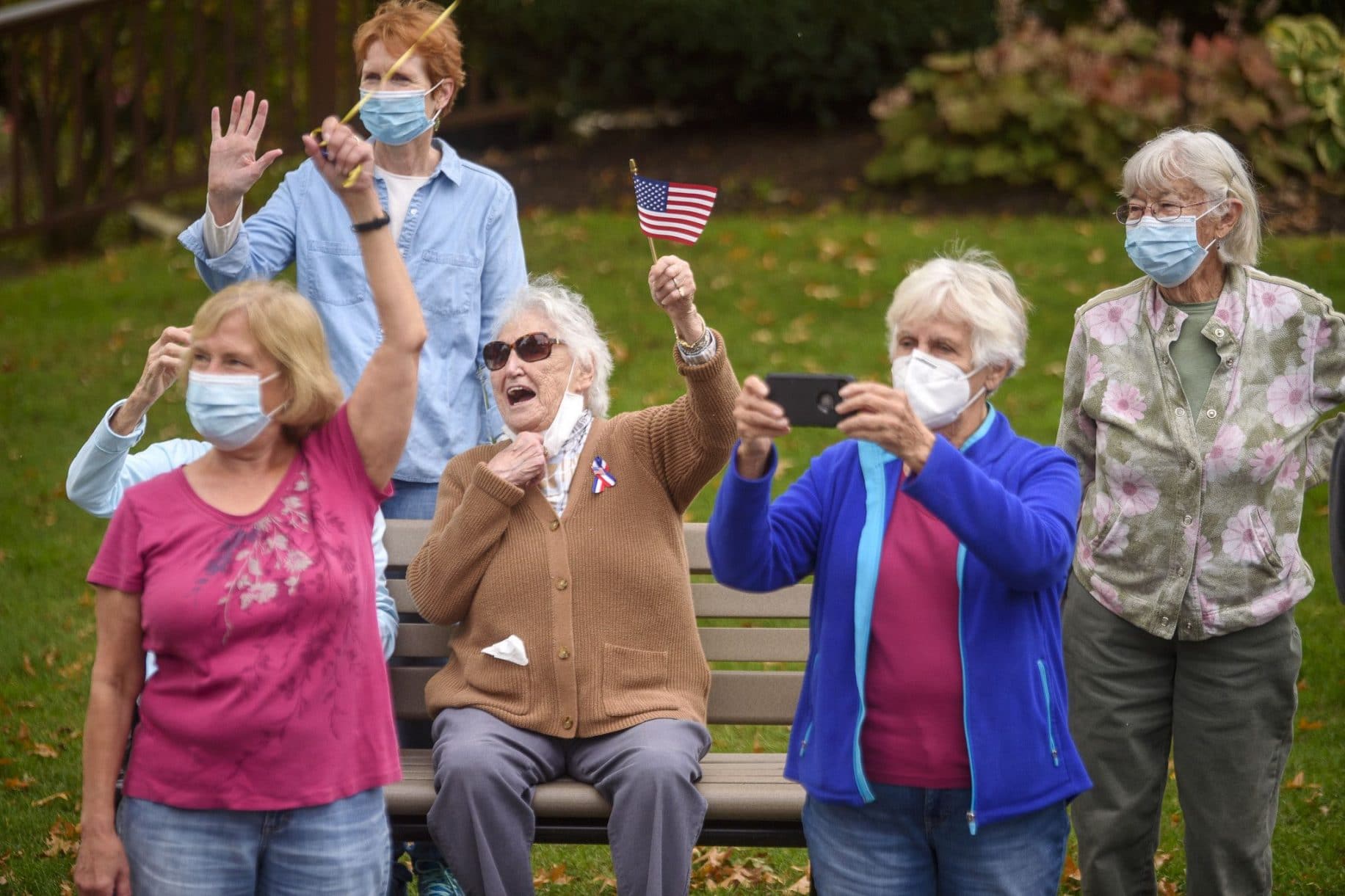 Residents of Meadow Hill, celebrate outside the home of John L. Vollinger, a WWII Marine Corps veteran celebrating his 100th birthday.
(Mark Mirko / Hartford Courant/TNS)
In between birthday wishes Vollinger, who grew up in East Hartford and lives in Glastonbury now, recounted some of his time in the Corps.
Vollinger was working at Hamilton Standard in 1942 when he got his draft notice. Most of his friends were enlisting in the Marines so that's what he did. Traditionally once a Marine finished basic training they were given a week's leave to go home before shipping out, but "we were in bad shape" so Vollinger's unit was sent to California for a month and then on to the South Pacific, where he was assigned to a .50 caliber machine gun that served to protect bigger artillery guns defending the islands they were stationed on.
Vollinger, who wrote a memoir of his time in the service, recalled night raids by Japanese infantry and planes and seeing the tide turn against the enemy as superior American sea and air power began to take its toll.
After spending a year on Kauai, serving in a defensive position, Vollinger's unit was sent back to sea to be part of the invasion of Japan, which never happened because the Japanese surrendered following the dropping of two atomic bombs on Hiroshima and Nagasaki.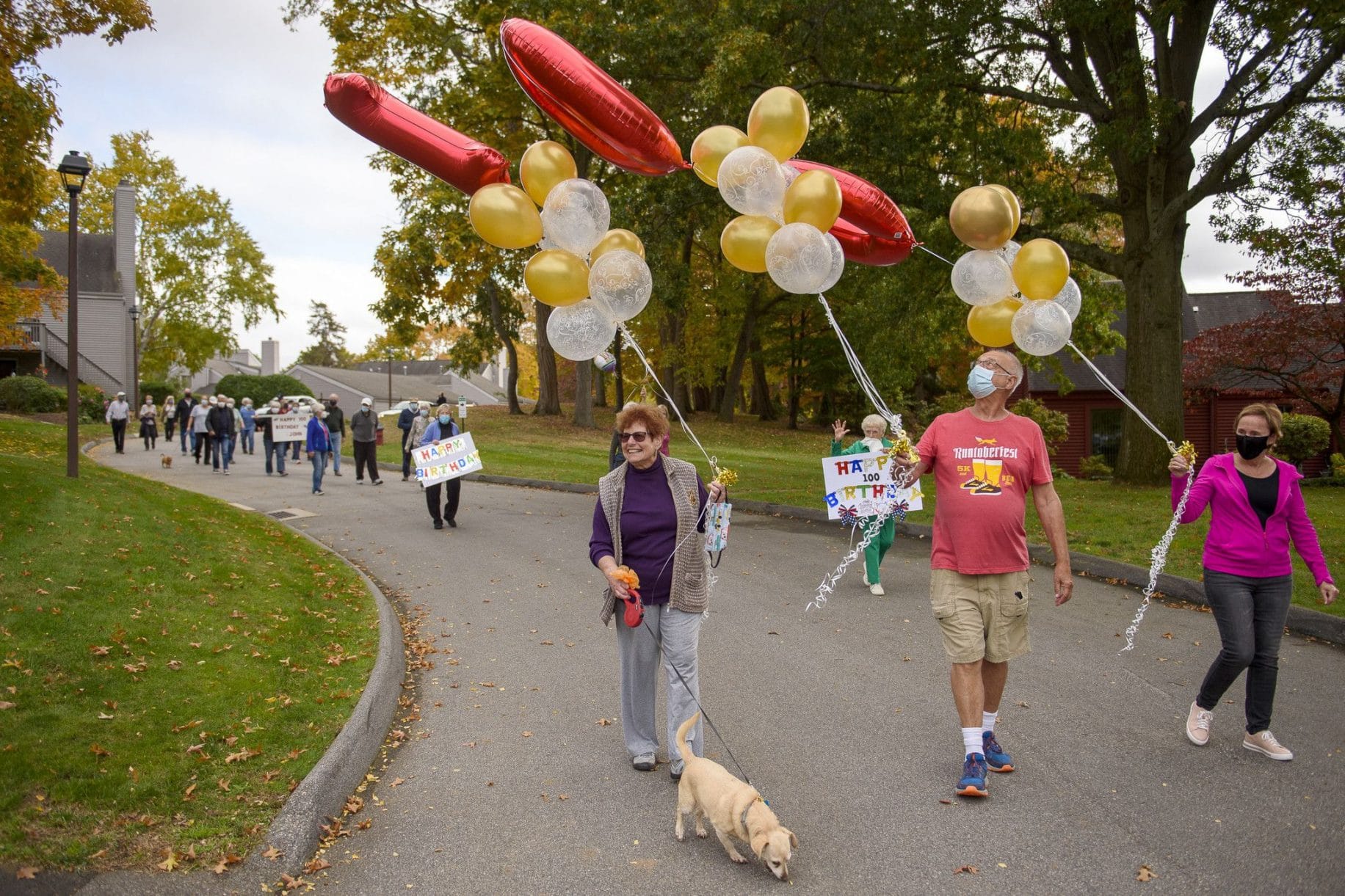 Residents of Meadow Hill, including Carolyn Wray, Larry Abbott and Lucille DiMarco process past the home of John L. Vollinger, a WWII Marine Corps veteran for his 100th birthday.
(Mark Mirko / Hartford Courant/TNS)
After crossing the South Pacific again, they landed in Seatlle. Washington before heading to San Diego, where their main job was to put back some weight.
"They wanted to feed us so we could look a little better for Mama," Vollinger said.
From there the unit headed east and dropped people off along the way. Vollinger, now a corporal and expert marksman, ended up in Massachusetts, where he used his typing skills to draft discharge notices for other soldiers and himself.
When he got home in October 1945 Vollinger looked up a girl he had been dating before the war and asked her out again. A few months later they were married.
"I wasted three years. I didn't want to waste anymore time," Vollinger said.
He and his wife Rosemarie, 95, will celebrate their 76th wedding anniversary on Dec. 30.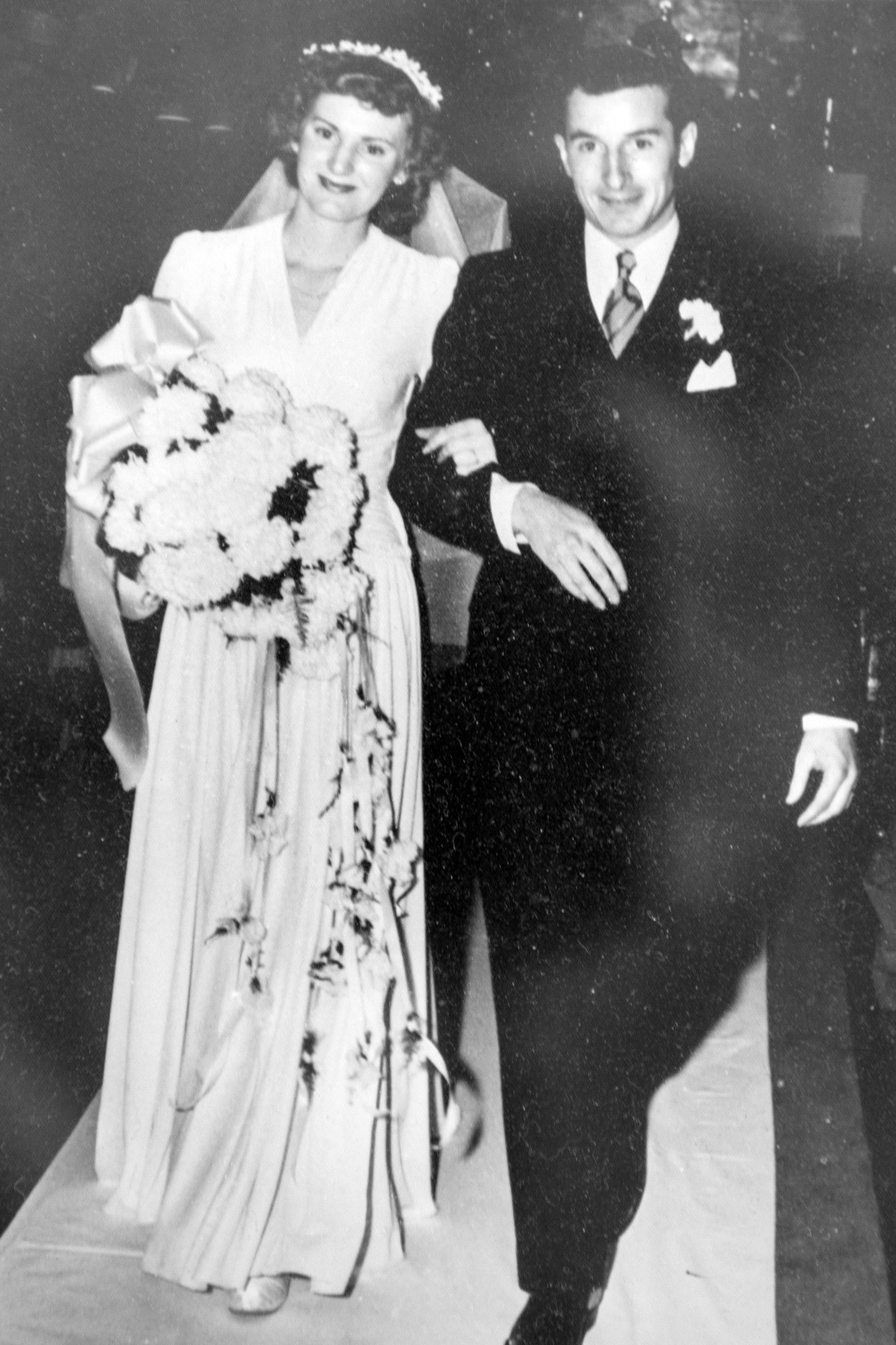 World War II Marine Corps veteran and his wife Rosemarie Vollinger were married Jan. 1, 1946 and will be celebrating their 75th anniversary in 2021.
(Mark Mirko / Hartford Courant/TNS)
Vollinger said that when he came back there was no job for him at Hamilton Standard so he learned the carpentry trade and eventually worked in heavy construction. Vollinger built one home himself in East Hartford, and sold it and then built another in Simsbury, where he lived for many years. He also had three kids, six grandchildren and many great-grandchildren.
Vollinger said he feels a little guilty to be the last of the men he served with still living, and that he's overwhelmed by the attention he was getting Tuesday with the neighborhood parade and Marine Corps cake.
"All I did was turn 100," he said.
Asked what he felt the secret to living so long was, Vollinger said two words and laughed.
"Drink Dewar's," he said.
___
(c) 2020 The Hartford Courant
Distributed by Tribune Content Agency, LLC.