As a child, Brett Gerena constantly watched a box set of war movies. The Jesuit High linebacker would always read about military history, too.
This fixation with the armed forces even extended to the gridiron, particularly with his devotion to Army. Whenever the Black Knights lost to rival Navy in the annual grudge match, Gerena would weep in his room.
"Everything I worked for was to fulfill a childhood goal of playing for Army," Gerena said.
So when Gerena received his appointment, the recruiting process ended. Interest from Big Ten schools such as Indiana and Minnesota did not matter. He immediately pledged his allegiance to the Black Knights.
In most recruiting classes, Gerena would stand alone as the only local headed to West Point. After all, Army had just three other area players from Tampa Bay combined in the past five years.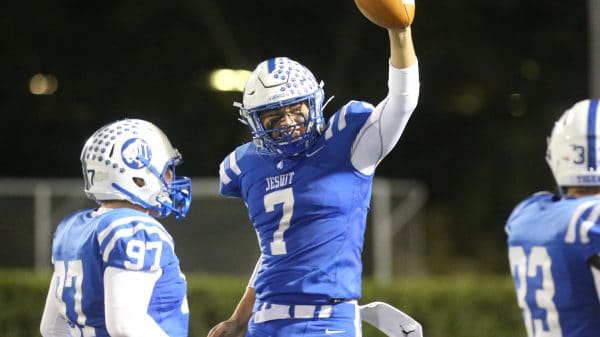 Jesuit's Brett Gerena
(Tampa Bay Times/TNS)
This year, however, Gerena has company.
Two Jesuit teammates, defensive lineman Raleigh Oxendine and defensive back Spencer Williams, have accepted their appointments. Two others, Lake Gibson/Durant defensive back CJ Barnes and Tampa Catholic offensive lineman David Hoyt, are joining them.
With five commitments, Army has the largest local haul of any Division I-A college football program in the country. for the class of 2020.
And the list could grow. Jesuit offensive lineman Trevor Mayberry, son of former Tampa Bay Buccaneer Tony Mayberry, is deciding between Army and Navy. Clearwater Central Catholic defensive lineman Harrison Thomas initially committed to Army before reneging. He still has the Black Knights among the colleges he is considering.
Since taking over at Army in 2014, Jeff Monken has wanted to broaden the program's recruiting profile to include more of the state's football hotbeds.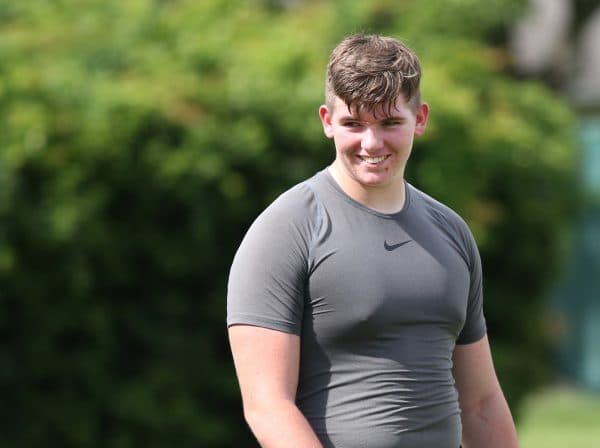 Tampa Catholic senior offensive lineman David Hoyt is one of five locals already committed to Army for 2020. (Tampa Bay Times/TNS)
"There has been a significant effort to bring in guys from Tampa Bay," said Monken, whose cousin is former Tampa Bay Buccaneers offensive coordinator Todd Monken. "It is an area with a tremendous amount of talented athletes who have had great success."
Monken knows. As coach at Georgia Southern (2010-13), he helped bring in former Nature Coast standout Matt Breida, now a starting running back for the San Francisco 49ers.
The recruiting efforts are different now that Monken is at Army. Unlike most Division I-A football programs, prospects receive scholarships as cadets, not as players. Because there are no athletic scholarships, the academies also have no cap, other than those self-imposed, on the number of players they can bring in for each recruiting class. That means players can leave the football program and still remain on scholarship as cadets.
There are other contrasts such as pay. With no NCAA guidelines to follow regarding athletic scholarships, military academy players are able to receive a monthly stipend just like any other cadet.
At Army, cadets are automatically enrolled in a savings program with a portion of their stipend deposited in their account each month, according to Monken. They cannot touch the money in the savings account until they leave.
"The education already is top-notch, but there are a lot of other things that set them up for the future," Monken said.
Still, it can be a tough sell. Summers are spent in basic training or preparing to become an officer. There is a taxing academic workload throughout the year. And the same fitness standards, such as meeting an established body fat index, is required for all cadets, though football players, especially linemen, can wait until they graduate to fulfill that goal.
Then there is the other commitment. Upon graduation, cadets are commissioned as second lieutenants in the Army and must serve five years of active duty. The service requirement, as well as the current conflict in the Middle East, can make some potential recruits uneasy.
"I mean I'm not big on service but when you're going to Army that's part of the commitment and I'm fine with that," Thomas said. "Still, if I can avoid war, I will."
It can also make parents uneasy.
Oxendine turned down offers from Ivy Leagues schools such as Columbia, Dartmouth and Harvard to join Army.
"My mom questioned it at first," Oxendine said. "She was a little worried, but once she heard more about the academy and the opportunities that were there she was fine."
Black Knights assistant Daryl Dixon, who played at the University of Florida, is responsible for recruiting area athletes. He goes into homes and helps soothe concerns any parents might have about sending their sons off to what is essentially a nine-year commitment.
"Daryl has just been a huge help for myself and all the other guys in the area who went through the process," Oxendine said.
Monken also does his part to dispel any misconceptions. For example, he said only about 20 percent of cadets are in infantry after graduation.
"Everybody is not just grabbing a rifle and shooting at bad guys once they graduate," Monken said. "That's the common American perception, and it's just not the case."
Most area recruits had family ties to the military. Hoyt's uncle was a cadet at West Point. As a child, he was on campus often and attended some football games.
"My calling was always to serve," Hoyt said. "Even if I wasn't able to get into one of the academies, I would have enrolled in an ROTC program wherever I went to college."
Gerena long imagined a route that bring him closer to the path his father followed. Joe Gerena, an Armwood graduate, was Army's primary quarterback from 1998-2000.
"This is not for everyone," said Joe Gerena, who now serves as Jesuit's offensive coordinator. "It takes a kid with a special mentality to want to make this type of commitment."
That is the mind-set Army covets.
"The best day of my life was getting that appointment," Brett Gerena said. "It was just a reminder of all the effort I put into this. And I did my best to push for others around here to go to Army, too. It's going to be nice to have so many from the area coming along with me."
Growing list of locals
Army's five area recruits will join two other former Tampa Bay standouts already on the roster.
DB Tim Boone, Fr., Berkeley Prep
DL Darius Richardson, Fr., Tampa Bay Tech
Other area academy recruits
Army is not the only military academy that landed locals in the 2020 recruiting class. Navy has commitments from two area players and could have another depending on where Jesuit offensive lineman Trevor Mayberry decides to go.
QB Isaiah Knowles, Seffner Christian
DB Maurice Frost, Bloomingdale
___
© 2020 the Tampa Bay Times