One of the remaining members of the historic World War II flying unit, the Tuskegee Airmen, celebrated his 100th birthday on Friday with another flight.
Retired Army Air Forces Col. Charles McGee flew in a private flight between Frederick, Md., and Dover Air Force Base in Delaware, the Associated Press reported. The flight came just ahead of McGee's 100th birthday on Saturday.
McGee served in the Tuskegee Airmen unit, which consisted of the first black aviators to fly for U.S. forces. The Tuskegee Airmen formed the 332nd Fighter Group and gained fame flying combat missions in World War II. The unit was known as the "Red Tails" for their red nose and rudder flaps.
McGee is among the more celebrated pilots in the unit's history and he flew 409 combat missions over the span of three separate wars, including World War II, the Korean War and the Vietnam War.
According to McGee's National Aviation Hall of Fame biography, he was born in Cleveland, Ohio on Dec. 7, 1919. His family moved around between Ohio, Florida, West Virginia, Illinois and Iowa, before McGee graduated from high school in Chicago. He went on to join the ROTC while attending the University of Chicago. There, he met his future wife, Frances Nelson.
After the Japanese attacked Pearl Harbor on his birthday, Dec. 7, 1941, the U.S. joined World War II. Soon after, McGee caught word of an effort to recruit black soldiers as airplane mechanics as part of an expected flight program. McGee joined the unit, applying for a pilot's slot and passing the examination required to earn the spot.
He and Nelson were married on October 17, 1942. Two days later McGee received orders transferring him to Tuskegee Army Air Field in Alabama, the namesake location of the Tuskegee Airmen unit. By the start of 1944, McGee was sent to fly in the war effort, piloting P-39 Airacobras from a base near Naples, Italy.
Through the war, McGee went on to fly in P-47 Thunderbolts and later in P-51 Mustangs. He flew fighter sorties and escorted bomber missions, and his unit's signature red tails earned both the respect of the white bomber crews they protected and the German Luftwaffe counterparts they faced.
McGee ended World War II as a twin-engine instructor, but returned to fly P-51s in Korea, where he took on over 100 low-level bombing and strafing missions. He flew another 173 combat missions in Vietnam, before retiring in 1973, after more than 30 years of service.
Since retiring, McGee helped establish the Tuskegee Airmen Association and has become a public speaker. He has also been recognized for a number of honors, including the National Aeronautics Association Elder Statesman of Aviation induction, the Air Force Association's Lifetime Achievement Award and the Congressional Gold Medal as a Tuskegee Airman.
The U.S. Air Force recently honored the Tuskegee Airmen with the naming of their new T-7 Red Hawk trainer planes, alluding to the "Red Tails" unit nickname.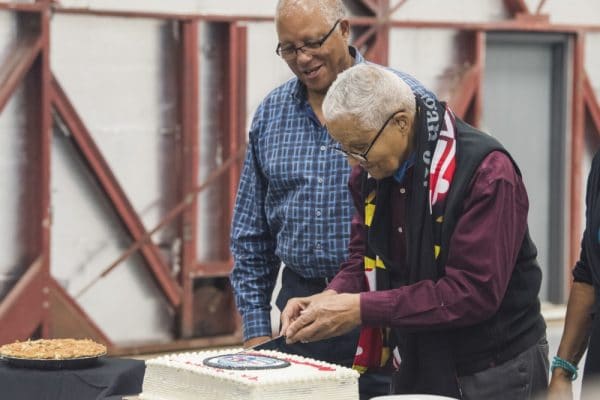 Retired U.S. Air Force Col. Charles E. McGee cuts his cake during his 100th birthday celebration at the Fredrick Municipal Airport in Fredrick, Maryland, Dec. 6, 2019. (Photo by Staff Sgt. James Richardson, U.S. Air Force/Released)
With his 100th birthday in the books, McGee said he attributes his health and longevity to positive thinking.