On Sunday, a gunman began firing inside a church in a town near Fort Worth, Texas, killing two parishioners before an armed parishioner fired a fatal shot that ended the massacre.
In a Facebook post on Monday, Jack Wilson – the head of security at the West Freeway Church of Christ in White Settlement, TX – identified himself as the one who pulled the trigger, and recalled the actions he took to stop a deadly attack at his church on Sunday.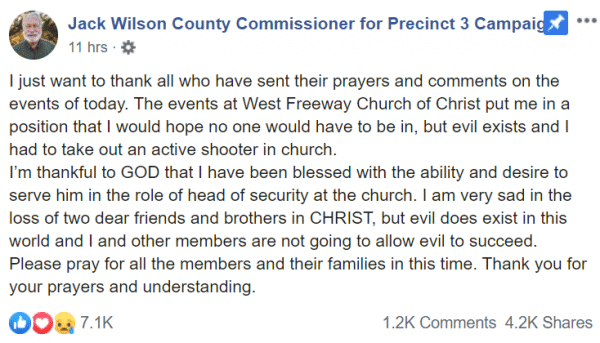 Wilson, who is running for a position as a Hood County commissioner, described his actions on his campaign website.
"The events at West Freeway Church of Christ put me in a position that I would hope no one would have to be in, but evil exists and I had to take out an active shooter in church," Wilson wrote.
Wilson, who was one of at least two security volunteers, and several armed parishioners that responded to the shooting attack, was able to shoot and kill the shooter within seconds after the start of the attack.
Video from the Church shooting in Texas today shows a heroic man stopping the active shooter. Watch the man in the upper left, a volunteer church security guard, take out the shooter (the third shot you hear is the good guy). pic.twitter.com/QJO2QxCNOH

— Ryan Austin (@ryanaustinict) December 29, 2019
The gunman, armed with a shotgun fired off two shots, killing two parishioners before he was stopped.
"I am very sad in the loss of two dear friends and brothers in CHRIST, but evil does exist in this world and I and other members are not going to allow evil to succeed," Wilson's statement continued. "Please pray for all the members and their families in this time. Thank you for your prayers and understanding."
In a response to his post, Wilson also appeared to identify the firearm he used as a SIG P229-357.
In a separate Facebook comment, Wilson described joining the Army National Guard in 1965 while working in the Hood County Sheriff's department. He also described holding several Department of Defense security clearances between 1965 and 1995, suggesting further possible federal law enforcement experience.
His campaign page also includes a link to his business email account with On Target Firearms Training Academy. According to Heavy.com, Wilson was the President of the company and a firearms training instructor, until the business burned down in Nov. 2016, due to an electrical fire.
The business began in 1995 and at the time it burned down, Wilson said he had been providing instruction for nearly 21 years. His campaign slogan also appears to reference the business, "Make sure your vote is on target."
Wilson's law enforcement, national guard and instructor experience appeared to prove useful as the shooter stopped after a single well-placed shot.