An Afghanistan combat veteran had an armed standoff with police on Saturday that went viral worldwide. Initial reports had indicated it was a "red flag" gun confiscation incident, but this was later refuted by police who claimed they responded to a domestic incident. The Putnam County Sheriff's Department later canceled a press conference and deleted their Facebook page, adding to the confusion surrounding the viral standoff.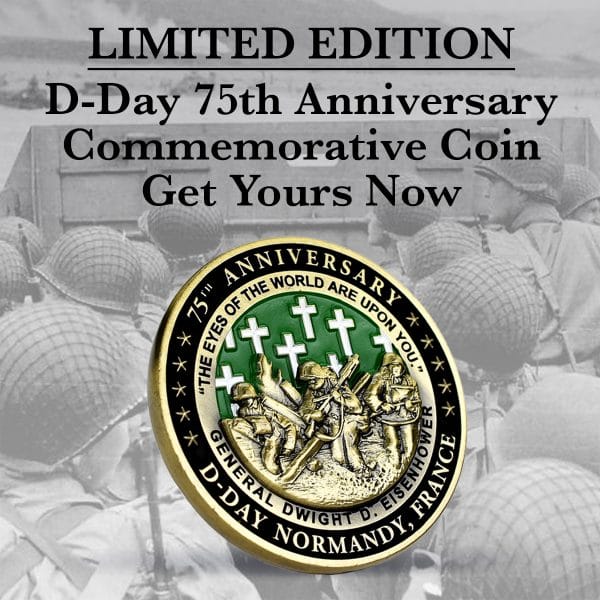 Get the most beautiful D-Day 75th Anniversary Commemorative Coin on the market, here
Alex Booth, 28, barricaded himself in his Mahopac, N.Y. home and live-streamed the entire thing on Instagram under the handle Whiskey_Warrior_556. A compilation of his live updates can be found in the video below:
In a text exchange posted to Twitter, Booth appeared to claim police previously threatened his wife with a call to Child Protective Services (CPS) after one of his former veteran friends told police he had post-traumatic stress disorder, owned high-capacity 30-round magazines — which are illegal in the state of New York — and would get into a shootout with them if they attempted confiscation.
#WhiskeyWarrior556 Apparently his wife did not just call in a threat as been reported. CPS threatened her. pic.twitter.com/Bpc3nHcL6X

— Being Libertarian (@beinlibertarian) November 24, 2019
When police showed up to his residence, Booth believed they were there to confiscate his guns and magazines via a "red flag" court order that permits such confiscation when a gunowner is deemed to be a threat to themselves or others.
According to a now-deleted statement by Putnam County Sheriff's Department, the incident first began when an officer from the Town of Carmel Police Department arrived at Booth's residence for a "domestic incident." The responding officer claimed he heard a gunshot and requested backup.
According to the Putnam County Sheriff's Office #WhiskeyWarrior556 has been arrested. Contrary to previous reports of no charges, he's be charged with a felony and several misdemeanors relating to domestic violence. pic.twitter.com/9JL8LmHIoZ

— Gays for Trump (@GaysForTrumpTN) November 24, 2019
Police evacuated the nearby homes. Responding officers also said they observed Booth standing in his doorway, acting agitated. Booth then reportedly barricaded himself in his garage apartment.
Throughout the videos, Booth could be seen wearing his uniform and a plate carrier vest with a knife strapped across his chest and magazines that he claimed were empty at the time.
"What do you call a cop that enforces gun laws?" Booth asked for the camera. "A Redcoat faggot."
The "Redcoat" reference appeared to compare police to British soldiers whose efforts to confiscate weapons during the Battle of Lexington and Concord initiated the American Revolutionary War.
In one video, Booth said he did not have any firearms in his possession, though he proceeded to call the police "Redcoats" and "pigs." His video also captured the presence of an Armored Personnel Carrier (APC) brought in during the standoff.
Booth did indicate at several points in his video that he desired a peaceful resolution, but suggested a violent outcome if the standoff could not be resolved without a promise he would serve no jail time.
After a roughly six-hour standoff, Booth did surrender to police.
Officials said Booth would face charges related to a past domestic incident, but not for the police standoff.
Town of Carmel Police Chief Michael Cazzari told NBC4 that negotiators had been close to resolving the standoff on several occasions but said Booth's online following only pushed him onward.
"This is a person in crisis having mental illness and having issues and he didn't need the people on social media telling him that his rights were being violated," Cazzari said.
Putnam County Sheriff's Department had planned a press conference to discuss the case and address the "red flag" allegations but later canceled the conference and took down their Facebook page.
The sheriff's department reportedly claimed a large number of calls, emails and social media messages about the incident had overwhelmed their ability to communicate with the public and serve the community.
Putnam County Sheriff says standoff was NOT about a red flag firearm seizure pic.twitter.com/TOa2nDNExZ

— Steve Lookner (@lookner) November 24, 2019
A GoFundMe page for Booth's legal fees also promoted the claims he was "the victim of a red flag order."