Newly reinstated Chief Petty Officer Eddie Gallagher plans to help other military personnel fight unjust war crimes charges now that his legal nightmare is over.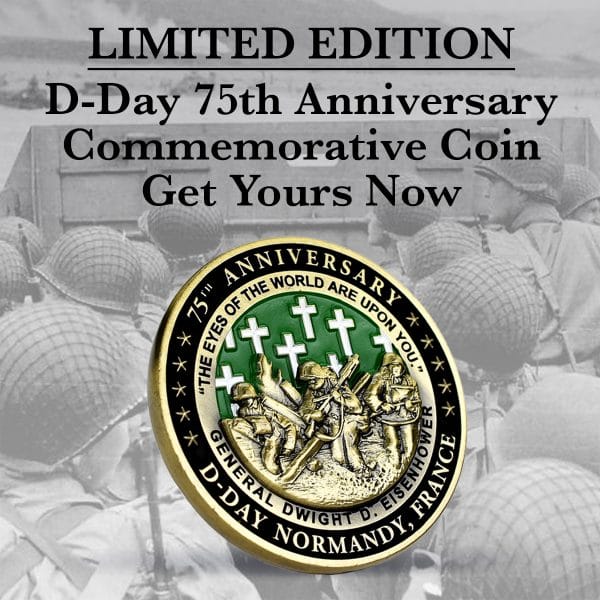 Get the most beautiful Christmas gift this year: D-Day 75th Anniversary Commemorative Coin
Gallagher – the Navy SEAL who was exonerated for the murder charge of an ISIS militant and convicted only of posing by that militant's corpse along with his unit – believes the military justice system is "broken" and in need of reform.
"It definitely is broken. It's a system that needs to be fixed," Gallagher told Pete Hegseth on Fox & Friends Weekend on Sunday.
"That's what I plan on doing when I finally retire. I'm going to start a nonprofit and help war fighters that are going through similar ordeals that I went through, and then also use that as a platform to speak out on justice reform in the military," he said.
Gallagher is still in the process of setting up his nonprofit, but plans to launch it in 2020.
"Our family is starting a nonprofit to bring change to an utterly corrupt system and hopefully prevent others from the nightmare we were put through at the hands of the military justice system," the Gallagher family — Eddie Gallagher, his wife Andrea, and brother Sean — said in a statement to American Military News.
"We saw behind a curtain that we didn't know existed during this travesty of justice. To do nothing about the corruption we saw and went through would be immoral and cowardly. We believe we have been put in this situation to bring change and we plan to use this experience to pay it forward and help warfighters and their families. Service members sign on the dotted line to give their life for this country and are then also unknowingly entrapped in the broken system of the UCMJ," the Gallagher family statement added.
Gallagher also said that Trump also vowed to expunge Gallagher's record so he could retire honorably.
President Trump had reinstated Gallagher's rank late Friday, along with full pardons for Army officers 1st Lt. Clint Lorance and Maj. Mathew Golsteyn, both of whom were accused of murdering Taliban bomb makers.
"Given his service to our Nation, a promotion back to the rank and pay grade of Chief Petty Officer is justified," the White House statement said on Friday.
Gallagher was acquitted on July 2 of murder, a charge waged against him for the May 2017 death of an ISIS fighter in Mosul, Iraq. The acquittal came after Petty Officer Corey Scott had revealed under oath – and under the protection of immunity that was granted by the government – that he covered the ISIS fighter's breathing tube to suffocate him.
Gallagher and 10 others from Alpha Platoon, SEAL Team 7 were later photographed near the corpse, however, Gallagher was the only one charged with the act, and it was the only charge he was found guilty of.
Gallagher was sentenced to reduced rank from an E7 to an E6, forfeiture of partial pay for four months, and four months confinement, which he already served during nearly a year of pre-trial confinement that President Trump intercepted.
Chief of Naval Operations Adm. Mike Gilday had decided to uphold the sentence, denying Gallagher's request to retire as an E7, but prevented him from retiring as an E1, a typically automatic consequence in accordance with Navy regulations.
Gallagher reportedly would've lost an estimated $200,000 in retirement funds if he retired at the demoted rank of E6.