President Donald Trump embraced a wounded veteran, Army Capt. Luis Avila, with a hug on Monday after he sang "God Bless America" with the President at a ceremony welcoming the incoming chairman of the Joint Chiefs of Staff, Gen. Mark Milley.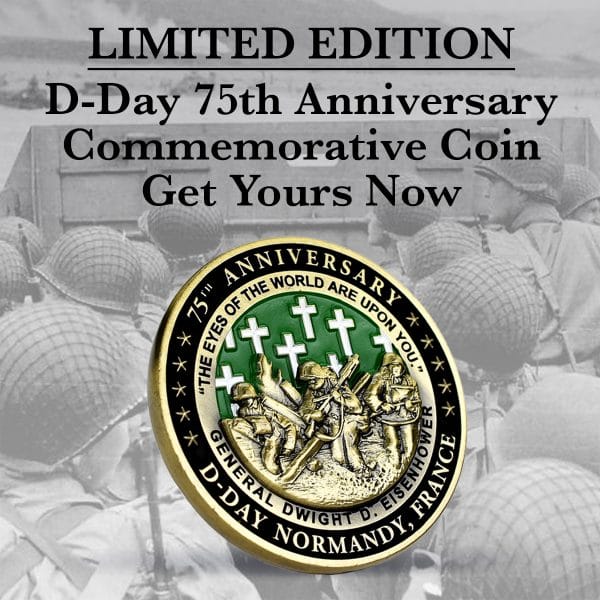 Get the most beautiful D-Day 75th Anniversary Commemorative Coin on the market, here
Trump and other officials joined Avila as he sang with the military choir on the raining Monday morning meant to welcome Army Gen. Mark Milley as next chairman of the Joint Chiefs of Staff, but it is likely going to be remembered for the touching moment between the President and a cheerful wounded veteran.
On his way back to his base on December 27, 2011, in Afghanistan, a 600-pound improvised explosive device detonated beneath Avila's vehicle, splitting it in half. Avila reportedly called out to his men in a daze, "Accountability check! Who's hurt?" After, he lost consciousness.
Three of his fellow soldiers were killed and Avila and two others were left severely wounded. His leg had to be amputated. He suffered two strokes and two heart attacks, which left him nearly paralyzed.
He spent 40 days in a coma. On Feb. 13, 2012, he woke up and began to respond well to music therapy, prompting his continued appreciation of music.
The Gary Sinise Foundation installed a "smart home" specifically suited to his needs to help him with day-to-day challenges at home last year.
Through his traumatic experience, Avila is said to maintain a positive attitude and a good sense of humor.
At the end of the performance on Monday, Avila presented a challenge coin to Trump, Vice President Mike Pence, Defense Secretary Mark Esper, and Gens. Milley and Dunford.
Earlier in the ceremony, outgoing Chairman of the Joint Chiefs of Staff Gen. Joseph Dunford said, "Avila was seriously wounded in action and today, represents all of the wounded warriors and killed in action of our military. Both our friends and enemies alike should know that we who wear the uniform of the United States of America, the cloth of our nation, we are all Captain Avilas."
"And we are all willing to lay it on the line every day to risk grievous injury or death to preserve this experiment in liberty that we call America and pass it on to the next generation," Dunford added.