A Honea Path, S.C. Ford dealership's latest promotional offer includes a gun, a Bible and an American flag.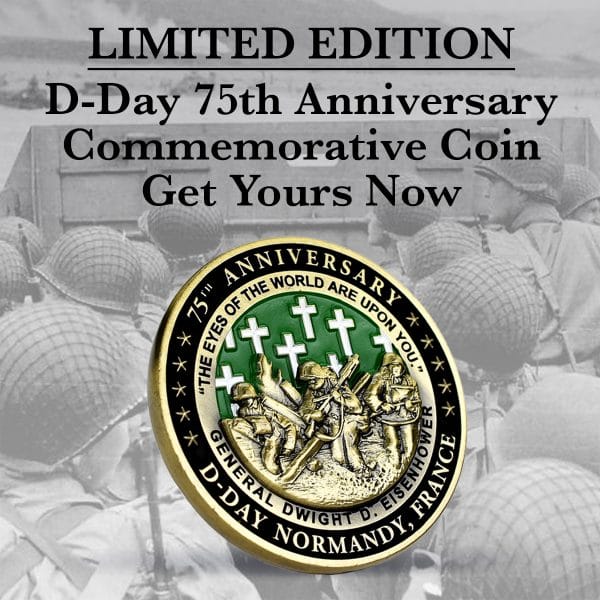 Get the most beautiful D-Day 75th Anniversary Commemorative Coin on the market, here
Carolina Ford's latest promotional offer has received viral attention after the dealership announced it is giving a $400 voucher to a nearby gun shop, a Bible and a U.S. flag to customers who purchase a vehicle at their dealership, according to The State. At least one customer reportedly drove two hours to take advantage of the promotion.
The "God, Guns and America" promotion was announced in a post on their Facebook page last week which said the promotion will run through November, although the post has since been removed.
A photo accompanying the social media post had featured two men; one holding the corners of a U.S. flag while another carried a Bible and a firearm.
Customers who take advantage of the deal will receive a $400 voucher for a Smith & Wesson AR-15 rifle at a nearby gun store, Locked N Loaded. The gun store will conduct background checks, and buyers must pass those checks before receiving a firearm.
The owner of Locked N Loaded, Jay Ashley said, "What we don't want is someone who bought a car and they know they can't buy a firearm to give that to somebody else to come in here and get it. Not going to happen! We will squish that. We know the name of the person who bought the car, who signed [for it] and that's why we require a copy of their driver's license," NBC 8 News reported.
Ashley also said the vouchers could be redeemed for other non-firearm purchases in the store.
Those who choose to opt out will have the $400 promotional offer deducted from their vehicle purchase, Fox Business reported.
The promotion has apparently received viral attention and Locked N Loaded general manager Derrick Hughes said the gun shop has seen customers from as far as Texas to the south and Pennsylvania to their north.
"We love America, we love God and we like to hunt. We live in a small town where a lot of people like to hunt. [The promotion] appeals to our demographic," Hughes said
The Facebook announcement for the promotion received some positive response before it was removed.
One comment had said, "Love this promo! And a good reason to buy another Ford truck."
"God Bless America!! Good for you, too bad I don't live closer," stated another.
Other comments appeared to criticize the business move.
"Can't wait for the lawsuits when your company is held liable for a shooting!" one comment read.
The concept of this promotion is not the first of its kind. In 2016, a Rochester, New Hampshire dealership offered a similar promotion called, "Buy a Car, Get an AR."
That New Hampshire promotion, which was held around the same time of the 2016 Orlando Pulse nightclub shooting, earned criticism from some viewers, however, community support prompted owner, Mike Hagan to keep his promotional offer on the table.