During comments made before the United Nations General Assembly Tuesday, President Donald Trump touted the strength of the United States, backed by renewed military spending, as well as energy production and economic reform.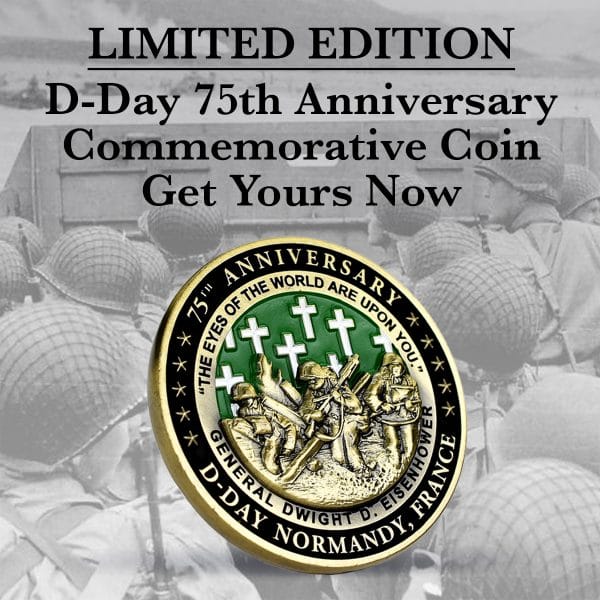 Get the most beautiful D-Day 75th Anniversary Commemorative Coin on the market, here
Trump credited U.S. success to placing its national interests before global interests.
"The future does not belong to globalists, it belongs to patriots," Trump said.
Trump at U.N.: "Wise leaders always put the good of their own people and their own country first. The future does not belong to globalists. The future belongs to patriots." https://t.co/LOlwhKc8Ve pic.twitter.com/gcFlZyjQLM

— CBS News (@CBSNews) September 24, 2019
Trump said there is a divide between countries that try to rule over others and those that simply want to rule themselves, and he encouraged nations to embrace the national focuses of their own countries.
"If you want freedom, take pride in your country. If you want democracy, hold on to your sovereignty. If you want peace, love your nation," He said.
In a 35 minutes speech, Trump addressed a series of foreign policy decisions that have become part of his administration's focus, including renegotiating trade deals to make trade "fair and reciprocal" and to correct against nations that exploit international trade systems and behaviors.
Among those exploitative nations, Trump took aim at China for claiming to be a developing nation while enjoying the world's second largest economy. He called on the World Trade Organization to take the appropriate steps to counteract China on a range of alleged economic abuses, such as instituting unfair market barriers, intellectual property theft and forced technology transfers.
Trump's criticism of China then shifted to ongoing protests in Hong Kong where people have opposed a bill to allow criminal extradition back to the Chinese mainland. Trump called on Chinese President Xi Jinping to be a great leader and said the way China resolves its issue with Hong Kong will "say a great deal about its role in the world."
Trump then shifted his focus to Iran. He said he withdrew from a nuclear agreement with Iran, because it did not provide effective limits on ballistic missile technology and overlooked nuclear sites Trump said would lead to Iran gaining nuclear weapons. He also criticized Iran for its sponsorship of terrorism and threats to other countries, such as chants of "death to America." He also, notable blamed Iran for a recent attack on Saudi Arabia oil facilities, which Iran itself has denied.
He said Iran has significant untapped national potential that it could realize if it stopped threatening other countries and focused on internal development.
Trump shared a similar message for North Korea, suggesting North Korean leader Kim Jung Un could realize his countries potential if he agreed to denuclearize.
Trump's comments shifted for some minutes to the U.S. border, where he said unchecked immigration threatens to remove human capital and potential from "depleted countries" and overburden those countries that receive it.
Trump also criticized "open borders" activists for empowering criminal enterprises.
He warned would be illegal immigrants not to work with cartels or pay criminal smugglers to enter the U.S., or to otherwise risk their family's safety as they will simply be sent away.
Trump went on to urge other countries to "honor the dignity" of their citizens by decriminalizing homsexuality and recognizing the rights of women and their value to a nation's economic potential.
Trump touched on other topics, such as abuses by the government of Venezuela and a looming concern of socialism. He also described overgrown bureaucracies as a threat the Democratic institutions of nations.
Near the end of his speech, Trump's comments shifted to criticism of international organizations attempting to dictate laws to individual nations, including the United Nations itself. He reaffirmed the U.S. decision never to ratify the UN Arms Treaty, which he said threatens to undermine the rights of U.S. citizens to keep and bear arms. He also renounced UN sponsored measures on abortion.
Trump ended his speech, reiterating calls to the leaders of other nations to pursue development at the domestic level before pursuing international governance.
Pres ends his 35 min speech by urging world leaders to lift up your nations, cherish your culture and honor the dignity of you people. By doing so, he said nothing will be outside your reach. "The path to progress begins at home," he said. pic.twitter.com/JxLxdRTOtM

— Mark Knoller (@markknoller) September 24, 2019
Trump said "the path to progress begins at home."