A media firestorm has surrounded President Donald Trump for his U.S.-Mexico border and immigration policies, but most reports fail to mention that deaths at the southwest border were actually higher under former President Barack Obama.
After several migrants have recently died while crossing the U.S.-Mexico border or in U.S. Border Patrol custody, the media and notable figures in politics have pointed the finger at President Trump, whom they say should be "attacked" for the policies, and more.
However, some of the highest numbers of deaths on the southwest border over the past two decades actually occurred under former Presidents Obama and George W. Bush, according to U.S. Border Patrol data provided to American Military News.
During Obama's two-term presidency, from 2008 to 2016, border deaths ranged from 251 to 471 each year. The 471 deaths occurred in 2012, and that is the second highest number of border deaths in the last 20 years.
In the first two years of Trump's presidency, border deaths have actually decreased.
In 2017, border deaths fell from 329 to 298, and dropped again to 283 in 2018, according to Border Patrol data.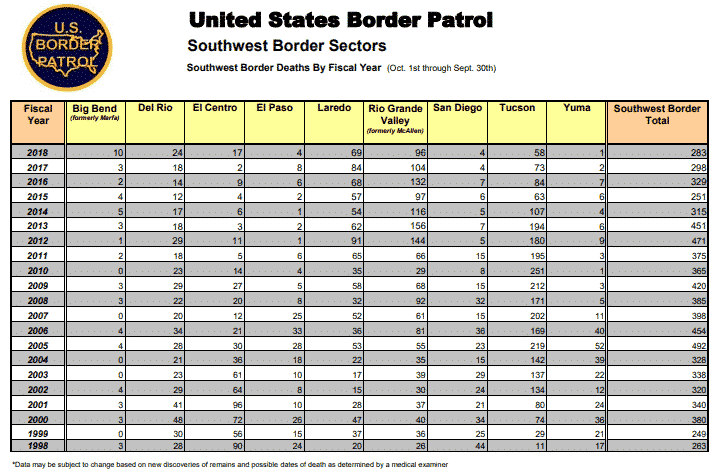 Deaths on the southwestern border from 1998 to 2018. (Customs and Border Protection/Released)
Former Vice President Joe Biden, who served under Obama and is vying for the Democratic Party's nomination to run for President in 2020, tweeted a photo of the latest two migrant deaths – a father and child who died while crossing the Rio Grande – saying, "This image is gut-wrenching. The cruelty we're seeing at our border is unconscionable. History will judge how we respond to the Trump Administration's treatment of immigrant families & children—we can't be silent. This isn't who we are. This is not America."
President Trump said of the deaths, "I hate it," adding, "I know it could stop immediately if the Democrats change the law. They have to change the laws. And then that father, who probably was this wonderful guy, with his daughter, things like that wouldn't happen," the Associated Press reported on Thursday.
Trump has been widely blamed for the latest two deaths, despite the fact that the migrant family was warned of the dangers of attempting to cross the Rio Grande – especially with children – but they decided to proceed anyway, the Associated Press also reported Thursday.
However, that fact did not stop Biden or the Democratic trend of blaming President Trump.
Breitbart News observed that Biden was noticeably silent about the hundreds of border deaths that occurred under the administration he was a part of for eight years.
Breitbart compiled a list of 20 reports they published on deaths at the border during Obama's presidency. Many of the reports include multiple deaths – many from a single county.
"During the Obama-Biden administration, 535 migrants died in one Texas county alone — Brooks County," Breitbart pointed out.
One theory for the discrepancy in media attention is that Trump decided to focus on immigration, while Obama didn't – regardless of the statistics.
"While we didn't hear about all these unfortunate deaths under the Obama administration, we hear about them now, because our administration is making an issue of immigration," immigration attorney Roxie De Santiago told KOAT7 News in January. "It's what this administration has chosen to focus its attention on."