A cancer-stricken retired NYPD detective who implored Congress to extend a federal fund for those sickened at Ground Zero has landed in hospice care.
Luis Alvarez was admitted a day after he testified to a congressional committee demanding that the 9/11 Victim Compensation Fund be extended and fully funded.
"I'm now in hospice, because there is nothing else the doctors can do to fight the cancer," Alvarez, 53, told supporters on social media Wednesday. "It had nothing to do with my trip to DC, that was just coincidence.
"The day after my trip I was scheduled for chemo, but the nurse noticed I was disoriented," he wrote. "A few tests later they realized that my liver had completely shut down because of the tumors and wasn't cleaning out the toxins in my body and it was filling up with ammonia, hence the disorientation. So now I'm resting and I'm at peace. I will continue to fight until the Good Lord decides it's time."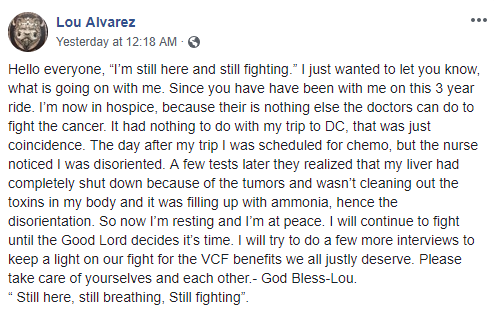 Looking gaunt and frail, Alvarez testified with former "Daily Show" host and 9/11 survivor supporter Jon Stewart on June 11, claiming that he wouldn't be in the congressional hearing room at all if the legislators had acted sooner.
"I should not be here with you, but you made me come," said Alvarez, reading his remarks slowly. "You made me come because I will not stand by and watch as my friends with cancer from 9/11, like me, are valued less than anyone else because of when they get sick and die."
Retired NYPD Detective Luis Alvarez: "Less than 24 hours from now I will be starting my 69th round of chemo therapy…I will not stand by and watch as my friends with cancer from 9/11 like me are valued less than anyone else…" pic.twitter.com/FLkuqqAbOR

— CSPAN (@cspan) June 11, 2019
Alvarez said he underwent 68 chemotherapy treatments before last week's congressional testimony.
He's already been compensated for his cancer through the Victim Compensation Fund and said he wasn't worried about the future for his own family. But anyone coming after him will get much less simply because of the timing and the limits Congress put on the fund, he said.
The fund expires in 2020 but is already running out of money, officials said. In February, the fund's special master, Rupa Bhattacharyya, announced payouts had to be slashed by at least 50%.
Stewart and other 9/11 survivor supporters have been lobbying hard to get the fund extended.
The committee passed the bill extending the Victim Compensation Fund last week. Stewart spent the earlier part of this week embroiled in a war of words with Senate Majority Leader Mitch McConnell (R-Ky.) — which included a visit to "The Late Show With Stephen Colbert" — challenging him to pass the extension.
———
© 2019 New York Daily News
Distributed by Tribune Content Agency, LLC.