A military judge has removed the lead prosecutor who was accused of misconduct in Chief Special Warfare Operator Eddie Gallagher's case, a move that has signaled momentum in favor of the defense for the Navy SEAL who awaits his court-martial for murder charges.
Gallagher's defense team last week argued motions to both remove Cmdr. Chris Czaplak and also to dismiss the case entirely. While the judge, Navy Capt. Aaron Rugh, has not yet ruled on the dismissal, he determined Monday that Czaplak is to be removed from the case because he might be investigated for "wrongdoing," signaling a possible conflict of interest, according to the San Diego Union-Tribune.
"The Navy is complying with the judge's order," said Navy Region Southwest spokesman Brian O'Rourke, the Union-Tribune reported. "The senior trial counsel will be replaced by a qualified Navy attorney. Chief Petty Officer Gallagher is entitled to a fair trial, and the Navy is committed to upholding that principle."
Andrea Gallagher, Eddie Gallagher's wife, posted to Instagram on Monday night a photo of Czaplak with the phrase "you're fired" imposed over his face, saying, "We are pleased with the Judge's decision as it validates our position that CZAPLAK has overseen and coordinated a concerted effort to deprive Eddie of his constitutional rights."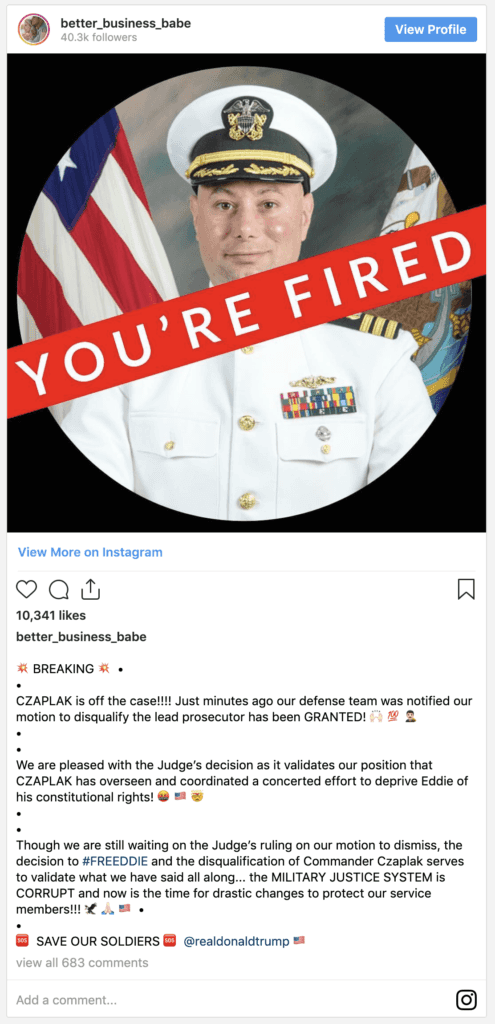 Rugh had released Gallagher from all pre-trial confinement on Thursday in a move to try and remedy what Gallagher's defense team has said is gross prosecutorial misconduct, including the recent attempt to spy on defense attorneys and the media.
Czaplak had admitted to spying on defense attorneys and a member of the media with email tracking malware, Tim Parlatore, one of Gallagher's civilian defense attorneys, had confirmed to American Military News.
Gallagher, a 15-year Navy SEAL, is charged with premeditated murder, accused of stabbing and killing a critically wounded ISIS fighter during a 2017 deployment to Mosul. He is also accused of shooting at unarmed civilians. He has pleaded not guilty, and his trial was set to begin May 28.
The Navy SEAL's court-martial has been delayed until at least June 10, as Rugh now weighs whether or not to dismiss the case entirely, this as President Donald Trump has said he is considering pardoning Gallagher and other U.S. service members convicted of war crimes, which The New York Times first reported in May.