An Air Force major recently drowned in a pool aboard a Caribbean cruise ship while he was on vacation.
The Broward Medical Examiner's Office in Florida confirmed this week that the deceased is 37-year-old Stephen Osakue, who was a research pharmacist at Columbus Air Force Base in Mississippi, the South Florida Sun-Sentinel reported.
At around 5:15 a.m. on Friday morning, Osakue was discovered unresponsive on the floor of the Caribbean Princess' Neptune Pool on deck 15 of the cruise ship, Princess Cruises spokesman Nagin Kamali said in an email statement.
Medical staff aboard the ship were unsuccessful at attempts to revive Osakue.
"Appropriate authorities were notified and conducted an investigation. A final determination is pending; however, authorities have indicated that this incident appears to be accidental," Kamali said in the statement.
Osakue was accompanied on the cruise by his wife, who said "they had a lot to drink," but she said she did not go with her husband to the pool that night.
Guests on the ship said the couple had been drinking at a party in the ship's Skywalkers Lounge, and that Osakue had been swimming in the pool for hours with other guests coming and going, a witness told Cruise Law News.
The Caribbean Princess was on its sixth day of a seven-day journey in the Western Caribbean and was headed back to the United States from Cozumel, Mexico. The cruise, which set sail on June 8, stopped in George Town, Grand Cayman, Roatan, Honduras, Belize City, Belize, and Cozumel.
A toxicology test was taken after Osakue's body was released to the Medical Examiner's Office on Saturday, but the results of that test will take around a week to return.
Osakue's remains were transferred to the Life Event Center at Florida Memorial funeral home in Rockledge. Services have not yet been scheduled, according to the site.
"Major Stephen Osakue was a valued-member of Team BLAZE, the Medical Group, and our pharmacy," Col. Samantha Weeks, 14th Flying Training Wing commander, said in a statement to The Dispatch on Tuesday.
"He was an airman, a father, a husband, a son, a friend and so much more. This is a difficult time for many across the base, especially his family. Our thoughts and prayers are going out to his wife and children, co-workers, and friends," Weeks added.
In a Facebook post, a user claiming to be an airman who formerly worked with Osakue wrote a brief tribute.
"Maj. Stephen Osakue you will truly be missed. It was awesome being stationed together several times and keeping in touch. My heart hurts for you and your family," Kim Kambeya wrote.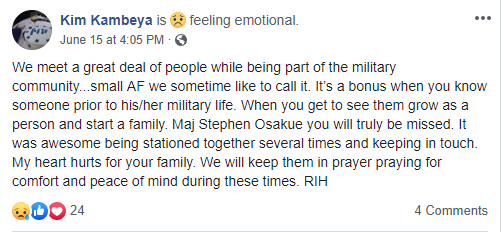 Cruise Law News stated that two prior incidents have occurred on the Sapphire Princess, one of the ships among the Princess Cruises fleet owned by Carnival Cruise Line. In August 2015, an eight-year-old was found unconscious at the bottom of the pool and in August 2014, a 29-year-old woman drowned in the same pool.