Cell phones across the United States received a "Presidential Alert" on Wednesday, prompting joy, confusion, frustration, and hilarity across the internet.
The text message served as a test of the Presidential Alert, which can only be authorized by the President, and communicates with users across the nation using the Emergency Alert System (EAS) only in cases of national emergencies. Congress authorized the public safety alert system in 2008. It became operational under the Obama Administration in 2012 and has been used nationwide, but this is the first time it has been used under presidential authorization.
It cannot be avoided through opt-out settings. The result across the internet was entertaining. See some of the reactions below.
Some users felt gifs could explain their reaction better than words.
SO MANY ALERTS HAPPENING!!! #PresidentialAlert pic.twitter.com/pubr8VIRcS

— Elisha (@ElishaKrauss) October 3, 2018
Speculation swirled on how the alert might be used for an update on the controversial Supreme Court nominee hearings.
I thought I was getting an alert #Kavanaugh had been confirmed! #PresidentialAlert #MAGA soon…

— ptdennis (@ptdennis) October 3, 2018
…. or some of President Trump's popular slogans and quotes.
Did anyone else get this? #PresidentialAlert pic.twitter.com/BXiuLoVgGj

— Jimmy Kimmel (@jimmykimmel) October 3, 2018
The alert sounds on cell phones everywhere could've landed some kids in trouble, as one user pointed out.
Wonder how many kids were just found to have their phones on in class when they weren't supposed to? 🤔 #PresidentialAlert

— Morgan Palmer (@MorganKIRO7) October 3, 2018
This user remarked on the partisan differences in reactions to the message.
Hahaha all the liberals in my office are annoyed they received an alert from President Trump on their phones – many turned their phones off before 2:18pm to block the test alert #FEMA #PresidentialAlert #MAGA

— GeminiEsq (@GeminiEsq) October 3, 2018
Could the message be used in a doomsday scenario?
The next time you see this on your phone we will have 30 minutes before the nuclear bomb sends us all into oblivion. Cheers 🥂 #PresidentialAlert pic.twitter.com/AzSjvxfLHi

— ABL (@onlyabl) October 3, 2018
Some users pondered the potential for personal messages from President Trump.
I think #MAGA 🇺🇸🇺🇸🇺🇸 should have been at the end of the #PresidentialAlert @greggutfeld @DanaPerino @JesseBWatters @TheFive @JedediahBila @JudgeJeanine

— Noah Cook (@realNoahCook) October 3, 2018
mine looks different???? pic.twitter.com/cqu1uRoCDP

— David Mack (@davidmackau) October 3, 2018
This user simply expressed gratitude for testing the emergency alert message.
I received the alert!!! @realDonaldTrump Thanks Mr. President!!! #MAGA #PresidentialAlert

— Guabá David 🇵🇷 (@atabey_pr) October 3, 2018
Another gif that expresses this user's reaction.
#PresidentialAlert pic.twitter.com/ENzstJels0

— Ryan Hintze (@ryanhintze) October 3, 2018
Even Entertainment Tonight weighed in with a reference to the previous cult hit Gossip Girl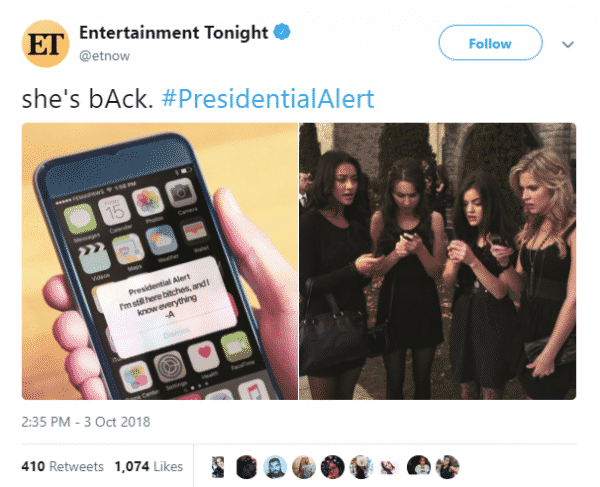 The alert test is similar to that of Amber Alerts or emergency weather notifications that users have been receiving on their cell phones for years. Today's notification was different, however.
"The EAS is a national public warning system that provides the President with the communications capability to address the nation during a national emergency," according to the FEMA website. "The test is made available to EAS participants (i.e., radio and television broadcasters, cable systems, satellite radio and television providers, and wireline video providers) and is scheduled to last approximately one minute."
Wednesday's messages tested the Wireless Emergency Alerts (WEA) and Emergency Alert System (EAS). The WEA refers to emergency messages exclusively sent to mobile devices, while the EAS refers to the system that sends emergency messages through "broadcast, cable, satellite, and wireline communications pathways" to notify the general public.