This article was originally published by Radio Free Europe/Radio Liberty and is reprinted with permission.
BUNGUR, Russia — Pitted roads, intermittent electricity and water supplies, dilapidated housing, nonexistent health care — the complaints heard in this village of 600 people near the city of Novokuznetsk are not unusual for rural Russian communities.
But these villagers' approach to getting the government's attention to their woes just might be. Locals in Bungur have launched an initiative to rename their village Syria — reasoning that if Moscow has a few tens of millions of dollars to invest in the Middle Eastern country, it might be able to spare a little investment for a Syria closer to home.
"We don't have any expectations," says local resident Sergei Zhavronkov, who is spearheading the renaming drive. "The only thing we want is to rename Bungur as Syria. Then we will apply to the Russian Federation for humanitarian aid."
"Write this," Zhavronkov urges RFE/RL's journalist: "We hope that instead of Bungur there will be the Syrian Arabian Republic. We'll invite some Arabs. The government is helping Syria and the destruction here is just as bad as it is there. But we aren't getting any attention."
Zhavronkov says he has been discussing the idea with his fellow villagers and everyone agrees it is a good idea.
"I'm not joking," he says. "I'm completely serious."
The village has struggled to get any attention from officials for decades, without any success.
"I worked in a collective farm [in the Soviet period]," local Aleksandr Volkov says. "We saw the regional committee secretary and the other bigwigs three times a year. They came for the planting, the haymaking, and the harvest. You could ask them whatever you wanted. Now there is not a single deputy in the local administration from Bungur."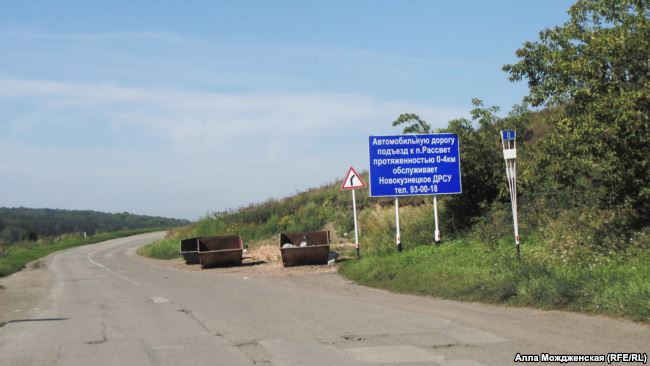 Volkov adds that no one is representing the village at the Zagorsk Rural Settlement, the regional administration that oversees about two dozen rural communities in the Novokuznetsk region.
Bungur has no school and no kindergarten. Eighteen village schoolchildren are bused to Zagorsk, while 30 others travel to Rassvet. Due to the poor state of the only road connecting the village to the outside world, locals fear buses will stop coming.
"We had a school, but they 'optimized' it," Zhavoronkov says. "We had a library, but it is closed. All they left was a village council and a monument to participants of World War II. There is nothing here. Just a cemetery."