U.S. Army infantry officer Spenser Rapone came under fire last week for being an open supporter of communism and an "official socialist organizer" of the Democratic Socialists of America (DSA).
Rapone's father, Lawrence County Treasurer Richard Rapone, said in a recent Facebook post that he is "disappointed" in his son for his political views. That post has since been taken down.
"In regards to my son Spenser Rapone, I disavow his political views and overall politics," Rapone wrote. "I am very disappointed in the direction he has chosen and as his father it greatly saddens me."
Rapone's father explained that Spenser did not go to West Point straight out of high school, but still went into the Army and deployed to Afghanistan before being accepted into West Point.
"It's my belief when he returned back from Afghanistan there was a notable difference in his political views," Richard Rapone said. "Spenser is my son and I love him dearly, however, I do not like nor condone his politics, his actions or behavior."
Spenser Rapone is a Second Lieutenant and an infantry officer in the 10th Mountain Division at Fort Drum, New York, who has posted images and messages on social media that show his vehement support for communism and socialism.
Last week, he appeared to mock the discovery of his propaganda and agenda by the general public with a post of him posing in his West Point uniform showing a Che Guevara shirt underneath.
He wrote: "In case there was any lingering doubt, hasta la victoria siempre"
The post that sparked initial attraction was Rapone posing at his graduation in May 2016 with "communism will win" written under his cap. He wrote: "#VeteransForKaepernick."
Rapone regularly tweeted out propaganda memes and retweeted marxist, communist and socialist supporters.
At first, many thought his images were a prank. But the large number of posts and consistent message seem to indicate otherwise.
Defense Department regulations state that active duty service members are not allowed to promote political parties or candidates while in uniform.
In one tweet, he posted a picture of himself putting a red star – an international symbol of communism – atop New York City's Freedom Tower with the hash tag "communism will win."
He has also retweeted images of Chelsea Manning, the former Army analyst and transgender who leaked hundreds of thousands of classified government documents to WikiLeaks.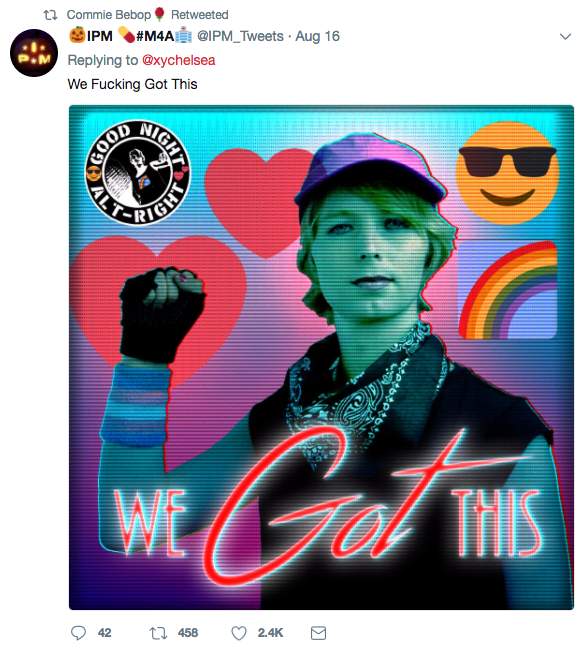 Last week, both the Army and West Point had statements regarding Rapone.
U.S. Army spokesperson Valerie Mongello told American Military News:
"Both the Department of Defense and the Army have long-standing policies encouraging Soldiers to participate in the democratic process. Among other activities, Soldiers are encouraged to vote in elections and express their personal opinions on public issues. However, the Army has strict rules regarding the wear and appearance of Army uniforms."

"All allegations of improper behavior by Soldiers are forwarded to the Soldier's commander for review and final disposition. The appropriate Command authorities are reviewing the situation."
In a press release on their website, West Point said:
"RESPONSE TO SOCIAL MEDIA POSTS BY USMA GRADUATE – September 26, 2017

The U.S. Military Academy strives to develop leaders who internalize the academy's motto of Duty, Honor, Country, and who live the Army values. Second Lieutenant Rapone's actions in no way reflect the values of the U.S. Military Academy or the U.S. Army.

As figures of public trust, members of the military must exhibit exemplary conduct, and are prohibited from engaging in certain expressions of political speech in uniform. Second Lieutenant Rapone's chain of command is aware of his actions and is looking into the matter.

The academy is prepared to assist the officer's chain of command as required."