Navy says T-45 jet is missing & might have crashed over Tennessee, 2 pilots were on board
The Navy is investigating a possible jet crash in Tennessee.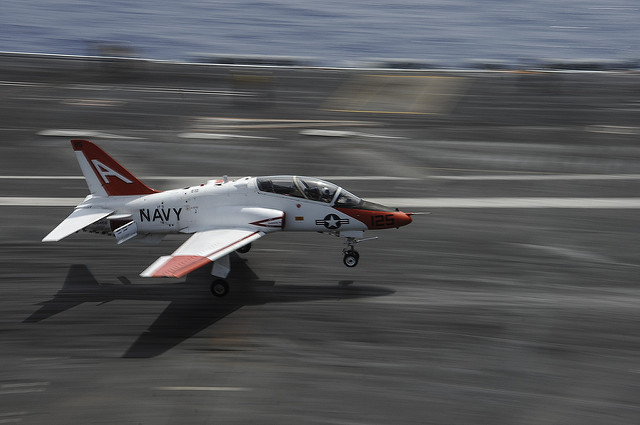 ATLANTIC OCEAN (June 7, 2014) A T-45 Goshawk from Training Air Wing (TW) 1 performs a touch and go on the flight deck of the aircraft carrier USS Theodore Roosevelt (CVN 71). TW-1 and 2 are conducting carrier qualifications aboard Theodore Roosevelt. Theodore Roosevelt is underway preparing for future deployments. (U.S. Navy photo by Mass Communication Specialist Seaman Anthony N. Hilkowski/Released)
The Navy has reported that it is investigating a T-45 jet crash on Sunday near Tellico Plains, Tennessee, in the Cherokee National Forest. The jet might have been from Training Air Wing ONE in Mississippi, as they have reported that a T-45C Goshawk had not returned from training and is missing.
Two pilots – an instructor and a student – were on board that aircraft, the Navy said. Their status is currently unknown.
The T-45 was from Training Air Wing ONE in Naval Air Station (NAS) Meridian, Mississippi.
"At this time, we know the wing had a T-45C Goshawk training in the vicinity of Tellico Plains that has not yet returned to the air station," the Navy said on Sunday.