Marines plow through Hurricane Harvey-flooded waters in assault amphibious vehicles
Marines assist in Hurricane Harvey rescue efforts.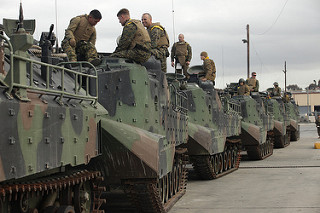 Marines with 1st Platoon, Alpha Company, 3rd Assault Amphibian Battalion, prepare the amphibious assault vehicles to embark into the Pacific Ocean off the coast of Camp Pendleton, Calif. (U.S. Marine Corps/Staff Sgt Anthony L. Linan)
The U.S. Marine Corps arrived in Friendswood, Texas, earlier this week to assist in the search and rescue of Hurricane Harvey victims who were devastated by flooded waters and high winds.
Sixty Marines out of Galveston, Texas, used amphibious assault vehicles to help clear subdivisions and conduct evacuations.
The Marines are making their way north to help with additional rescues.
On Monday, the entire Texas National Guard mobilized using high-water vehicles, helicopters, Humvees and more to help in the rescue efforts.
Hurricane Harvey has devastated the Houston, Texas, area by dropping more than 20 million gallons of rainfall, destroying thousands of homes and claiming the lives of at least 31 people, according to reports.
[revad2]