ISIS orders Syrian children to stand outside car bomb factories to prevent US airstrikes
ISIS posts children outside VBIED factories to prevent U.S. airstrikes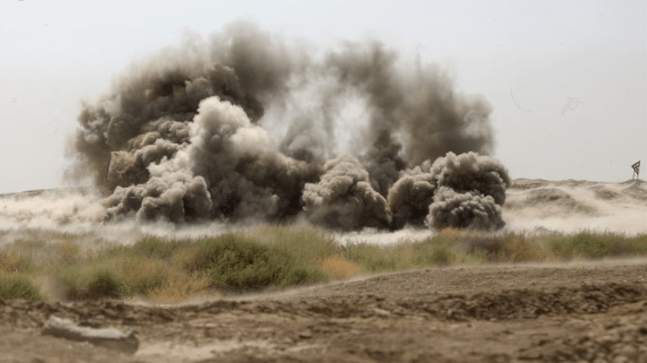 (DoD/Army Cpl. Tracy McKithern) An anti-personnel obstacle breaching system destroys ordinance during a United Kingdom-led combat engineer training course at the Besmaya Range Complex, Iraq,
ISIS has been posting Syrian children outside car bomb factories in an effort to prevent coalition forces from conducting airstrikes, a spokesman for Combined Joint Task Force – Operation Inherent Resolve (CJTF-OIR) told the Washington Free Beacon.
Col. Ryan Dillon said the U.S. military has seen videos of ISIS militants ordering Syrian children to stand outside factories that are used to create vehicle-borne improvised explosive devices (VBIEDs).
Dillon added that even though this prevents U.S-led coalition forces from conducting airstrikes, the U.S. military has been successful in preventing VBIEDs from striking civilians or Syrian Democratic Forces (SDF) fighting to recapture Raqqa from ISIS in Syria.
"We know of a particular factory where anything that drives out of there, we'll strike as soon as it's clear and free from places where we think they're going to have civilian casualties," Dillon told the Washington Free Beacon. "We've also tried to crater main roads throughout the city so that these vehicle-born IEDs can't just spring down a road at 50 miles-per-hour – they have to go around potholes and other things strewn across the streets."
Dillon said the use of IEDs has been more common in Raqqa as opposed to Mosul due to the close proximity between buildings and narrow streets, which enables the terrorist organization to plant more IEDs.