A blimp near the U.S. Open golf tournament in Erin Hills, Wisconsin, caught fire and crashed on Thursday, and multiple spectators caught the incident on video.
A blimp operated by the advertising company AirSign deflated and burst into flames near the U.S. Open tournament around 11:20 a.m., Jeff Alstadter – a spokesman for the U.S. Golf Association – said in a statement.
The U.S. Open tweeted that "[a] blimp unaffiliated with the [US Open] or [Fox Sports] has crashed near Erin Hills. Pilot was injured and first responders are on the scene."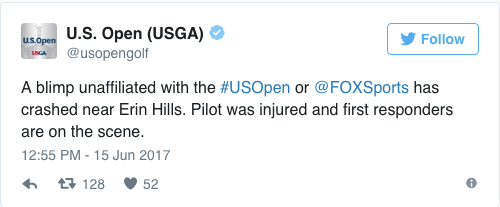 PenFed Credit Union is the blimp's sponsor.
AirSign tweeted a picture of a PenFed Credit Union Blimp on Thursday and wrote, "If you are lucky enough to be at the US Open today, share your blimp sighting pics!"
According to TMZ Sports, the pilot was injured in the crash and "suffered burns on his face and has pain in his neck and lower back."
The pilot managed to parachute out of the blimp once it caught fire, according to reports. First responders were on the scene after the crash.
"It [the blimp] started deflating, and then it started going down," spectator Bryan Rosine told the Milwaukee Journal-Sentinel. "They were trying to give it some throttle and it didn't go up. Then there was a bunch of kabooms and smoke clouds."
Mike Hall tweeted that "[the] blimp crash was far from the course but the smoke that rose above the trees afterwards was terrifying."

Twitter users posted videos of the incident.
Pretty sure I just watched the blimp crash at the #USOPEN! Hope everybody is ok! pic.twitter.com/OSOCSBF46p

— Adam Johnson (@Coach_Guy_AJ) June 15, 2017
[revad2]