Veteran Radio Syndicate (VRS) is not your typical cookie-cutter online radio network, and because it is ahead of the curve, VRS has become a place where the audience can expect just that: radio shows that breaks the mold.
"Our philosophy is this: I'm not trying to make cookies," VRS founder and U.S. Marine veteran Dan Eric recently told American Military News. "I take flour, brown sugar, baking soda, chocolate chips – I'll find the best quality ingredient of each one, but I'm going to add some rum and make rum cake in a beer barrel."
That philosophy – to take the "same old" ingredients and combine them in a new and exciting way – is exactly what Veteran Radio Syndicate embodies.
VRS is veteran-owned and operated, and was founded in January 2016 when Eric took a hobby he loves – online radio – and "wound up linking up with some really cool people," including the teams behind Grunt Style and 5Bravo, online apparel companies.
At its core, VRS is a veterans network that promotes several radio shows, including it's most-watched "The Bad Guys" with 5Bravo, and "Short Timer Radio," the "unofficial talk show" of Grunt Style.
Although it has been a "short, wild ride," Eric said, within a year, VRS grew to host about 30 radio shows, and has quickly become the largest network of online radio shows run by veterans.
The people who own and run the station do it out of a "labor of love," Eric pointed out, as everyone also works 60 to 70 hours a week at their day jobs.
"We pretty much do what we want," Eric recently told American Military News. "I don't like to follow any formats. That's what makes us stand out.
Eric said that's also the reason why VRS grew so quickly.
"That's the reason why we're so successful, because we're different than everybody else," Eric explained. "We don't follow the model."
"It's like the cookie market," Eric explained. "You have five companies that come out with amazing cookies. You have your big dogs, and then you have thousands of other companies trying to make the same cookie. But you know what? They're still following something that's already been done."
VRS doesn't follow. Rather, it leads in the online radio community, broadcasting more than 30 shows via its main platform, Facebook Live.
In doing the shows live across the social media platform, it allows the audience to interact with the shows. It also allows VRS to be able to "share" and promote its shows across many pages.
"When it comes to looking for other shows, we don't have many rules," Eric said, pointing out the obvious: "no racism, no sexism; nothing out of line unless tasteful." It is, after all, online radio, which is not governed by the Federal Communications Commission (FCC).
Eric produces some of the shows on VRS by himself and some with others, including "The Bad Guys" with 5Bravo.
"We hit a style of comedy that no one else is doing," Eric said of the show.
"The Bad Guys," formerly "The Drunk Tank," is a weekly live radio show that gets between 15,000 and 30,000 views weekly. It airs on Wednesdays at 9 p.m. Central Time.
While "The Bad Guys" aims to have fun – the crew often plays live games with its audience through the Facebook Live stream – the show also tackles veterans issues, and "puts a funny twist on it," according to Aaron Hart, a founder of 5Bravo.
Hart is a former U.S. Army medic who said he has certainly experienced his share of challenges within the veteran community after his service. But he ended up with a great group of friends, and they founded 5Bravo.
That support is exactly what VRS aims to perpetuate among the veteran community.
Aside from apparel, 5Bravo produces "The Bad Guys" online radio show, which airs weekly through the VRS.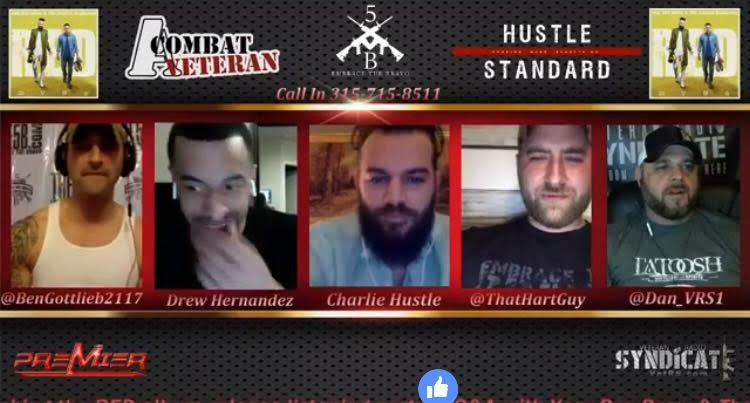 One of the things the 5Bravo crew is working on is finding veteran musicians who have upcoming album releases, and helping them expend their social foot print, Hart said.
"A lot of people are seeing our stuff," Hart said, adding that they want to continue building relationships and helping grow other veteran-owned companies.
When it comes to Eric's efforts with VRS, Hart said, "he's impacting so many people, and I don't even think he realizes it."
"On our show alone, we tackle thing like veterans suicide, financial issues and jobs," Hart explained. "Our show is usually pretty goofy and vulgar – exactly what you would expect from a veterans radio podcast."
"But it's all done on Facebook live, with minimal preparation," he pointed out. "What you see is what you get."
This "realness" is why "The Bad Guys" and VRS have become so popular.
"[Eric] has created this platform for so many different companies. It's so admirable," Hart added.
In the future, VRS would like to get into mobile media, including covering live events, Eric said; to "branch out and see where it goes."
Within five years, Eric plans to make VRS a 24-hour station and continue growing in the live-feed market.
"[The live feed market] is in its infant stages," Eric said, "and it's going to expand and be more interactive."
This is another area where VRS is ahead of the curve: the shows are entirely interactive, sometimes even depending on the audience to guide the show's direction.
"[Listeners] have the ability to direct the show sometime," Eric explained. "It makes it more interesting and real to the listener. We are nothing without our supporters and listeners."
VRS is "ahead of the game now," Eric said, given how interactive its online radio shows are. "By the time anyone catches up, we'll be lightyears ahead again."
In the meantime, VRS plans to continue to grow and broadcast as many shows as possible.
And be warned: as with anything live and sometimes unplanned, the language can get "colorful."
[revad2]