An off-duty cop, dressed as Batman at the time, stopped a shoplifter from stealing multiple movies, including the "Lego Batman" movie.
Fort Worth Police Officer Damon Cole was dressed as Batman for a kids safety fair at a local Walmart on Saturday when he intervened after finding out a man was stealing four movies from the store.
"One of the movies he was attempting to steal was 'Lego Batman.' You cannot steal my movie! Come on," Cole said, a local Fox News affiliate reported.
"Batman says 'I want you to know I have this Batman costume on but I'm an off-duty police officer," said Anthony Drake, a Walmart community involvement member.
The man was then given a citation because the DVDs were valued under $100.
The man did, however, request a selfie with Cole.
"In my 17 years as a police officer this was the first time I have ever made an arrest as Batman. I swear I can't make this stuff up," Cole wrote on Twitter.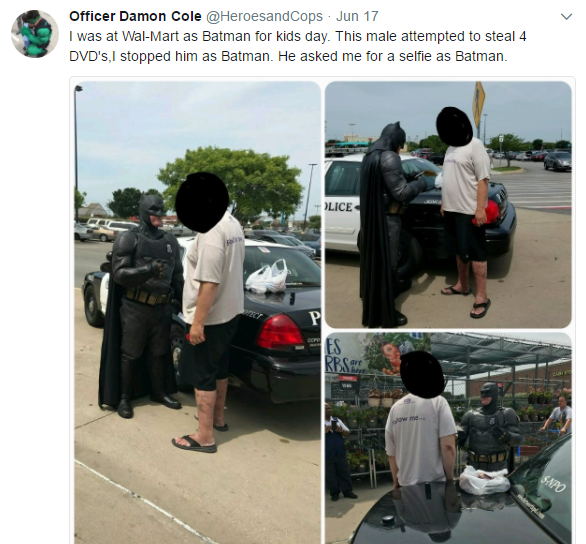 Cole is known for traveling to hospitals in other states across the country dressed up as superheroes.
"If I learn of a terminally ill child that wants to see me, I will drop what I am doing to make that happen as quickly as possible," Cole said on his website, Heroes and Cops Against Childhood Cancer.
[revad2]