The long-discussed boxing match between undefeated Floyd Mayweather Jr. and UFC lightweight champion Conor McGregor will take place on Aug. 26 in Las Vegas, Nevada.
Both McGregor and Mayweather Jr. announced the fight on social media.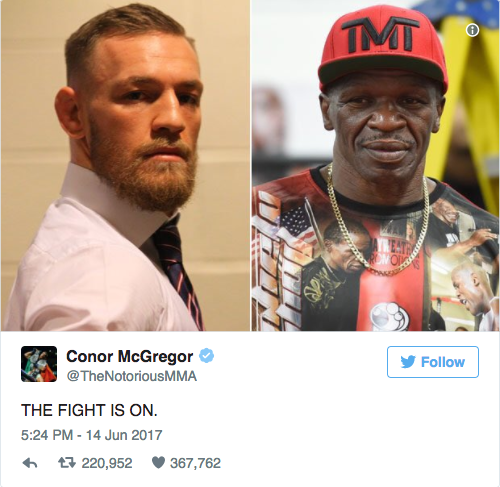 According to UFC President Dana White, the fight will be at T-Mobile Arena in Las Vegas and will be contested at the boxing junior middleweight weight limit of 154 pounds. The fight will be a standard, 12-round boxing match with 10-ounce gloves.
The fight will be broadcast on Showtime pay-per-view, with Mayweather Promotions being the lead promoter.
Talks about the fight have been discussed for two years, since McGregor discussed the prospects of it during a 2015 appearance on Conan O'Brien's talk show.
Mayweather is the heavy favorite in the fight, as he has compiled a 49-0 pro boxing record from 1996 through 2015.
McGregor, a UFC fighter who has held titles in two different divisions, will be making his professional boxing debut against Mayweather. Both fighters are described as being some of the best of all time at their respective sports.
Both fighters could earn in excess of $100 million for the fight.
Mayweather is coming out of a nearly two-year retirement to fight, in what he says to be his final fight. He fought Andre Berto in September 2015 to retain his welterweight title just before retiring. Mayweather, 40, would finish with a 50-0 record if he were to beat McGregor.
In March, McGregor pushed for the fight by saying that he would surprise people and beat Mayweather if the two were to fight.
"I'm going to step in there and shock the whole goddamn world," McGregor told reporters after the boxing pro debut of his friend Michael Conlan. "Trust me on that. Look me in the eyes, 28 years of age, confident as a m—–f—–; long, rangy, dangerous with every hand. Trust me, I'm going to stop Floyd and you're all going to eat your words. The whole world is going to eat their words."
[revad2]