[UPDATE] 2:00 p.m. EST – "Team Redstone" posted to social media that the "potential active shooter incident" at the military post is now being investigated, and that "employees can move about the post in an orderly fashion" and the "gates to the Arsenal are open and operational."
The lockdown at the Redstone Arsenal Army base in Alabama has been lifted, and there is no present threat, according to a report.
The Associated Press also tweeted that the lockdown had been lifted.
A U.S. Army installation is in lockdown Tuesday following reports of a possible active shooter.
The Redstone Arsenal in Alabama issued an alert on Twitter of a "possible active shooter on the Arsenal."
Redstone Arsenal urged those to "run, hide, fight" in instructions on how to deal with an active shooter situation.

There were reports of a shooter at Building 5301, the aviation and missile command building, at the post's Sparkman Center, Army Spokeswoman Kim Hanson said, according to CNN.
Redstone Arsenal Spokesperson Christopher Colster told AL.com that there are no confirmed casualties at this point.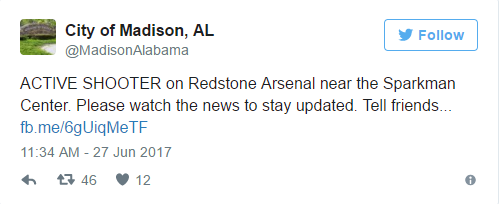 An email was sent out to employees at the Redstone Arsenal at 10:31 a.m. that this reported active shooter was "a real world event, which is not part of the exercise," AL.com reported.
The facility was reportedly conducting active shooter drills this week.
Alabama Gov. Kay Ivey said she is being updated on the situation.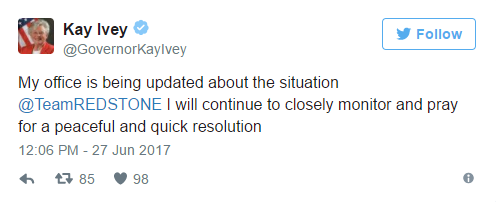 [revad2]