Former FBI Director James Comey testified in front of the Senate Intelligence Committee on Thursday, as a private citizen.
Comey's opening remarks were released in advance of the session, but some of the statements made during the session were rather eye-opening.
The Senate Intelligence Committee is investigating that a foreign adversary – Russia – "attacked us right here at home" and has "highjacked our most important Democratic process," the election, according to Senator Mark Warner, a Democrat from Virginia who is the vice chairman of the committee.
The Committee questioned Comey on Thursday regarding the investigation into Russian spies "engaged in a series of online cyber raids and a broad campaign of dis-information," according to Warner, "sowing chaos to undermine public faith in our [Democratic] process, […] leadership and ourselves."
Here are 5 blockbuster revelations from the session:
1) Russia did allegedly meddle in the 2016 Presidential election.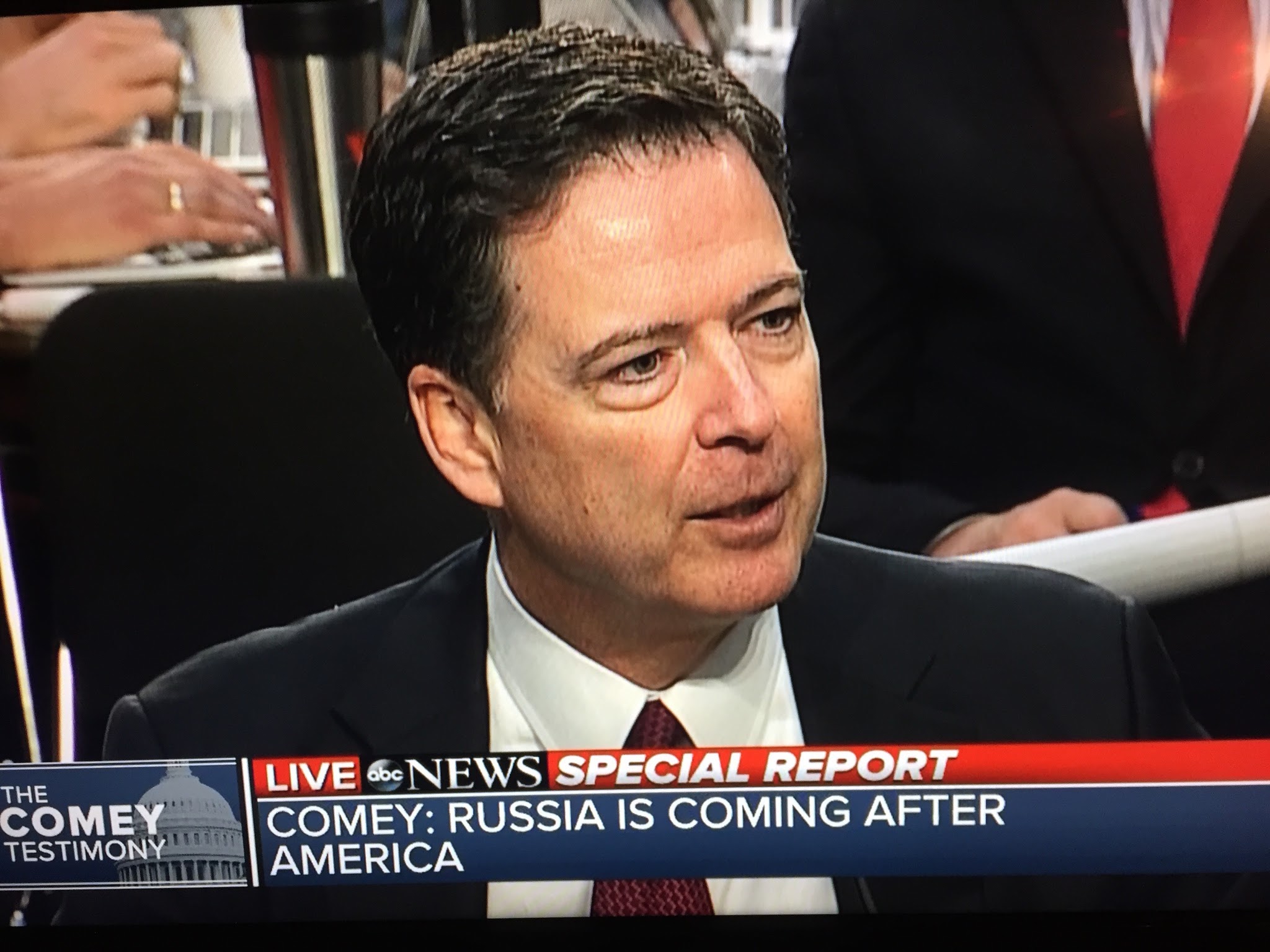 Comey testified that Russia "no doubt" intervened in the 2016 Presidential election, when he was questioned about it.
When asked if there were leaks and cyber-intrusion, even beyond the past Presidential election, he also responded "yes."
And when asked if Russian officials were fully aware of the recent, alleged hacking of the election, he also responded affirmatively.
2) President Trump did not "obstruct" Comey or ask that he stop the Russia investigation.
Rather, the President wanted it to be clear that he himself was not being investigated as part of the controversy.
Comey responded "no" when asked if the President or any individual told him to stop the Russia investigation.
"I don't think my conversation with the President was an effort to obstruct" the investigation, Comey said, referring to his dinner with the President on January 27 during which Trump asks Comey to pledge his loyalty. "I took it as disturbing."
3) President Trump, according to Comey, did ask Comey to stop investigating then National Security Adviser Michael Flynn.
Trump on more than one occasion asked Comey to stop investigating Flynn, Comey said.
"I hope you can let this go," Trump reportedly told Comey.
Trump has denied pressuring Comey to drop the Flynn investigation. Flynn was fired for lying about his contact with the Russians.
4) On the night of his dinner with the President, January 27, Comey was supposed to have a date with his wife – and he kind of wishes he had been with her instead. 
"He couldn't possibly be having dinner with me alone," Comey said he thought when probed about his one-on-one meeting with Trump over dinner.
This was the same night the President asked Comey to pledge his loyalty – of which there was a rather awkward silence that ensued afterwards.
Comey eventually said he would be "honestly loyal."
5) After Comey's firing on May 9, and the subsequent tweets from Trump where the President threatened there may be "tapes" of their conversations, Comey asked a "close friend" to leak a memo to the media.
Comey asked Columbia law professor Daniel Richman to leak the memo with the hope it would trigger a special counsel appointment.
The next day, Robert Mueller was named as Special Prosecutor.
Richman confirmed to the Huffington Post that he was the "close friend" who leaked the memo.
6) Comey is going to miss the FBI, and he was saddened he could not properly say goodbye to his FBI staff.
"To my former colleagues – I am so sorry I didn't get the chance to say goodbye properly," he said under oath, adding that it was the "honor of my life to serve, and I will miss it for the rest of my life."
7) Comey considers President Trump a liar.
"Those were lies, plain and simple," Comey said during his opening remarks under oath, referring to Trump and the Administration's remarks after Comey was fired – which was when Comey himself learned the real reason for his firing being the Russia investigation.
"The administration chose to defame me and the FBI," Comey said, and to say the FBI was "in disarray […] and poorly led."
"Those were lies, plain and simple. And I am so sorry the FBI workforce had to hear them, and that the American people were told them," Comey added.
8) Comey called himself cowardly at one point.
Comey admitted he told the President he would "see what we could do" during an April 11 phone call, when Trump again asked Comey to drop the investigation into Flynn, who was later fired.
"It was a slightly cowardly way of avoiding telling him we're not going to do that," Comey said. "It was a way of getting off the phone."
9) Comey and Trump have not spoken since April.
Their April 11 phone call was the last time the two have spoken, Comey said.
10) A "matter" versus an "investigation."
At one point, Obama's Attorney General Loretta Lynch asked Comey to refer to the Hillary Clinton email probe as a "matter" instead of an "investigation."
There was seemingly an effort to coordinate the language that the campaign was using with the language the FBI was using for the investigation.
Comey said he disregarded this, as there was already an investigation underway.
[revad2]