(VIDEO) BEST MATTIS QUOTE EVER? 'What Keeps You Up At Night?' Mattis' Answer: 'Nothing. I Keep Other People Awake At Night.'
Is this Gen. Mattis' best quote ever?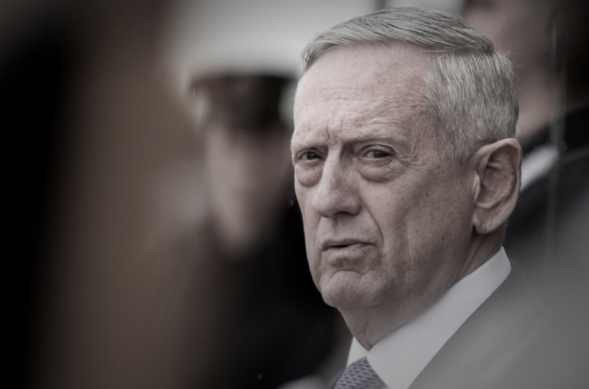 Secretary of Defense Jim Mattis awaits the arrival of Mexico's Secretary of National Defense, General Cienfuegos Zepeda (center) and Secretary of Navy, Adm. Vidal Soberon (right), at the Pentagon in Washington, D.C., May 22, 2017.
Secretary of Defense James Mattis was on CBS' morning talk show "Face The Nation" Sunday morning to talk about the fight against ISIS.
When host John Dickerson asked Mattis, "What keeps you awake at night?"
Mattis responded calmly with a stone cold face: "Nothing. I keep other people awake at night."
Here is the video and below is the full interview.
This quote might top Mattis' long list of famous quotes. Below are just a few:
"I come in peace. I didn't bring artillery. But I'm pleading with you, with tears in my eyes: If you f— with me, I'll kill you all."
"The first time you blow someone away is not an insignificant event. That said, there are some a–holes in the world that just need to be shot. There are hunters and there are victims. By your discipline, you will decide if you are a hunter or a victim."
"Be polite, be professional, but have a plan to kill everybody you meet."
"We've backed off in good faith to try and give you a chance to straighten this problem out. But I am going to beg with you for a minute. I'm going to plead with you, do not cross us. Because if you do, the survivors will write about what we do here for 10,000 years."
During the interview, Mattis and Dickerson discussed the fight against ISIS, and Mattis said the U.S. has moved to "annihilation tactics" and away from "attrition tactics."
He said in full, "We have already shifted from attrition tactics where we shove them from one position to another in Iraq and Syria to annihilation tactics where we surround them." … "Our intention is that the foreign fighters do not survive the fight to return home to north Africa, to Europe, to America, to Asia, to Africa, we are not going to allow them to do so. We are going to stop them there and take apart the caliphate."
Here is the longer interview: