On Friday, President Donald Trump is expected to release the full details of a $100 billion dollar arms deal with Saudi Arabia that will "include the advanced Terminal High Altitude Area Defense (THAAD) anti-ballistic missile system, littoral combat ships designed to fight in shallow water close to shore and precision guided munitions designed to limit civilian casualties," Fox News reported.
The deal is set to begin at $100 billion but, over the next decade, could reach $300 billion.
The deal was created under the Obama Administration but was put on halt when Saudi jets killed over 100 people after bombing a Yemeni funeral hall.
According to a report by the New York Times, Trump's son-in-law and senior advisor Jared Kushner spoke directly with the CEO of Lockheed Martin in an attempt to lower the price of a radar system so the Saudis could afford it.
"It's good for the American economy but it will also be good in terms of building a capability that is appropriate for the challenges of the region. Israel would still maintain an edge," a U.S. official told Reuters last week.
Trump is scheduled to arrive in Saudi Arabia on Friday. Saudi Arabia will be the first stop on his first foreign trip as President, later stopping in Israel, Italy and Belgium.
Trump tweeted just before leaving Friday morning.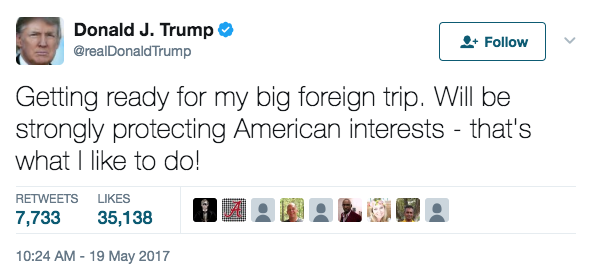 "Getting ready for my big foreign trip," Trump tweeted. "Will be strongly protecting American interests – that's what I like to do!"
[revad2]