On Wednesday, an American Airlines flight attendant posted a photo of herself on Twitter posing with Chicago Blackhawks star Patrick Kane to commend the NFL player for being a "class act" after he gave up his first class seat for a soldier.
Teri Truss, a flight attendant from Columbus, Ohio, tweeted out a picture of her and Kane with the caption "Patrick Kane from the BLACKHAWKS gave up his 1st Class seat to a SOLDIER…what a class act… "
"He said, 'There's a soldier on this flight,' and I said 'Yeah, OK?'" Truss told CBS Chicago. "He said, 'I would like for him to sit up front, and I would like to give him my first-class seat, and I'll go to the back.' I'm like, 'Are you sure?' He said 'yes,' and I was like, 'Perfect, great opportunity.'"
Truss told CBS Chicago that Kane was "awesome." She also said the serviceman was grateful for the seat and appeared to enjoy the flight.
Kane isn't the only celebrity Truss has had the opportunity to meet and take a picture with this week. On Friday, Truss tweeted out a picture of her and famous American zookeeper Jack Hanna.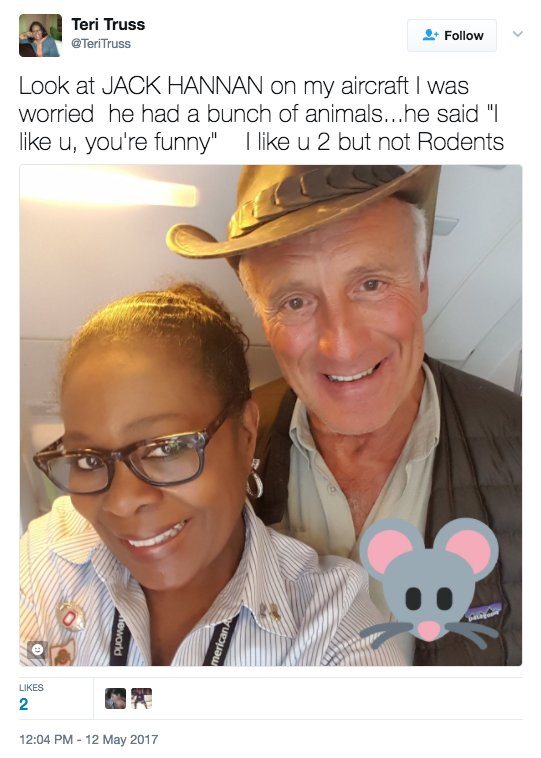 "Look at JACK [HANNA] on my aircraft I was worried he had a bunch of animals…he said 'I like u, you're funny,'" she tweeted. "I like u 2 but not Rodents."
[revad2]