On Wednesday, at least eight Afghan civilians were killed and another 28 people, including three U.S. service members, were wounded after an ISIS suicide bomber targeting a NATO coalition convoy detonated in Kabul. The blast occurred at approximately 8 a.m. local time near the heavily guarded U.S. embassy as a NATO convoy with American soldiers passed through. The U.S. troops' injuries are reportedly non-life-threatening.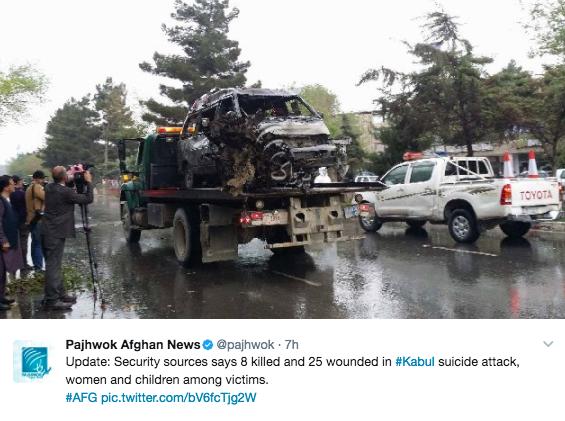 Fox News reported that a military official said that the bomber pretended to be a construction worker, fully equipped with tools and a uniform. He pressed the button as the convoy arrived.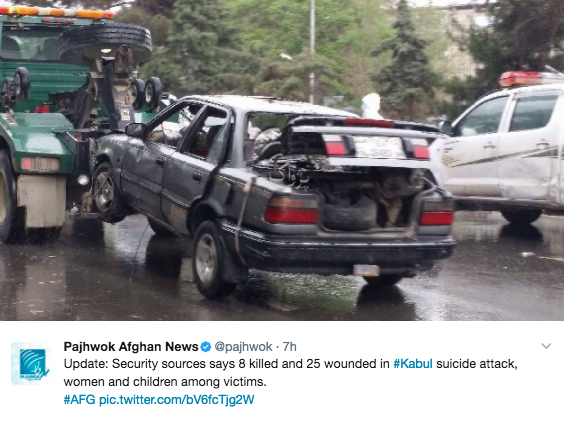 ISIS has taken responsibility for the attack.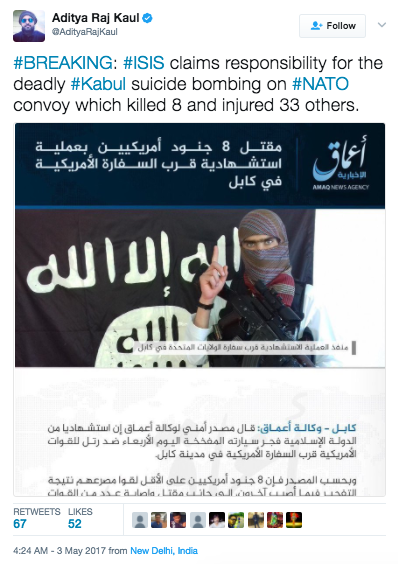 Ambassador Hugo Llorens at the U.S. Embassy in Kabul released a statement Wednesday following the attacks:
I condemn this morning's utterly despicable attack in downtown Kabul.  In recent days some have rejected violence and recognized that the only future for Afghanistan is through constructive dialogue and peace.  Unfortunately, there are those who refuse to allow Afghans their chance at peace, and instead insist on killing and maiming innocent civilians.  I extend our deepest condolences to the victims and their families of this cowardly and dastardly attack against innocent civilians.  The barbarity and depravity of this attack only reminds all Americans of why we are in this fight and strengthens our dedication and solidarity with our Afghan allies.  I want to reaffirm to the noble Afghan people our commitment to stand with you and work together towards a brighter and more peaceful future.
NATO Secretary General Jens Stoltenberg condemned the attack.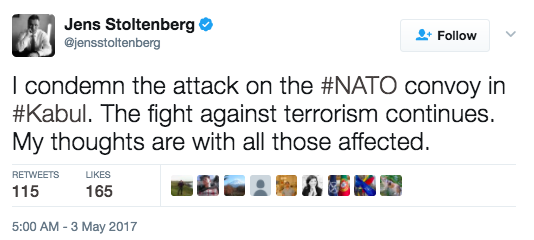 "I condemn the attack on the #NATO convoy in #Kabul. The fight against terrorism continues. My thoughts are with all those affected," he tweeted.
[revad2]