In a statement posted to his website, Kim Dotcom said today that Seth Rich, the slain Democratic National Committee staffer who was murdered in 2016, was involved in the DNC leak.
It has been reported that Rich had contact with Wikileaks and leaked more than 44,000 emails to them.
"I know this because in late 2014 a person contacted me about helping me to start a branch of the Internet Party in the United States," Dotcom said in his statement. "He called himself Panda. I now know that Panda was Seth Rich."
Dotcom founded Megaupload, a file-hosting site that had 180 million users but was shut down by the FBI in January when Dotcom and three others were indicted on copyright infringement charges.
"Panda advised me that he was working on voter analytics tools and other technologies that the Internet Party may find helpful," Dotcom continued. "I communicated with Panda on a number of topics including corruption and the influence of corporate money in politics."
Dotcom said he "was referring to what I knew when I did an interview with Bloomberg in New Zealand in May 2015. In that interview I hinted that Julian Assange and Wikileaks would release information about Hillary Clinton in the upcoming election."
Twelve days after Rich was gunned down in 2016, Wikileaks published a slew of internal DNC emails that apparently showed top DNC officials conspiring to take down Democratic candidate Bernie Sanders in order to ensure a win for Hillary Clinton. The DNC chairperson at the time, Debbie Wasserman Schultz, resigned as a result of the controversy.
In August during an interview on Dutch television, Julian Assange, founder of Wikileaks, suggested that Rich was the one who leaked the DNC documents to Wikileaks just days before his murder.
Rich's murder was exceptionally bizarre as the killer, or killers, took nothing from Rich; he was left with all of his belongings, including his wallet.
When Fox News reported last week that Rich might have been connected with Wikileaks, the Rich family asked for the story to be retracted and for an apology.
"The family is officially asking for a retraction and an apology from Fox News and from the Fox 5 DC affiliate for inaccurate reporting and damaging the legacy of their son," Rich family spokesman Brad Bauman told CNN.
Dotcom said that the Rich family asked him to be sensitive to their loss, and that their request is "entirely reasonable."
"I have consulted with my lawyers," Dotcom said. "I accept that my full statement should be provided to the authorities and I am prepared to do that so that there can be a full investigation. My lawyers will speak with the authorities regarding the proper process."
"If my evidence is required to be given in the United States I would be prepared to do so if appropriate arrangements are made," his statement continued. "I would need a guarantee from Special Counsel Mueller, on behalf of the United States, of safe passage from New Zealand to the United States and back. In the coming days we will be communicating with the appropriate authorities to make the necessary arrangements. In the meantime, I will make no further comment."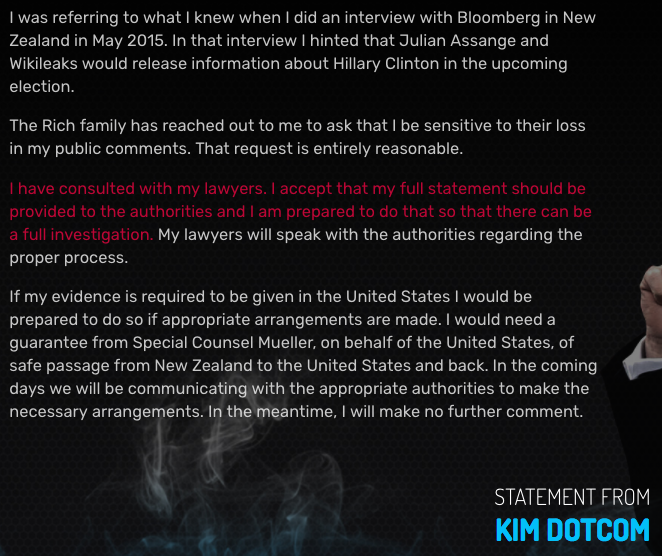 Assange tweeted last week that Wikileaks "has never disclosed a source."
[revad2]