On April 30, Everytown for Gun Safety, which is funded by Michael Bloomberg, sent out a tweet saying President Donald Trump's decision to remove Vivek Murthy from the position of Surgeon General was an attack on gun safety. The tweet was also connected to an April 25, Salon column to solidify their case. The column suggested that the Black Lives Matter movement, together with Murthy's position that guns should be regulated as a healthcare matter, were finally coming together and progressing.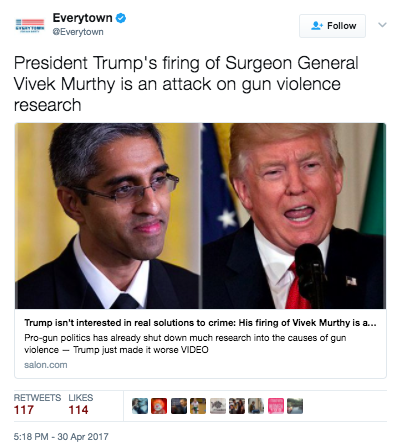 In the Salon column, it stated that there was "a fledging movement in the world of trauma surgery to revive '90s-era research efforts investigating the root causes of gun violence" which was snuffed out by Murthy's removal. Further, they suggested that with Murphy as Surgeon General, researchers and doctors were able to explore "from systematic racism to overly lax gun laws."
Salon added:
Even though the topic is highly politicized, there was reason for doctors to believe that a series of mass shootings, renewed debate over firearm laws and the Black Lives Matter movement had helped create a social environment ripe for an increase of medical research attention to the causes of gun violence and possible methods of preventing it.
The column also complained that the President asked Murthy to step down in a time that gun controllers were hopeful. They claim that Trump's action was "a move widely seen to be a sign of Trump's hostility toward any discussion of gun violence as a public health issue." What Salon failed to mention is the gun crimes and deaths that the two most gun controlled cities are experiencing.
Both Baltimore and Chicago have been ran by Dems for decades proving that gun control efforts are not working. In fact, the bans experienced in Baltimore, for example, on assault weapons, high capacity magazines, and strict fingerprinting requirements for handgun buyers that date back some four years, have created more chaos, including high gun related murders than previous years.  This makes it clear that gun control is not the answer but rather, part of the problem.
[revad2]