Oscar Lopez Rivera, the leader of the radical Puerto Rican nationalist group Armed Forces of National Liberation (FALN) that was responsible for more than 100 bombings in the United States during the 1970s, was made a free citizen on Wednesday.
Lopez Rivera was sentenced to 55 years in prison in 1981 for conspiring to overthrow the U.S. government, but he was commuted by former President Barack Obama just days before the end of his presidency. Lopez Rivera was commuted and released the same day as Private Chelsea Manning.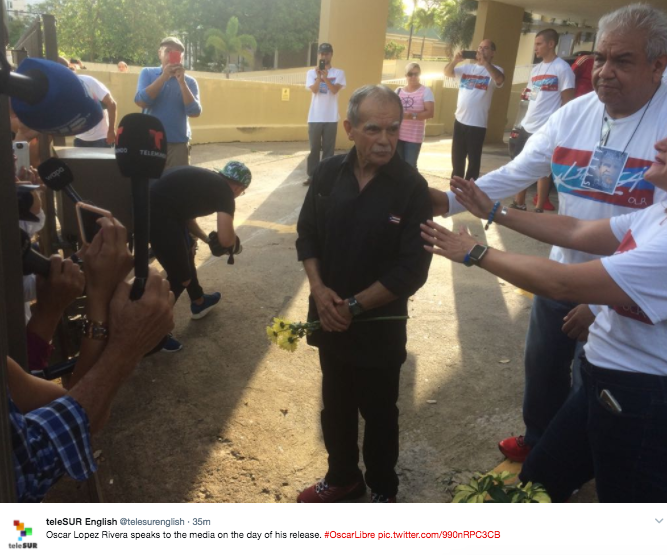 Lopez Rivera was later sentenced to an additional 15 years for conspiring to escape, conspiring to transport explosives with intent to kill and injure people, and conspiring to destroy government buildings and property. He was set to be imprisoned until 2051.
Under Lopez Rivera's rule, FALN planted more than 120 bombs across the United States, looking to achieve Puerto Rican independence by destabilizing what it called the "Yanki capitalist monopoly." In 1983, Lopez Rivera told Federal Judge Thomas McMillen, "I am an enemy of the United States government."
In January 1975, four people were killed after the radical domestic terror group planted a 10-pound dynamite bomb at Fraunces Tavern in downtown New York.
According to the Associated Press, Lopez Rivera, now 74, "will be celebrated as a hero upon his early release" and is scheduled to be honored at the Puerto Rican Day parade in New York City next month.
While many people, including current New York City Mayor Bill de Blasio, have shown support for the terrorist of the '70s, many are curious why that is.
Diane Berger Ettenson was married to Alex Berger on the night he was killed by the FALN bomb at Fraunces Tavern.
"I've had long hours in the middle of the night trying to figure out what I am missing, why he has all this support," Ettenson said, according to the AP. She was six months pregnant the day Berger was killed.
[revad2]