Hamilton, New York's Colgate University went on lock-down Monday evening for four hours after police received reports of an active shooter on campus. A Colgate student called campus safety to alert them that they had seen a black man with what appeared to be a gun. While there was a black man with a gun, it was a hot glue gun and he was working on an art project.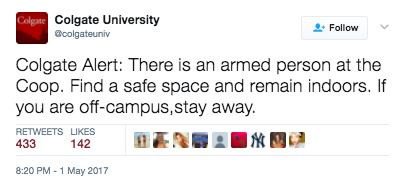 Colgate University President Brian W. Casey is calling for an investigation into the incident he described as a "profound error" and said there was "implicit racial bias."
"It is important that we understand the role that implicit racial bias had in the initial reporting of and responses to the events of (Monday) night. I want to make sure we speak with those who made and received the initial report to understand the role this played," Casey said in a statement on Tuesday.
Colgate University, a liberal arts college, notified students of a dangerous situation and all students were asked to leave the building. Alerts were issued via social media stating there was a live situation but no shots had been fired. While the university claims the overreaction came because of the stabbings at University of Texas in Austin, students believe the administration's assumption was based on the "suspect" being black.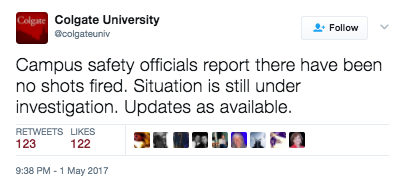 Casey said Campus Safety Director Bill Ferguson, who was leading the university's safety efforts Monday night has been put on administrative leave for using "implicit racial bias." Students are outraged.
"My obligation is, first, to demand a full accounting of what happened," Casey said. "My next obligation is to take steps to ensure the safety of all Colgate students, faculty and staff."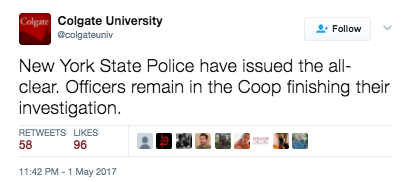 The investigation is expected to take 10 days to complete.
[revad2]