Chelsea Manning, the transgender woman and former Army intelligence analyst who leaked roughly 70,000 classified and unclassified documents to Wikileaks, is scheduled to be released from military prison next Wednesday after serving seven years of a 35-year sentence. Manning, who has been held at an all-male prison in Fort Leavenworth, Kansas despite identifying as a female, will be released on May 17th after Obama commuted the former Army private's sentence just days before he left the White House.
Manning has been vocal with her excitement about leaving the prison.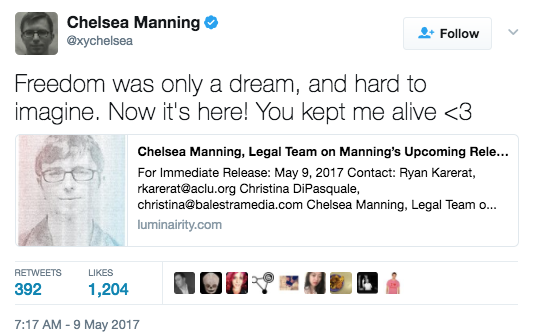 "Freedom was only a dream, and hard to imagine. Now it's here!" Manning tweeted Tuesday morning. "You kept me alive <3."
Last week on the first day of May, Manning shared some "Monday motivation" that the month of her departure arrived.

"May is here!" she tweeted. "This is the month. #mondaymotivation."
"12 more days!" she tweeted on the fourth, before adding a joke about Star Wars day. "Celebrating a new hope, and a return of the sun. <3 #MayTheFourthBeWithYou"
A press release from her legal team was published on Chelsea Manning's website, Luminairity, on Tuesday,
"Next week, Chelsea Manning will be released from U.S. military prison after serving a seven-year sentence for disclosing classified information that raised public awareness regarding the impact of war on innocent civilians," the statement said.
Chelsea herself also issued a statement:
"For the first time, I can see a future for myself as Chelsea," she said. "I can imagine surviving and living as the person who I am and can finally be in the outside world. Freedom used to be something that I dreamed of but never allowed myself to fully imagine. Now, freedom is something that I will again experience with friends and loved ones after nearly seven years of bars and cement, of periods of solitary confinement, and of my health care and autonomy restricted, including through routinely forced haircuts. I am forever grateful to the people who kept me alive, President Obama, my legal team and countless supporters.
"I watched the world change from inside prison walls and through the letters that I have received from veterans, trans young people, parents, politicians and artists, she continued. "My spirits were lifted in dark times, reading of their support, sharing in their triumphs, and helping them through challenges of their own. I hope to take the lessons that I have learned, the love that I have been given, and the hope that I have to work toward making life better for others."
In January, just days before he left office, former President Obama commuted Manning's 35 year sentence along with 209 other inmates, and granted pardons to 64 other individuals.
Since his sentencing, Manning has announced that he is a transgendered individual who would be transitioning into a woman and wants to be referred to as Chelsea, not the former Bradley. Manning has also attempted to commit suicide twice while imprisoned. The commutation also relieved the Department of Defense of having to provide the sex reassignment surgery he has pushed to obtain while incarcerated.
Manning has claimed that no other whistleblower in American history has been sentenced as harshly as she has. She complained that the prosecution aimed to make an example of her and that her sentence should be reduced because she says that the information she leaked did not put any American lives in danger.
President Trump called Manning an "ungrateful traitor" for criticizing Obama despite the fact that he commuted her.
[revad2]