While visiting the Smithsonian in Washington D.C. is an enchanting affair by itself, a select few who happened to be at the National Air and Space Museum during the Christmas season in 2013 were unknowingly in for a very special surprise.
A few years ago, the U.S. Air Force Band executed a "flash mob" performance in the National Air and Space Museum's "Milestones of Flight" gallery. The show began with one lone cellist taking the floor among a sea of unsuspecting visitors.
Guests can be seen looking at the cellist with curiosity, but enjoying the musician's solo act.
Within seconds, the cellist is surrounded by a number of U.S. Air Force musicians who begin to play along with him.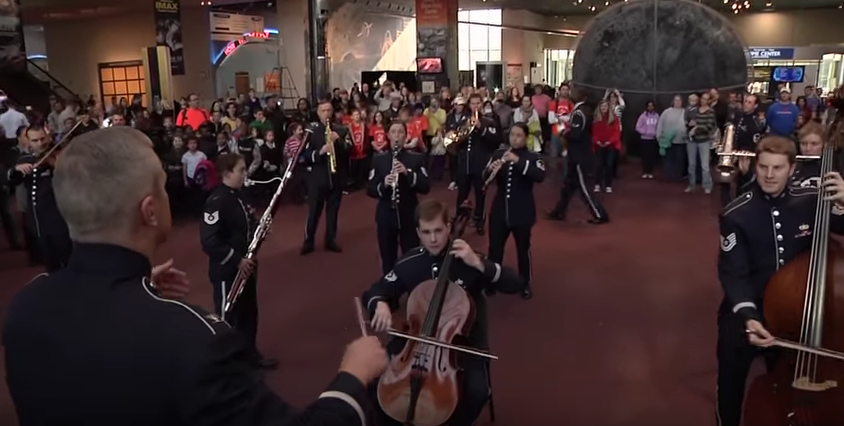 The number continues to grow.
Before long, 120 U.S. Air Force musicians make their way to the floor and the balcony to take part in a four-minute-long performance of "Jesu, Joy of Man's Desiring/Joy to the World."
Two U.S. Air Force servicewomen who just moments earlier were disguised on the balcony as mere visitors took of their coats to show off their uniforms as they began to sing.
The extravagant show was led by the band's commander and conductor, Col. Larry H. Lang.
All throughout, museum visitors can be seen smiling ear-to-ear while watching the moving surprise performance.
You can watch the U.S. Air Force Band's full flash mob performance below. You won't be disappointed.
[revad2]