Police in Cleveland are still on the hunt for a suspect who reportedly broadcast himself killing an elderly man over Facebook Live on Easter Sunday. The suspect has been identified as Steve Stephens, a 37-year-old 6-foot-1 black male who weighs about 244 pounds. Cleveland police warn the public to be on the lookout for Stephens, who is considered armed and dangerous, in his white Ford Fusion with temporary plates.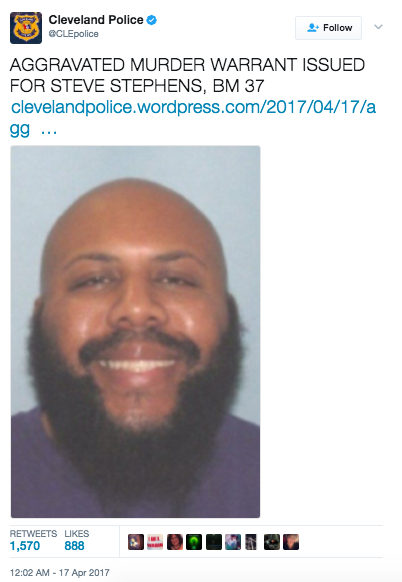 "He is considered armed and dangerous, so we want people to be careful out there," Cleveland Police Chief Calvin Williams told reporters. The search for Stephens has widened to Ohio, Indiana, Pennsylvania, Michigan, and New York.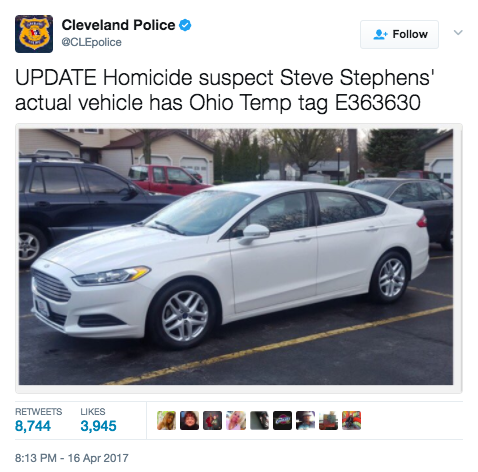 According to Cleveland police union president Steve Loomis, the manhunt for Stephens began after they received multiple reports from Facebook users who witnessed the video of Stephens aiming a gun to the head of 74-year-old Robert Godwin. The video, which then shows a bloodied Godwin on the ground, was posted around 2 p.m. but later taken down by Facebook.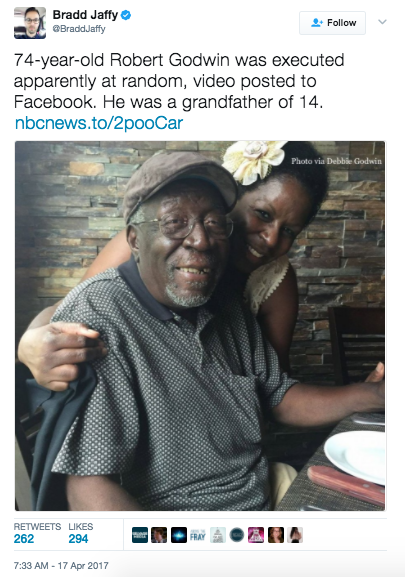 "Found me somebody I'm going to kill, this guy right here, this old dude," Stephens said on the video as he approached Godwin.
"We work hard to keep a safe environment on Facebook and are in touch with law enforcement in emergencies when there are direct threats to physical safety," a Facebook spokesperson said in a statement.
Stephens' mother, Maggie Green, told reporters that Stephens said he was "shooting people" because he was "mad with his girlfriend," who he has been dating for approximately three years. On Facebook, Stephens claimed to have taken the lives of 12 or 13 other people, though Godwin is the only confirmed victim.
On Monday morning, police held a press conference with updates on the search for Stephens.
The FBI said that Stephens is "armed and dangerous," and "at this point, he could be a lot of places. "
The Cleveland police chief said that authorities are "not going to stop until he's in custody."
[revad2]